Say 'summer camp' and you'd be forgiven for imagining bushwalks, communal singing and marshmallow toasting by the fire. The arts equivalent offered by the Sturt Craft Centre in Mittagong, with its Summer School program, is equally collegiate but with a clear focus on hands-on learning, creative engagement via expert talks and workshops as well as a party or two.
Twenty four courses are on offer from 4-8 January, covering woodwork and pastels to landscape painting, photography, basketry and wood-turning over an intensive five-day program. Each year more than 250 students of various ages, abilities and experience converge to learn new skills and meet others at this annual creative communal gathering.
'Some people are absolute beginners and are looking for a new creative experience, some people have been coming for years and years and have developed quite good skills in different areas over that time,' said Sturt Director, Mark Viner.
Viner said the experience is very much like a historic country retreat. Sturt was established in 1941 and is the oldest craft centre in Australia. The Frensham campus across the road is a girls' boarding school established in 1913. Part of the Sturt organisation, it provides the dorm-style (but hotel quality) accommodation for students and the communal dining hall. There are heritage gardens and a museum boasting a collection of works created on the site from the 1940s onwards.
Adult students undertake one five-day class and are provided with accommodation as well as breakfast, lunch and dinner. Viner said most participants are aged over 55, but families are very welcome. There is a suite of one-day children's classes (enough to keep them occupied for the week), including ceramic dinosaur designs, sewing your own crazy critters and painting pets and people.
Having communal spaces as well as events such as the welcome drinks, film screenings and an end-of-camp farewell party encourages a collegiate atmosphere, said Viner.
'The dining hall becomes the melting pot of arts and culture,' he said. 'Everyone is in the same spaces together and they sit around tables and talk about what interests them and people make new friends and meet up again with people they perhaps have met a few years ago. There is a very positive and engaging atmosphere to the week.'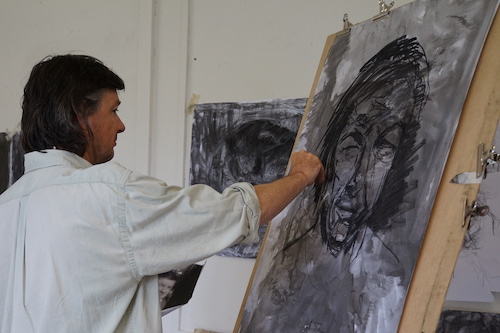 Artists can hone their skills and meet others in the collegiate environment.
Sturt's summer school is an extension of its annual program. There are permanent studios in ceramics, woodwork, metalwork and textiles and classes are offered in those mediums every week.
Some of Australia's most experienced practitioners lead each Summer School course, Viner explained.
'We always program the best teachers we can find and the courses are serious,' he said. 'It is not "arts light" — it's an intensive five days and the teachers expect to deliver a high quality product in every case and I think that is why we get people coming back year after year, because it is quality learning as well as an enjoyable experience. It's a serious class and has to be taken seriously by teacher and student if people are to get something worthwhile out of it.'
Still life painter Charlotte Thody has been teaching at Sturt for a number of years and will return in 2020, as will painter Tricia Taylor to present the Pastels; seascapes, rivers and lakes class. Michael Schlitz will make his debut to teach the Woodcut Printmaking class.
Richard Raffin, one of Australia's best-known wood turners will teach Wood turning, and visiting Scottish artist Isabelle Moore will lead An intro to Seat Caning.
'We are once again offering Fun with Automata – make your artwork move! with David Archer which we trialled last year,' said Viner. 'He makes sculptures that move and have a function and that was incredibly popular last year.'
Artists are also invited to present talks and workshops after class each day in Sturt's on-site theatre to interested students.