The National Gallery of Victoria (NGV) has shrugged off the recent COVID push-back to present French Impressionism from the Museum of Fine Arts, Boston, opening this Friday, 25 July at NGV International as part of Victoria's signature Melbourne Winter Masterpieces series.
Named a 'blockbuster' for a reason, these major exhibitions traditionally draw enormous crowds for their rare viewing experience – this time more than 100 Impressionism masterworks, 79 of which have never made the journey to Australia.
We're talking about a rollcall of greats including Claude Monet, Pierre-Auguste Renoir, Edgar Degas, Camille Pissarro and Mary Cassatt, from a museum reputed to have the finest collection of French Impressionists in the world, second only to the Musee d'Orsay.
'At any time, this is an extraordinary coup for Australia,' said Dr Miranda Wallace, Senior Curator, International Exhibitions at the NGV, adding the exhibition will be like a much-needed balm.
'It's not like we haven't brought an international collection of masterpieces to Australia before – we've been doing it for decades – but at this time when we're unable to travel, it is a really fantastic moment,' Wallace said.
It was a view shared by Dr Ted Gott, NGV's Senior Curator, International Art, who described the gallery having witnessed firsthand the power of art to heal, with huge attendances to the recent NGV Triennial after prolonged lockdowns.
'I think this exhibition will do the same thing, or do it even better,' said Gott.
'The Impressionists were about celebrating the beauty of the world around them. They were artists struggling to find freedom; the right to paint what they wanted, and in a manner that they wanted … and part of that message was to celebrate an unknown aspect of the world not previously considered beautiful.'
Gott added: 'This show has no fillers, every work is cracker; it's going to give people a real boost.'
Wallace said that one of the boons of seeing this show now, is that health restrictions will mean limited numbers at any one time, making it 'more enjoyable for visitors, rather than facing the crush these exhibitions often are'.
She added that the gallery will extend their hours to ensure they can accommodate audiences, and a timed ticketing system is in place.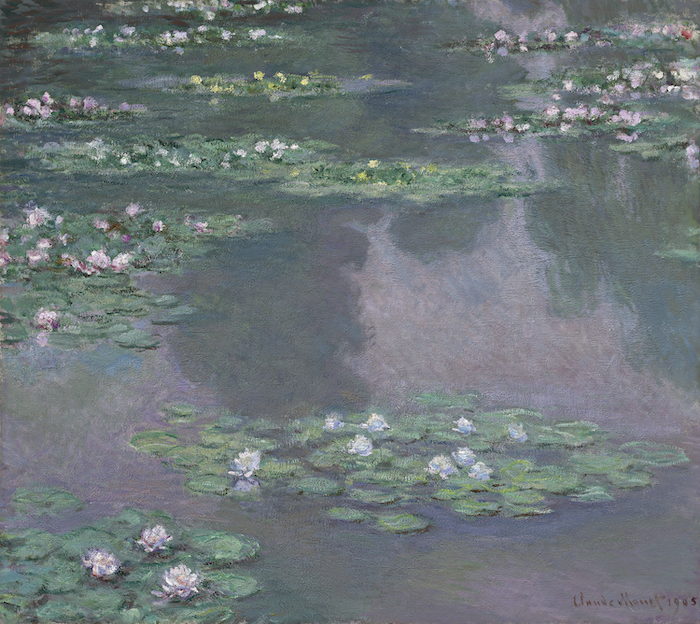 Claude Monet, Water lilies 1905, Museum of Fine Arts, Boston Gift of Edward Jackson Holmes Photo © Museum of Fine Arts, Boston. All rights reserved.
THE SHOW-STOPPERS
One of the show-stoppers will be a presentation of 16 Monet paintings on curved walls that reference his famous Water Lilies room at the Musée de l'Orangerie, in Paris.
'With all the press you know it is coming, but it will not change the impact of being surrounded by 16 incredible Monets,' said Gott.
'Boston have some 35 Monets, and we are getting 19 of them. Three are a teaser early in the exhibition, but the rest have been saved for the final gallery – a mini survey of Monet's career from the 1870s in Normandy, to his early 'painting campaigns' into nature, to his late works at Giverny where he settled in 1883,' explained Gott.
The exhibition is curated into nine sections, which start with a grouping of works from the Barbizon School, what Gott described as, 'the artists sought out by the Impressionists when they were teenagers – they were the starting point to painting outdoors.'
'It is followed by a room of Boudin ocean paintings – none of these have been to Australia before and they contextualise what happened later. Monet was just 17 when he met Boudin, who took him to the ocean to paint … so this second gallery really tells us how Monet became Monet.'
'This exhibition teaches us that French Impressionism just doesn't come from nowhere.'
Dr Ted Gott, NGV Senior Curator
Wallace added with a laugh that there are plenty of 'OMG and fridge magnet moments', where visitors are faced with globally familiar works that are transformed #irl to the gallery wall.
'I would say that Renoir's Dance at Bougival (1883) would be that moment for most of us. It has not been to Australia before, but it feels that we have all seen it,' she said.
Pierre Auguste Renoir, Dance at Bougival 1883. Installation view NGV International. Collection Museum of Fine Arts, Boston Picture Fund. Photo Liz Sunshine.
'We love them in reproduction but when you see them firsthand and see that texture, and great gobs of paint, they become three dimensional – yes sculptural – and it is enlivening,' added Gott.
THESE PAINTINGS RELATE TO OUR OWN TIMES OF TURMOIL
The Impressionists were revolutionaries, shifting the status quo in a world of change. While we tend to ascribe this revolutionary spirit to their habit of painting outdoors – en plein air – also important is the role shifting social mores and politics played in fuelling their energy.
'The exhibition shows us a generation of artists living in a world of incredible change, but rather than succumb to fear, they found something creative in it,' said Gott.
'Many of them were barely 30 years old, and younger colleagues like Paul Signac only children when the Franco Prussian War (1870) broke out. Imagine Melbourne sieged by an army! Pissarro and Monet moved to London to escape the war, but when they came back Paris was torn down. It's shades of Melbourne now, with the desire to rebuild, and everything's a construction zone.'
Wallace added: 'Their wish to literally renovate our world view, came out of that period of tension and change. It is really inspirational, and it shows how art can overcome obstacles, that it challenges us and can be a highly political instrument. Today we look at these Impressionist works as offering a restorative element – and they do – but they were also quietly revolutionary.'
'We all love Impressionism, but this exhibition offers a brand new version of looking at it.'

Dr Ted Gott, NGV Senior Curator
'The Impressionists were one of the few groups that invited women to join them,' continued Gott. It is a push for change that we are also witness to as Australia pushes for greater gender parity in the arts.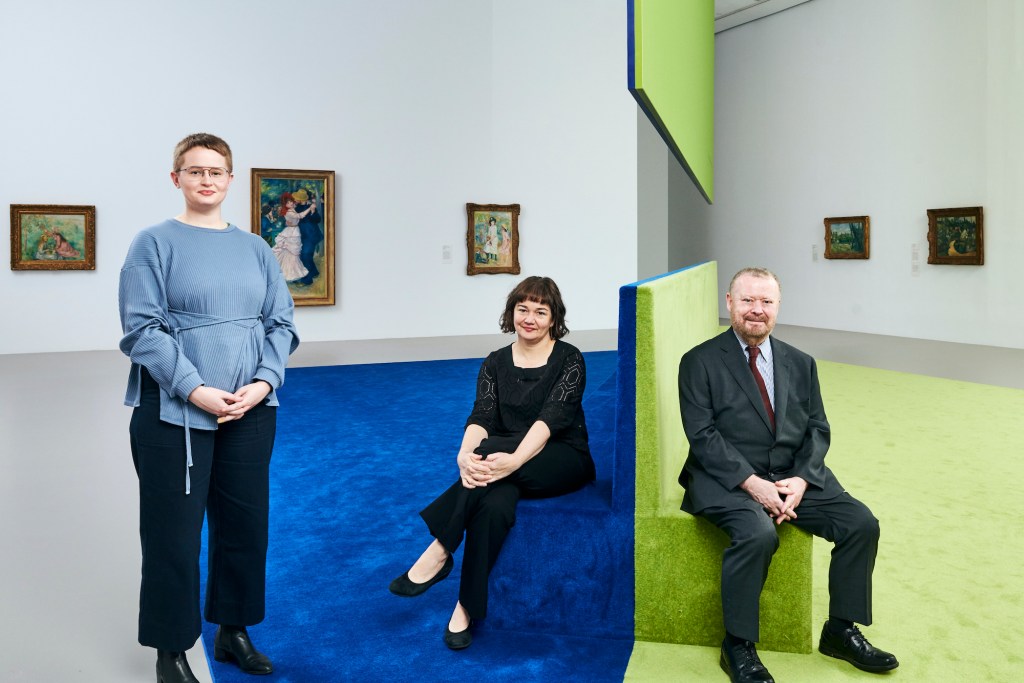 That idea of history shaping our future, is perhaps best demonstrated with the pairing of this French Impressionism exhibition with She-Oak and Sunlight: Australian Impressionism at The Ian Potter Centre: NGV Australia, Fed Square
'It is actually a very rare event, to be able to show so many great examples of French Impression and show where the idea of Australian Impressionism came from – the similarities but also the differences. We tend to talk about global impressionism, and you can see how the ideas carry around the world, but also how art is influenced by local place,' said Wallace.
She concluded: 'There is so much beauty in this exhibition, and that restores a bit of hope in our everyday experience. It is what we need right now.'
Gott added: 'These works just make us feel good; it's fresh, vibrant, colourful and alive.'
French Impressionism continues through to 3 October 2021. This is a timed ticketed exhibition. Book now at ngv.melbourne.