While 2020 might have been the year of fear for many forced to face a digital pivot, 2021 could not be any more different, as arts organisations have settled into the positives and have used the momentum to embrace new thinking and new opportunities.
One organisation that encompasses the success that comes with that leap of faith is Darwin Aboriginal Art Fair Foundation (DAAFF), which in just 12 weeks before staging their annual in-person Fair, turned disappointment into a win, generating significant art sales of $2.6 million, engaging 69 art centres online and welcoming over 30,000 new visitors.
Claire Summers, Executive Director, DAAFF told ArtsHub: 'When we went into the 2020 Fair we hoped the platform would create awareness – we saw it as a bit of marketing opportunity to tell our story, not the usual sales opportunity, given we were in the middle of the pandemic and the economic crisis it had triggered.
'But we discovered that when people are locked down they really like to spend money,' Summers continued.
'We have our diehard loyal visitors to the Fair, but it was not so much them taking up the digital space. We had almost 45,000 guests online, over 70% who had never before visited us or the Fair,' she said.
This year, the Darwin Aboriginal Art Fair will again be presented online for six days from Friday 6 August through to Wednesday 11 August, as an outcome of recent COVID-19 restrictions.
The 2021 Fair will see more than 70 Art Centres come together on the digital platform, as well as transitioning much of the public program, talks and workshops to maintain that personal contact and 'buzz'.
'It is as simple as the click of a button to access the Fair,' said Summers, adding that while they are 'totally devastated that the national community will not come together on Larrakia Country this year, there will still be that connection point, that energy.'
'What the platform did was bring a lot of joy and it connected people … It is about giving people, blocked by access, a key to participating.'

Claire Summers, CEO Darwin Aboriginal Art Fair Foundation
Summers spoke of how artists felt empowered presenting their workshops online from Art Centres in community and on Country.
'They were in a culturally safe space and had none of the periphery noise of the Fair and all the activity going on around them. They really took ownership of the space. In one Zoom weaving workshop I affectionately recall that confidence coming through, hearing "No that is not good enough. Let me show you right way," with her hands right up to the camera. That is an incredible shift and connection.'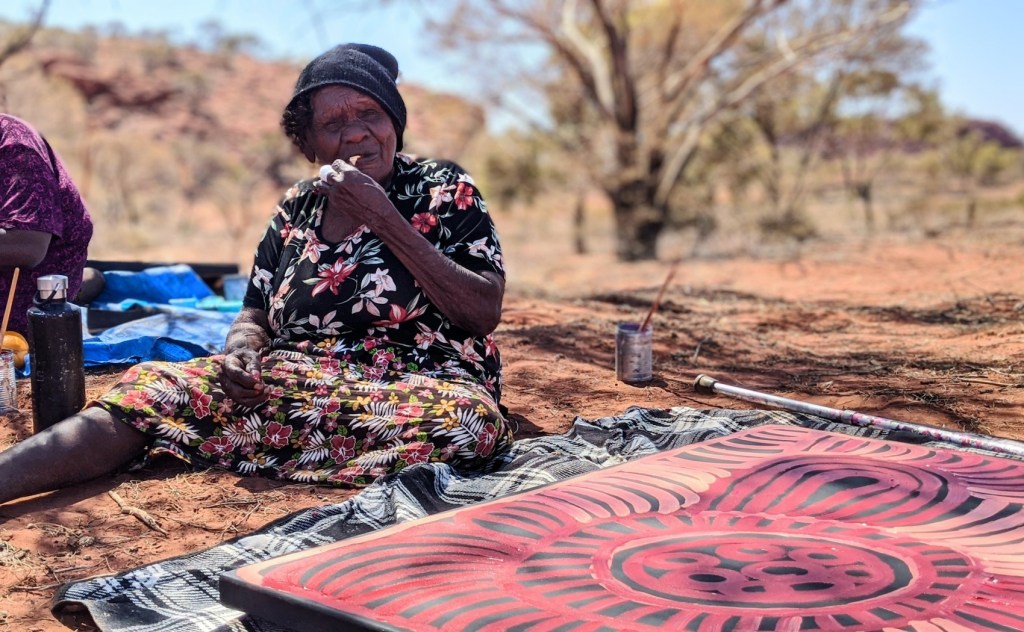 WHEN 'ETHICAL' IS MORE THAN A WORD
The term 'ethical buying' is thrown around often in the vernacular of the Aboriginal art market, but sadly, it still encompasses many less than ethical practices.
DAAF is among those leading the practice of an ethical marketplace by being 100% Aboriginal and Torres Strait Islander owned and led since 2012, when the DAAF Foundation was established to ensure that the Fair was governed by Indigenous community Art Centres.
We asked Summers what exactly that means, and what surety it offers buyers, especially facing an online Fair.
'When you buy through DAAF you are communicating directly with our Art Centres, and we are also supported by the Indigenous Art Code – which is another layer of credibility – whether you are physically buying or in the digital space, so people can have confidence in that,' Summers explained.
Over the past six years, the Fair has generated more than $14 million dollars for Aboriginal and Torres Strait Islander artists and Art Centres.
'A big take away from our pivot in 2020 was that we really recognised how important digital engagement is, and yet we have to be incredibly careful that it doesn't create an even bigger communication gap for our Indigenous artists,' Summers told ArtsHub.
'We have to focus on building skills in community, for community – that is massive – and that is why the Foundation works really closely with our peak bodies to address that digital capacity building space in a cohesive way.'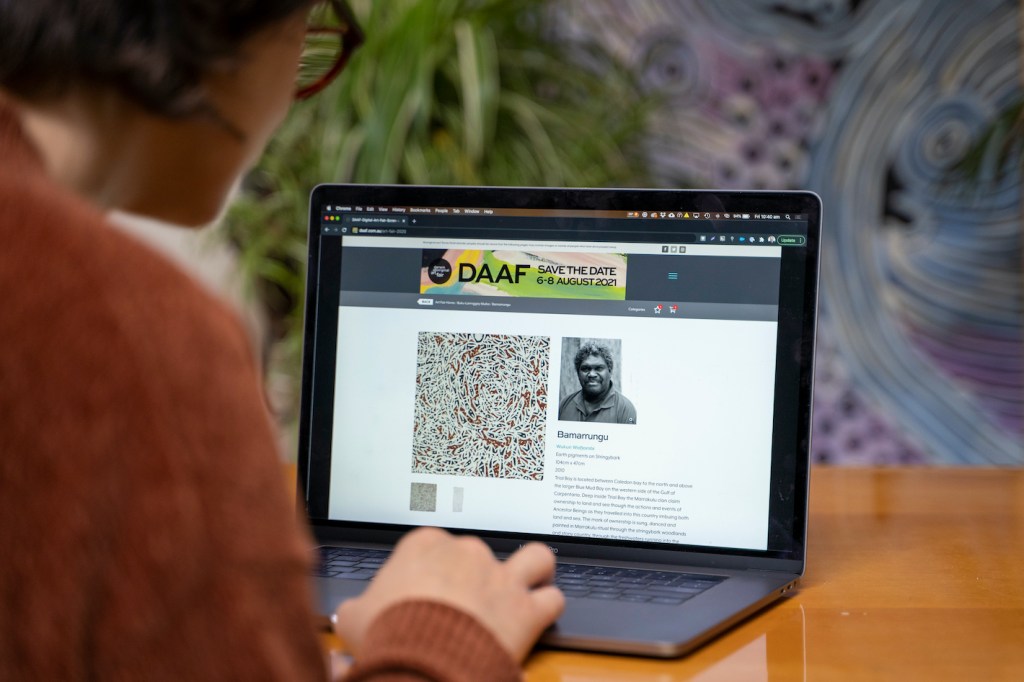 WHILE A FAIR MAY END, THE DIGITAL SPACE CONTINUES
At the end of an art fair the gallerists and Art Centres usually pack up and go home. What DAAF's digital pivot has enabled is a new legacy of connectivity directly with Art Centres and communities, which has continued to develop the 'in between Fair' audience.
Summers explained: 'The Ian Potter Foundation saw what we had achieved with our online Fair and got really excited about the potential it presented.
'We are still the Art Fair that takes no commission, but now we have a partner with the Ian Potter Foundation to extend our presence beyond the Fair to have a permanent platform. By the end of this year there will be that permanent place – that gateway to all the Art Centres, a place where people can learn about, buy and also engage with artists in their own time.'
Summers continued: 'We usually have at least 5% overseas visitors at our physical event. Last year it was 7.6%, but you have to remember that we tripled our visitation, so that is a significant take up from international audiences.
'What the platform did was bring a lot of joy and it connected people … It is about giving people, blocked by access, a key to participating,' she concluded.
DAAF is Australia's largest Indigenous visual Art Fair.
Get exclusive early access to the online platform by pre-registering to view new works for the 15th Darwin Aboriginal Art Fair.
Learn more about DAAF's 2021 Public Program and Cultural Keepers Program.
DAAF's fashion events will return this year, with the National Indigenous Fashion Awards to be broadcast on NITV Facebook on 3 August, and the Country to Couture runway showcase at the Darwin Convention Centre on 4 August. Tickets via Darwin Festival.