What do the untouched objects in a room say about its occupant? Still life artwork – the depiction of an inanimate subject matter – can illuminate the many layers of our material and subconscious worlds.
Coffs Harbour Regional Gallery's Still: National Still Life Award 2021 celebrates the diversity and depth that still life provides.
Catherine Fogarty, Gallery Coordinator, Coffs Harbour Regional Gallery, said that 'contemplation sits at the heart of still life. Contemplation of life and the material world. It's the objects that we surround ourselves with, the internal spaces we inhabit, and reflections on the passage of time.'
This acquisitive award pushes the genre into the contemporary art landscape by opening it up to a wider range of art forms. Digital installations, repurposed plastics and 3D ceramic works all form part of the gallery's still life collection.
'Whether you're a painter, photographer, ceramic artist, sculptor or a multimedia artist, or someone who works with installation, we want to see your work.' Fogarty said.
UNPRECEDENTED TIMES CALLS FOR ENIGMATIC ART
The competition calls for different approaches to still life with themes of 'memento mori; life and death, observation of and reverence for everyday objects, their meaning and memory'. Fogarty believes Still: National Still Life Award has created an opportunity to use the still life genre to reflect on contemporary issues the world is currently dealing with.
'It will be very interesting to see the entries submitted in light of the year that we've had,' Fogarty said.
'With all the craziness and all the things that have happened – and that word unprecedented, being used again and again – there is plenty of inspiration to draw on that relates to still life as a genre.'
It's not only the COVID-19 pandemic that has worried many, but issues like mass consumption, our disposable society, concerns around climate change and their environmental impact can be explored in still life.
'Contemplation sits at the heart of still life. Contemplation of life and the material world.'
– Catherine Fogarty, Coffs Harbour Regional Gallery.
Observation of and our peculiar reverence for everyday objects, their meaning and memory is already dominant in our modern culture. The symbolism that underpins these modern objects can create very contemporary still works.
JUDGING ACROSS THE GENRES
When judging an open medium award exhibition on a classic genre, questions abound. 'There are critics of the idea of how can you judge a painting against a video work, or judge a ceramic piece against a work on tape?' Fogarty said.
However, Fogarty pointed out that due to the nature of still life, and how it speaks to very deep themes within our psyche and life experience the diversity of mediums makes it all the more interesting. 'The judge is looking for something that connects with the genre in an impactful way but is also resolved and engaging as an art work,' she said.
'There's a lot of creative scope for artists to work with.'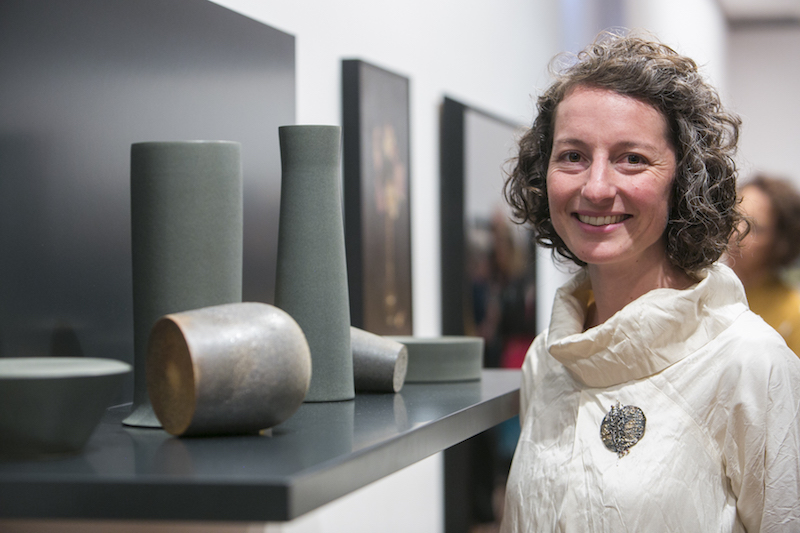 Kelly Austin, with her STILL 2019 winning artwork 'Stilled Composition 43'. Image courtesy of Jamie Williams.
CREATING A WINNING ENTRY
Make your entry stand out: The top tip from the team at Coffs Harbour Regional Gallery is to make sure the photographs of the works you submit are of high quality. It sounds obvious, but having the truest depiction of your work is the first determiner of success for your submission. Allow yourself plenty of time to take the photos or hire a professional photographer.
Research the judges: When preparing your submission, start by familiarising yourself with the selection panel of the prize to get an understanding of what they value.
This year's selection panel for finalists includes Sydney based art collector Lisa Paulsen, Katina Davidson, Curator of Indigenous Australian Art at QAGOMA, Coffs Harbour Gallery Coordinator Catherine Fogarty and Curators Jo Besley and Chloe Waters.
The Guest Judge for the Award is Elizabeth Ann Macgregor OBE, Director Museum of Contemporary Art Australia.
Allowing three months for artists to enter the award – entries open Monday 18 January with submissions closing Monday 12 April – allows plenty of time to prepare a high quality submission. Finalists will hear via email on Friday 14 May with the winners of the 2021 prize to be announced Monday 14 August of this year as the exhibition is unveiled.
Fogarty recommended submitting work to build up your artistic reputation and an audience for your work. 'Even if you're not selected as a finalist, you actually still get your work in front of people who might never have heard of you before.'
Entries are now open for submission to Still: National Still Life Award 2021 with entries closing 12 April 2021.