While Craft ACT recently joined many in making that difficult decision to cancel its forthcoming DESIGN Canberra Festival, the decision has been a win in disguise. It has allowed the organisation to focus on wellbeing, when the sector needs it most.
Design Canberra presents 'Nurture' draws on the well documented benefits of creativity on our wellbeing, and is aimed at supporting Canberra artists, and the wider community, in unpacking some of the mythology around the capacity of art to heal and regenerate. 
Steering away from a direct pivot online, Craft ACT CEO Jodie Cunningham explained: 'We are a member organisation with 50 years standing, and the great thing that Design Canberra does for our artists and makers is to bring in an income, and opportunities to try new things, so the word "nurture" comes from recognising that.'
Cunningham believes the Nurture program will also be an opportunity to showcase how Canberra makers have coped and thrived during the pandemic.
'Design Canberra usually supports around 510 local artists – and there are more out there. The ACT has done exceptionally well at supporting its artists through the pandemic, and the Arts Minister has 100% backed our Nurture project – there is a real recognition of the benefit of the arts.'
'It is important to note that Nurture is not the Design Canberra festival,' Cunningham told ArtsHub. 'While it might initially feel confusing with Canberra opening up not to do the festival, this is a program of nurturing events in the off year to the festivals return in 2022.'
Cunningham recognises that any change takes time.
'Some month ago we started risk mitigation on the festival. While we can be agile in many ways, being a small organisation, but with 250 stakeholders involved and limited staffing resources, if we had to quickly pivot we literally couldn't. It took us about eight weeks to cancel.'
'It is actually a very collaborative project and that is one of the keys – connecting with supporters, with artists, designers and sponsors. We wanted to be sure we honoured all those people. The good will in the community has been overwhelming, and plenty of positive energy about reconfiguring the event,' she added.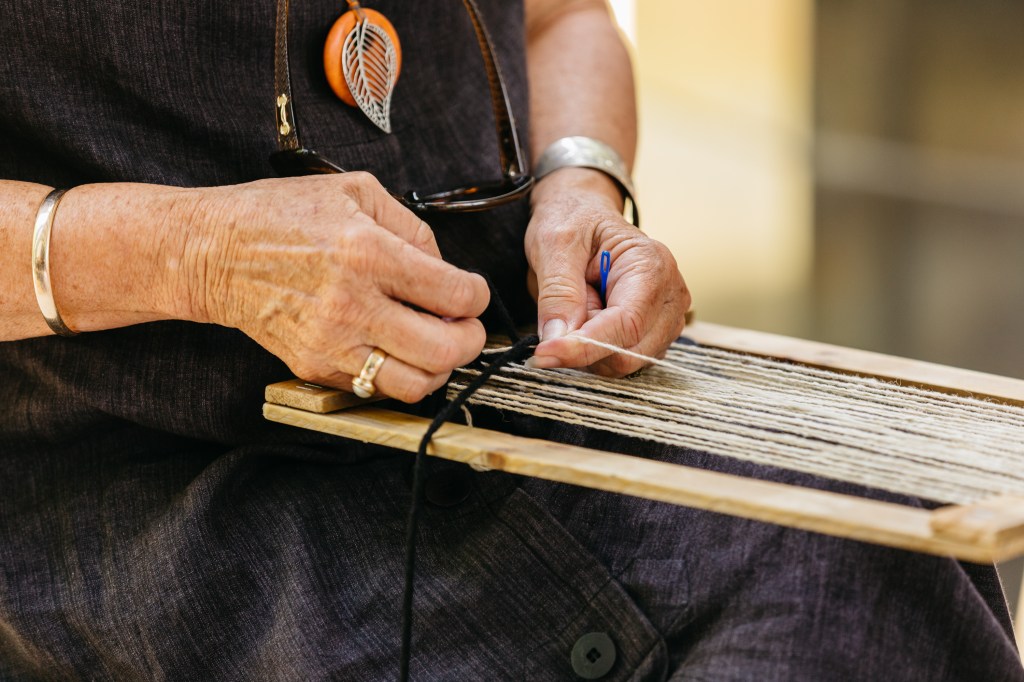 Cunningham said Craft ACT turned to recent Australia Council data that showed while 1 in 4 arts audiences engaged with online content, there was also a lot of online fatigue sector.
'We asked, what could we do a little differently, rather than just put our talks and tours online. When you cancel straight out, some of our artists are losing a huge amount of money, so our foremost question was how do you still support those artists?'
Cunningham drew on her fascination for research about wellbeing and the arts.
'Anything repetitive is incredibly mindful – knitting, weaving, a lot of textiles and ceramics – forms of "slow making", that can induce a state of 'flow', so we spoke with our artist members about what workshops they might be able to run with the public, but also educate about slow making more generally.
'Artist already know it's beneficial – that's why they are addicted to studio practice – but there's a bit of mythology around it for the community so we wanted to unpack through Nurture and give them some simple techniques to try out,' she told ArtsHub.
Cunningham said the Nurture program will also include professional development workshops, such as helping artist go digital, to expand their practice online and website maintenance for example for better impact in a pandemic-inflicted world.
HIGHLIGHTS OF THE CRAFT ACT NURTURE PROGRAM
Online Craft and Design Auction 
Craft ACT has removed the usual 30% commission on sales to ensure artists receive the maximum possible benefit.
Mindful Making Workshops
Ticketed live-streamed and face to face workshops with Craft ACT artists to promote wellbeing.
Studio Stories
An ongoing resource of artist video interviews.
Creative Journaling Month Challenge  
Participants will receive a sketchbook in the mail and a daily creative prompt in their email inbox to respond to creatively. At the end of the month the sketchbooks will become part of an online exhibition. The maker of the most innovative sketchbook will receive a cash prize of $2000.
Thrive
Professional development workshops designed to upskill artists, contributing to a sustainable and healthy creative economy that can weather future disruptions.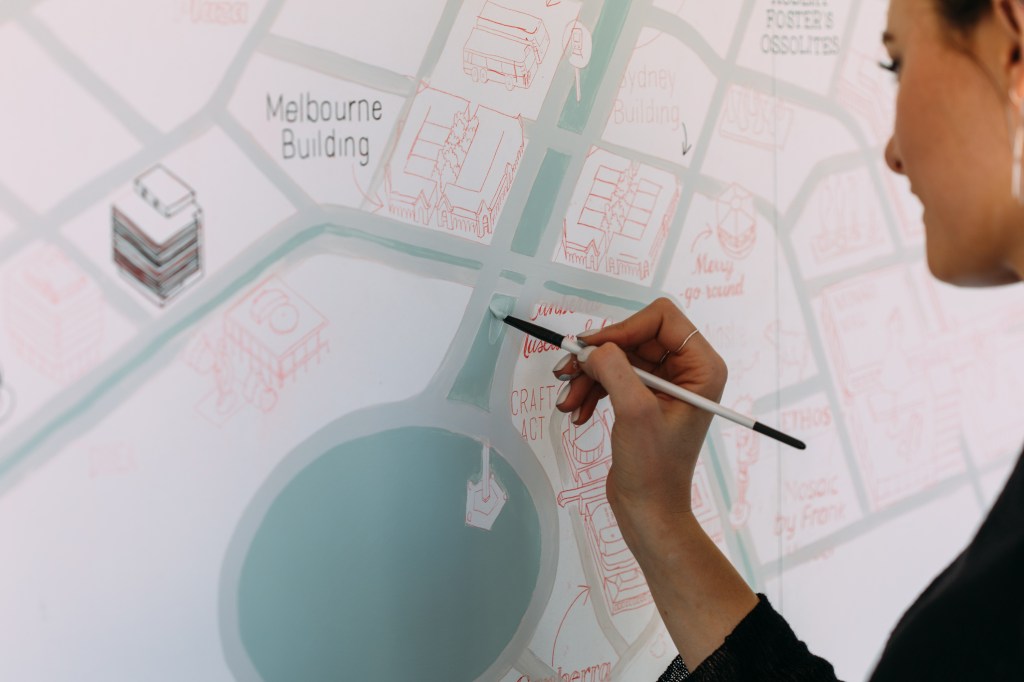 REBOOTING A CITY IN REAL TIME
Cunningham feels strongly that Nurture is a program for rebooting the city. Design Canberra has always been about re-gearing and celebrating the city with the spring; this is no different.
Cunningham explains: 'We are aware the public will be cautious, so we have planned for some events in person and many online. It is about helping people navigate that return in a comfortable way.'
One way that will be done is a partnership with the City Renewal Authority to commission several artists to develop concepts during lockdown – small ephemeral public art interventions to activate City West, which will be launched in 2022.
It has been planned with artists who are locked out of their studios in mind, to be able extend their creative practice with a professional opportunity from home.
'These works will be installed to form a trail of discovery throughout the city and change our communities' experience of place, said Cunningham. 'It is a great example of using this moment to think ahead – to create things for people to explore, as city opens up, in a safe way.'
Nurture will be presented from 5 – 28 November. Check out their Nurture program.