Two curators who met as newcomers in the Victorian town of Mildura have selected 14 Australian artists for a major exhibition examining layers of Australia's past and present identities as reflected in the Mallee region.
Jane Polkinghorne is an arts practitioner and researcher who has worked with artist run spaces (ARIs) and artist generated projects responding to current conditions. When they moved from Sydney to Mildura for work in 2019, they met arts manager and dance artist Gareth Hart – also a recent Mildura arrival – who had moved from the big city (Melbourne) to start a new job as Director of community arts hub, Arts Mildura.
The pair were soon sharing their fresh-eyed fascinations on the politics, histories and cultures of the region, in particular its symbolisms and traces of wider Australia.
'It [Mildura] is so evocative of the ideas of what Australia is,' Polkinghorne told ArtsHub.
'It's desert country, but it's close to where the Darling/Baaka river meets the Millewa Tongala/Murray river system,' they continued. 'An incredible force running through the southern part of this country, from east to west and north to south.'
Local Encounters
The result of the curators' speculations on place is Southern Western – an exhibition commissioned by Mildura Art Centre, which is billed as one of their largest of the year.
Drawing on the dynamics of the region's histories, the show unearths stories exploring ideas of location and culture.
'It focuses on the environment, but more in a sense of interrogation of place,' Hart told ArtsHub.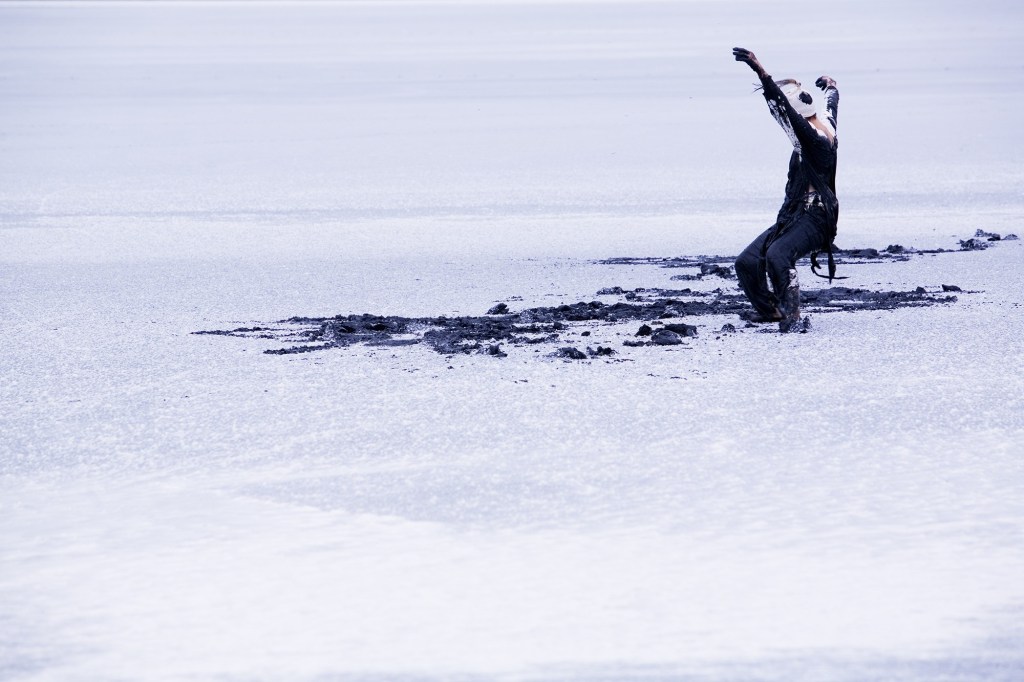 'Yes, there are lots of fascinating stories of practices there that involve the environment. There's salt lake mining that happens there, for example. There's also a long tradition of farming there through the act of colonisation – grapes, cotton farming, almond farming and a lot of environment practises that go with that,' they said.
'But we're also interested in what it means to live in remote, regional Australia, and the complexities of that.'
Included in the show are internationally recognised artists like Julie Gough, Tracey Moffatt, Albert Namatjira, and Tony Albert, some of which are from Mildura Arts Centre's own collection. But there is also a significant contingent of local artists showcased.
'We've tried to look at what was happening within living practising artists of the region, and centre them alongside some of those other more well-known names,' Hart explained.
'Artists like Sian Harris, who is a Barkindji artist, and Angelica and Arthur Kirby, also Barkindji – we developed relationships with them while we were living there, and in many ways they were inspiring for us in those early curatorial moments.'
Polinkghorne continued: 'one of the premises is about the specifics of place and what that can tell us about ourselves, about Australia, as much as it is about work that speaks on a meta level, and what that can tell us more broadly.'
They cite the work by Soda Jerk called Terror Nullius which will be appear in the show alongside a range of First Nations work as an example of the exhibition's scope.
'Terror Nullius interrogates the politics of Australian culture in a humorous way,' Polkinghorne explained. 'But then the Barkindji artists' works come from 60,000 years of being there, so it gives us a very different understanding of place,' they said.
Ancient places, modern complexities
Also deeply felt by the curators whilst there, was the sense of past time that is palpable in the region's land.
'Coming from living in a city like Sydney, you don't encounter 700 year old red river gums,' Polkinghorne said. 'In Mildura, ancient trees are everywhere, and there's also the confluence of the two rivers – the Baaka and the Murray – which has been a meeting place for First Nations people for tens of thousands of years,' they remarked.
It's this sense of deep time tinged with complex connections to the land the curators feel speaks volumes about contemporary Australia.
'It represents so much about Australia today,' Polkinghorne said. 'Discussions around foregrounding First Nations peoples in contemporary Australia, the impacts of colonisation, the impacts of water allocation, the impacts of western farming practices – it's all there,' they said, adding a reference to a particular site they remember as an especially poignant symbol.
'It's on the South Australia/ Victorian border,' they said. 'One side of the country is cleared farm land, so it's flat earth, dust with nothing growing, and then the other side of the fence is a uncleared Mallee scrub country where the trees and bush are literally all that's holding it together.
'All that separates it is a fence, that symbol of colonisation – it's remarkable,' they concluded.
Explore the exhibition at Mildura Arts Centre from Saturday 19 February – Sunday 1 May.