The world of arts consultancy has changed dramatically in the past decade. Kath Melbourne knows this firsthand, having worked across the arts for a number of years. She believes the shifts we're witnessing echo the broader changes seen in contemporary society – including the constant imperative that demands we do more, faster, and with less.
'I think we find ourselves in a time where organisations are very lean, so they are often looking for expertise on a more "on-call basis," rather than full time positions in-house,' Melbourne said. 'Often that internal skill set has been reduced, such as when two senior roles are combined into one to lead a small to medium arts organisation. It is hard to bounce ideas off yourself!'
Having worked across festivals, funding bodies, government, and arts organisations large and small, Melbourne is all too familiar with the demands placed upon arts workers today. Whether it be facilitating a workshop, building a strategic plan, grant and policy writing, birthing a new idea or just writing up your annual report, she said that the key component to any of these services is trust.
'I work with staff and boards and not against them,' Melbourne told ArtsHub.
While reduced resources might be one reason to employ an arts consultant, another is diversity. 'Our world is becoming a lot more sophisticated about diversity, so often an organisation will reach out to an arts consultant with specialist understanding of a community to help bridge and deliver in that area,' Melbourne said.
'Empathy and emotional intelligence is really important to me as a female consultant, to be able to talk through the big challenges and offer pragmatic solutions,' she explained.
'I am trying to raise awareness around the profession of art consultants. There can be a lot of misinformation and mixed perceptions. When people hear the word consultant, they often picture someone in a suit coercing them into a foregone conclusion, and the reality is that the good ones listen first and design from that knowledge.'
'There can also be further challenges as a woman in this sphere, where you're often part of a minority of women leading arts consultancies.'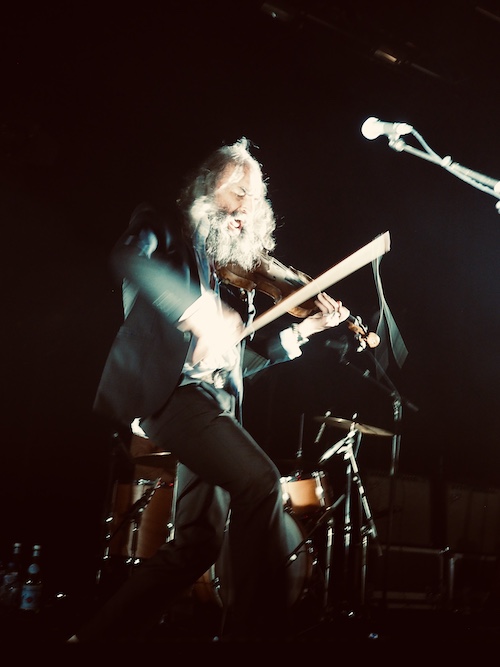 Warren Ellis, The Dirty Three, part of arts reviewing collaboration with  The Mercury newspaper during Dark Mofo. Photo: Kath Melbourne.
Conquering fear
Fear is the greatest thing that holds us back professionally, Melbourne believes. 'I find that so many organisations try to hold on to systems and visions they have – they keep trying to make them work – but they have become outdated. One of my greatest skills in this job is being able to unlock a different perspective.'
'The world has changed dramatically in recent years and the way we look at the arts, and why audiences access the arts, has changed with it – and so we need to change too.'
Arts consultants can help alleviate the pressure points that cause that stasis. They can also help you to aspire to attain a goal that's currently out of reach.
'Sometimes my clients have reached a point where defeat is settling in, but really they are just a few steps away from what they are trying to achieve. We take those final steps together,' said Melbourne.
'Good arts consultancy is not about creating a template and forcing it to fit an organisation.'
Melbourne continued: 'Our sector needs diverse points of contact and reference to create new work, new brands, new employment, new opportunities – and paralysis in the sector is the most damaging thing holding them back – often more than economics or capacity.'
She said that listening is the skill that's most critical for arts consultancy. 'If you can open up yourself as a consultant, without the ego, then you are going to be working authentically with an organisation or individual.'  
When working with a new client, Melbourne oftens starts with a question: Do you want to build capacity, or are you wanting to change direction?
Rather than adopt a helicopter view when working with an organisation, government or individual, rather she adopts 'an ecosystem view'.
Melbourne explained: 'Today no one works in isolation; everyone is connected to a bigger system. To change ourselves we need to understand change in other sectors that we are connected to.'
Kath Melbourne arts consultancy. Artwork in background by Joan Ross. Photo: Amy Brown
A dollar paid, a dollar made
Arts organisations are never short of great ideas to throw around, but often they don't have the resources to amplify that idea into a reality. This is the role of the arts consultant.
'Think of it like a good personal trainer,' said Melbourne. 'When budgets are tight, I can come into the picture and really focus on building capacity within an existing board and staff, and arm them for future solutions or directions. It is not about hamstringing them so they become reliant on my services.'
Perhaps the greatest perceived encumberment to taking that next and necessary step is the expense of employing an arts consultant.
'You have to have a really upfront conversation together about what your budget parameters are, and what you want to achieve,' said Melbourne. 'A good consultant will be really flexible about how they can achieve that while still recognising the skills and experience they bring to the table. It is about being accessible.'
Overall, hiring an arts consultant is an investment in a more impactful and holistic way of thinking, Melbourne said.
'The shift in thinking from waiting for the government to grant money to a proactive one which sees possibility, is the best gift a good consultant can give.' Often it is about flipping that funding strategy around to build social enterprise – which pays dividends down the road.
'When you are deep in the guts of things it is really hard to tap your team on the shoulder and say "I need this or that to take us to the next level". Sometimes you just need that outside perspective for clarity,' Melbourne concluded.
Visit Kath Melbourne's website to learn more about her arts consultancy services.