The Bunbury Biennale was established in 1993, making it a well-established arts event in Western Australia. However, it has taken a fresh direction to embed the voice and visibility of Western Australian artists within global conversations.
The exhibition was created to expand and diversify the City of Bunbury Art Collection, while driving tourism. 'The Council had the ambition decades ago to have a big international exhibition like the Venice Biennale, in what was then seen as just a little country town,' says Bunbury Regional Art Gallery (BRAG) Director and artist, Dr Michael Bianco. 'Bunbury may be regional, but it's also global,' he adds.
'The exhibition has always had a bit of an energy driving it, from people in the community who are very passionate about the arts. That vision to recreate Venice in Bunbury was ambitious for any gallery, especially at a time when they would have proposed it.'
Born on another west coast, that of the US, Bianco has been in the role at BRAG for just over a year. 'Compared to what I knew as a curator in the States, I wouldn't say there are a tonne of good exhibition opportunities in Western Australia for artists. But historically, the Bunbury Biennale has been one of them, and the exhibition has provided a really important platform for people to get their work in the world.'
Originally curated via an open expression of interest strategy, in recent years the Bunbury Biennale has refreshed its format to become driven by a thematic concept. It is now, in a first, presented as a cluster of exhibitions. 'I was trying to be proactive around how the Biennale could respond to the issues of our time,' Bianco tells ArtsHub.
'One of the things that I find very different in Australia, compared to my experience in the US, is how often exhibitions are open to expressions of interest (EOI). That results in a certain flavour of group exhibition, which at points has its merits – and so we have kept that as one of the exhibitions within the larger Bunbury Biennale program, A Cultural Ecology. But the EOI form doesn't necessarily always have the curatorial authorship I am used to,' he explains.
Under the theme Culture/Nature, the 2023 Bunbury Biennale delivers four separate, yet connected, exhibitions. They are:
A Cultural Ecology – a cohesive survey of 27 selected West Australian artists responding to the theme Culture/Nature and the delicate status of our current environment
Enmeshment – a curated show of artists working with(in) the environment, including seminal performances by artists such as Allan Kaprow and Stelarc, and recent drawings by the prominent Western Australian artist Erin Coates
It Woke the Town Up – an independent curatorial project about the 1976 bombing of the woodchip terminal in Bunbury, presented at the Bunbury Museum and Heritage Centre as part of the Biennale program, and
Biennale Revisited – an exhibition highlighting artworks acquired from past Bunbury Biennales in response to the theme Culture/Nature.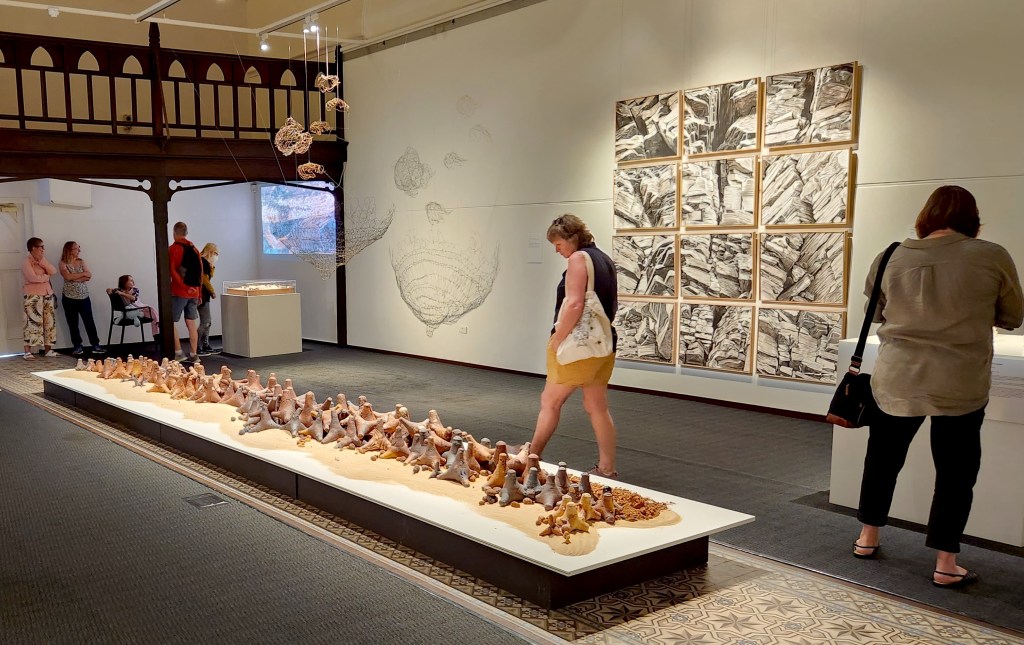 What's in this year's Bunbury Biennale?
In addition to A Cultural Ecology, I wanted to curate something showing artists working across environmental issues from an art historical perspective. I think it's particularly important when placing what regional Australian artists are doing in some kind of broader global discourse. We need to be better about doing that to ward off parochialism, and to contextualise artists in the region as legitimate peers to their counterparts around the world,' Bianco says.
'So, I created this show, Enmeshment, which features both Allan Kaprow and Stelarc as a way to point to a half-century of environmentally-minded arts, and to show how these issues persist in our society and in arts practices. I've also included recent work by Erin Coates, which reframes fragments of dolphin skeletons as bones mutated with heavy metals.
'It was also amazing to create an educational program where Erin's artist talk was delivered on a boat where the audience could be literally surrounded by dolphins. While the artists in the exhibition are mostly working in places outside of Bunbury, it was really exciting to be able to exhibit work that speaks in parallel to our local environmental issues,' Bianco continues.
Similarly, a work by US artist Amy Youngs sits alongside that of Bunbury artist Rizzy. 'One of the things I'm most excited about is exhibiting major international artists in a regional context. I feel like that's something that we should be doing as a regional gallery. It's like saying, "All right, this is what we have here", and situating our local artists within a broader global discourse.'
There is no better exhibition to demonstrate that currency than, It Woke the Town Up. 'For me, I look around and see that we are this moment when we're seeing all these people gluing their hands to art gallery walls and using art galleries as spaces for protest environmental degradation. It's labelled as radical eco-terrorism, but it's relatively mild and nothing new.
'Working with Amanda [Gardiner] on It Woke the Town Up was an opportunity to say we have a historical example of radical protest here,' continues Bianco. 'This isn't just a little country town with nothing going on. It's about bring this radical local history to the fore and showing that it is actually quite significant globally.'
Bianco makes the point that 20% of the world's aluminium comes through the port of Bunbury, which also distributes significant volumes of materials, such as noodle wheat and woodchips for paper, for Japan – making the Bunbury port a site of topical urgency that would be seen in the art presented at any major international biennial.
Ambition is not determined by location
Regional places are in the DNA of this American, with Bianco having studied in regional New York State, and then spending eight years in the iconic Texas desert town of Marfa, before it became the selfie-snapping tourist destination for minimal art.
Bianco knows first-hand how art can be transformative for regional towns. 'You could be in the middle of nowhere, and have the most incredible interactions with some of the world's most important artists and theatre-makers,' he says of Marfa. 'And they were all there because an incredible artist had this vision and bravery to say, "This place is special. Let's do something in and about this place, and let's be ambitious." And then really, really go for it. I've always taken that thinking with me, everywhere I go, and I feel Bunbury could do the same thing if it wanted to.'
He adds that he hopes that one of the shifts brought about by the pandemic – of people moving to regional places – continues. 'Getting people to think beyond the idea of the "peripheral", to change those monologues about what it means to be regional, sits at the core of the Biennale.'
Bianco concludes: 'While I can't assume that people in regional WA would necessarily know Allan Kaprow or Stelarc, I have faith that the work's inherent quality will present itself and speak to people's sensibilities directly. At the same time, I had a senior regional artist I had never met before visit the Bunbury Biennale this week. He came into the gallery and he said to me: "This is the best show I've seen here in I don't know how long. You know, I studied with Joseph Beuys, and I can see what you're trying to achieve here. And you're doing it."
'It was amazing feedback, and I think it speaks to the fact that, even though we're in a regional area, we still have members of the community who have significant global reach. As a gallery we need to build on these kinds of connections and bring greater visibility to the great artists who have chosen to live here, because it is a beautiful part of the world.'
The 2023 Bunbury Biennale exhibition is showing from 2 April – 5 June 2023.
Accompanying the Biennale is an extensive public program of events, artist talks, workshops and self-guided tours. Check out the full program.