In 2022, John Waight joined the National Art School (NAS) in Sydney as Head of First Peoples Programs. Descended from the Mangarayi people, whose Country is just outside Katherine, he is one among many arts professionals now involved in a nationwide push to ensure an equity of voices across Australian educational and cultural institutions.
Waight says while appointments like his at NAS are timely – and springboard off a moment when all tertiary education facilities have been asked to reassess their curriculum – it also comes from a consolidation of two decades of revaluing, and the desire for greater understanding and representation of First Nations culture.
'I saw that there was a unique window of time to build on what NAS was already doing – and also Australia is ready for it,' Waight explains. 'Not just with The Voice, but looking at our students who are 18 and up, and recognising they have had a good 20 years of seeing there is a gap in our histories and visual identity, and here is a chance to rectify that.'
He says the Sydney Olympics in 2000 was a great catalyst in celebrating Aboriginal culture, and these broader milestones can be helpful to progressing perceptions.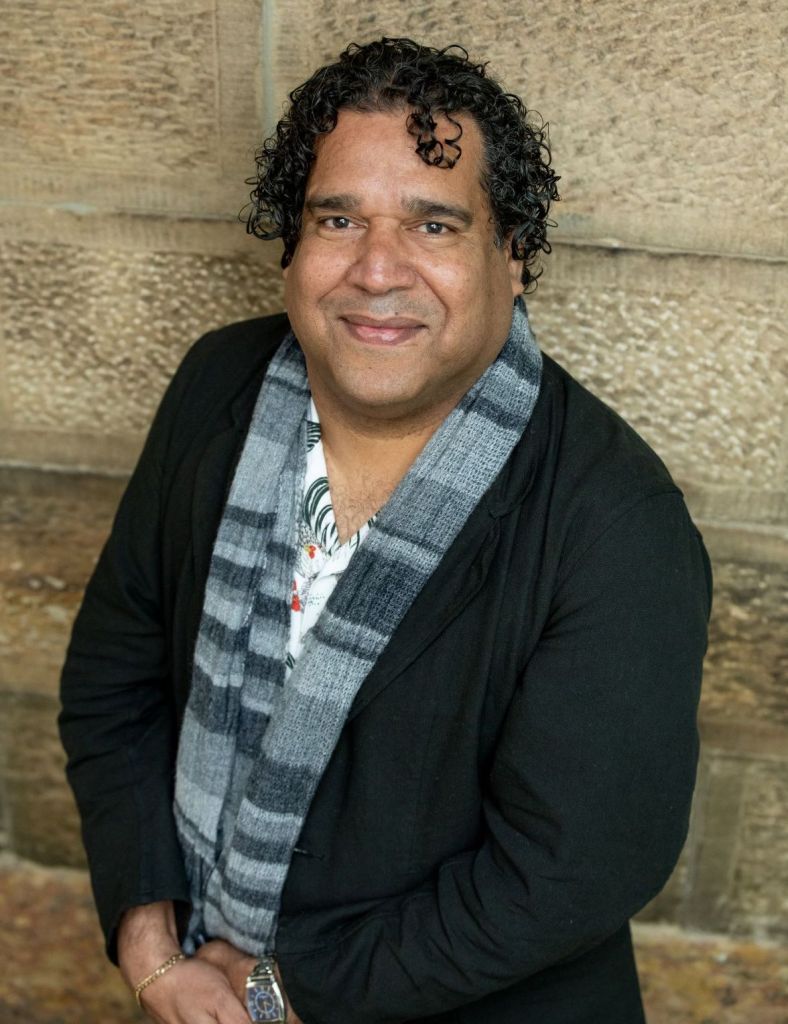 'A lot of background work happens in cultural institutions, which can be frustratingly slow to a lot of people, but we want to do it right and ensure we line up the dots correctly. The slow factor is the greatest challenge, both your best friend and your greatest enemy. So how do you keep the journey moving and keep it from being just a flash-in-the-pan political trend?'
Waight's role at NAS includes rethinking and reworking the School's curriculum to place First Nations art and culture in a central position as a foundation of Australian art, as well as working to ensure inclusion and storytelling are embedded in the educational experience.
Nurturing inclusive histories
When Waight was a student at art school, 'there were very few Indigenous, queer or women's voices, except in specific siloed curriculum subjects,' he says.
'It was the same going to galleries – you would have the Indigenous art downstairs, or off to the side. Now those artworks are part of a curatorial hang alongside other Australian artists.'
He continues, 'This sense of inclusion for a young person, where they can see what they can be, is really important – to have your social group represented equitably in an educational and cultural context.'
That rhetoric matches practice in NAS Galleries programming, with the recent Sydney WorldPride exhibition Braving Time: Contemporary Art in Queer Australia featuring First Nations artists Tony Albert, Christian Thompson, Karla Dickens and Brook Andrew. Upcoming 2023 exhibitions continue the focus on contemporary Aboriginal artists. OCCURRENT AFFAIR (24 June – 5 August) celebrates the work of proppaNOW, Queensland's leading Indigenous arts collective.
'As a collective they have been at the forefront of actually doing what we are talking about,' says Waight. 'To look at what Aboriginal art is and the social visions and assumptions that have been put on it – but then to push the envelope and advocate for deeper thinking.
'It is not just about a contemporary lens,' he continues. 'It is about getting people to understand the rich diversity of that cultural outreach. It is a continuation of traditional cultural expression, and that's the big mental shift that needs to happen.'
NAS has long collaborated with the Anangu Pitjantjatjara Yankunytjatjara (APY) Art Centre Collective, celebrated in the exhibition, Milpatjunanyi (1 July – 9 September), the word for the traditional telling of stories in the sand. Tjala Arts artist Yaritji Young explains, 'When I was a child, this is how we learned our Tjukurpa (cultural stories)… Women of all ages sat in a circle practising milpatjunanyi (drawing in the sand). These circles of women can be seen in every community across the APY Lands today.'
APY Art Centre Collective artist Sally Scales, adds: 'The best artwork from my home marks time. This work was made during COVID, which was a frightening time, but also a time where APY Art Centres showed their immense value and strength. This was a time where Tjukurpa (law and culture) kept Anangu together, focused and strong.'
Students at NAS can find connections to that COVID journey in this exhibition, as well as a focus on drawing as a central studio practice. These ideas will also be discussed in Correspondence: Drawing Symposium 2023 (1 April), part of NAS's Festival of Drawing that includes the Dobell Drawing Prize #23 (31 March – 10 June). As part of the Symposium, First Nations artists Vernon Ah Kee (Kuku Yalandji, Waanji, Yidindji, Koko Berrin and Gugu Yimithirr/Qld) and Brian Martin (Bundjalung, Kamilaroi and Muruwari/Vic) will share their own stories through speaking about their art practice, and the importance of maintaining connections with other artists.
From students to policy
Waight says NAS is ambitious in its holistic and long-term approach to the inclusion of First Nations voices and learnings. 'The students are here for three to five years, so I would like them to feel confident and capable, with access to the best tools and information to make them feel proud to create work to represent their country.
'Regardless of their background, we want our students to be aware of their own environment and all the nuances that go with their practice. That includes an equitable representation of Australia's histories, so our students are able to navigate past and future together.
'It is a great moment of hope, having these enthusiastic conversations with students and staff, and bearing witness to the changes already underway,' he concludes.
John Waight was previously Acting Curator of Aboriginal Art at the Museum and Art Gallery of the Northern Territory in Darwin and Artists in the Black Coordinator at Arts Law in Sydney. He joined NAS in February 2022.