Colour has always defined the work of Scottish artist Jim Lambie, but not as we conventionally know it.
For example, central to his most recent exhibition Wild Is The Wind, presented by Roslyn Oxley9 Gallery (Sydney), is a bunch of regular supermarket carrots. Lambie has literally dipped them in paint and used them as a paintbrush, their acid orange explosion of colour dribbled down the gallery wall.
It is the residual of a performance titled, 14 Carrots (2019), playing off the preciousness of gold and the perceived value we place on objects.
Jim Lambie, 14 Carrots, 2019. Carrots, enamel paint. Installation view Roslyn Oxley9 Gallery, Sydney. Image supplied.
Wild Is The Wind is Lambie's second solo exhibition with the gallery, following Zero Concerto in 2015, which was presented in the wake of his inclusion in 19th Biennale of Sydney (2014).
For both, audiences were introduced to Lambie's signature floor works – installations of rainbow-coloured vinyl tape that transform the floor's surface. It is a technique he coined in 1999 with the work ZOBOP, which bought global attention to his work. It was subsequently shown at New York's MoMA, London's Royal Academy of Arts, Tate Liverpool, and the Museum of Contemporary Art for the Biennale.
This new exhibition, however, takes a direction that we haven't seen before in Australia, including a new seven-screen video installation and everyday objects as vibrant wall sculptures. 
It feels both familiar and surreal, and a curiosity settles under our skin as viewers.
The exhibition embraces the moment – a thought – not unlike a dreamscape, with Lambie posing the question 'How do you control the fleeing moment?' It is a collective temporality that speaks very much of our times.
A child of the 60's, Lambie's father ran a mobile disco while his mother practised go-go dancing; he even had a spell as a DJ. Today, his artworks pulse with a similar psychedelic tone and energy.
Holding this exhibition together is a suite of wall sculptures constructed from cheap, retro sunglass lenses, which have been fused together in a similar tradition to stained glass windows (pictured top). They look a little like constellations, and peering into them the viewer captures their own reflection with a dichroic twang.
Lambie has a passion for flea markets and found objects. He believes that flea markets are where you 'find the real language of the city'.
'The everyday and universal objects are often overlooked and ignored. I am bringing these elements into sharp focus. Placing them in a more central role.'
Jim Lambie
Central to the exhibition is an old wooden railway sleeper, which is suspended by a string of beads from the ceiling. Riffing off the notion of deep sleep and that REM moment we find, Lambie aims at creating a kind of organic dreamscape that is wild mad and beautiful at the same time.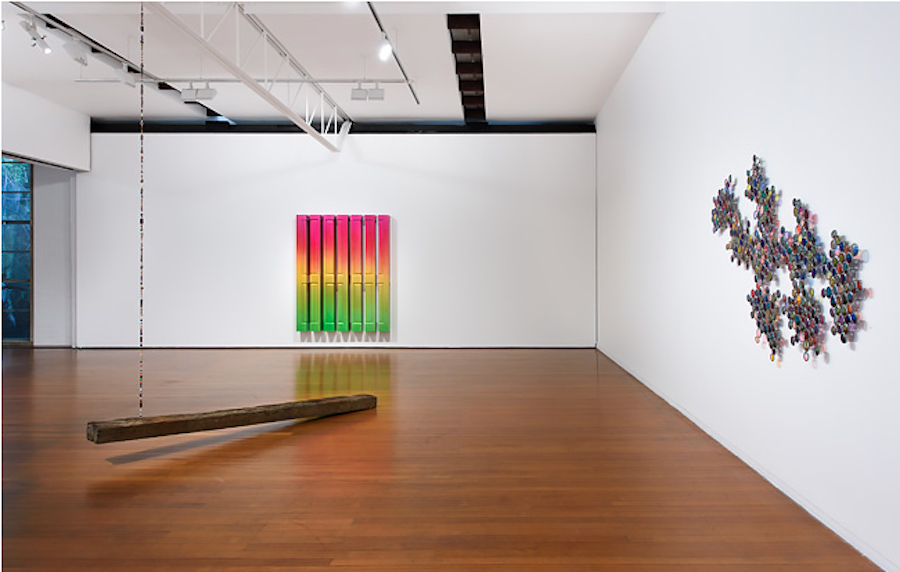 Installation view of Jim Lambie, Wild is the Wind, Roslyn Oxley9 Gallery (2019). Image supplied.
This moment is continued to Sun Beam (2019), glass jars stuffed with t-shirts and perched upon the gallery's roof trusses. Around the walls, wooden doors have been spliced and reassembled, then spray-painted vivid colours. For Lambie, they represent the rising or setting sun.
They have a great connection to a new video work, Self Portrait (In Seven Parts), where seven monitors, randomly looped, show the artist in his studio. He slowly soaks the camera with an aerosol can; persistently repeating the action in different shades.
This notion of endlessness for Lambie takes its cue from Bill Hicks' famed quote, 'watching television is like taking black spray paint to your third eye.' Lambie adds, 'it's a wee bit like social media today'.
There is a pulse and energy across Wild Is The Wind that is both fun and pensive. Writer Emma-Kate Wilson described it as a Factory-esque dreamscape, 'with found objects that feed into an Andy Warhol aesthetic'.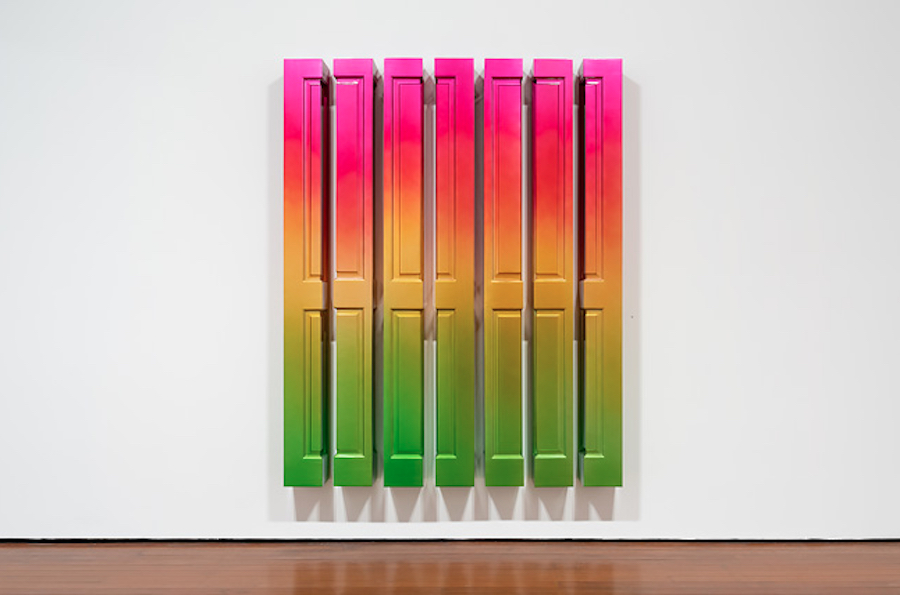 Jim Lambie Sun Rise (Meadow Lark), 2018, wood, spray paint . Photo: Sebastiano Pellion di Persano. Courtesy of the artist and Roslyn Oxley9 Gallery, Sydney.
Lambie is one of the UK's most celebrated artists working today. His CV reads like a Rolodex of the world's top contemporary art museums, his contemporary language universal and deeply engaging.
Lambie represented Scotland in the 50th Venice Biennale (2003), and was shortlisted for the prestigious the 2005 Turner Prize.
Wild Is The Wind is showing until 23 November 2019 at Roslyn Oxley9 Gallery.
The Gallery is located at 8 Soudan Lane (off Hampden Street), in the Sydney suburb of Paddington.