The pandemic has offered us all a moment to re-gear, not only how we work, but how we think about the way we engage with the world around us – and what 'impact' looks like.
This is not new territory, however, for Blue Mountains artist duo Claire Healy and Sean Cordeiro. In a new exhibition charting a decade of their practice, they explore themes of obsolescence, collective endeavour and the place of the individual within complex systems.
After five months of closure due to COVID restrictions, the Blue Mountains Cultural Centre (BMCC) will present, Post-haste, which for its sheer scale alone, will be testament to the impact art can have on a viewing public. 
Rilka Oakley, curator of the exhibition, told ArtsHub: 'It is massive! It's like every work is monumental and almost all are floor to ceiling.'
Take for example Par Avion (2011), which is comprised of a Cessna 172 airplane dissected into 70 pieces to enable it to be posted and reassembled at its destination, taking up the impressive volume of a 5 x 11 meter vertical footprint.
Oakley said the point made by the installation is not lost in our new reality, where flights have been grounded and the physical – palpable – engagement with art in a space has been denied us for so long. 'It towers over the viewer, reminding us of the impossibility of flight but also the irony of re-flighting a decommissioned plane via the postal service,' said Oakley.
She continued: 'The brilliance of Healy and Cordeiro is their ability to re-imagine everyday objects into playful critiques of serious issues. They aren't limited by mediums, or even practicalities, when conceiving their works, many of which require substantial involvement from other people to manifest.'
She added that it was a privilege to reopen the centre with such an important exhibition featuring two internationally renowned artists who call the Blue Mountains home.
WHAT IS POST-HASTE?
Post-haste has long fascinated the artists, and takes its cue from Paul Virilio's concept of Dromology, which investigates how the speed at which something happens may change its essential nature. It is often used when considering the structuring of society in relation to warfare and modern media, with Virilo explaining that what moves with speed quickly comes to dominate that which is slower.
'Possession of territory is not primarily about laws and contracts, but first and foremost a matter of movement and circulation,' writes Virilo. So what happens when nature – or a pandemic – pulls on the handbrake? ask Healy and Corderio.
They believe that this great pause for thought we have been dealt – after a period of great immediacy – brings everything into sharp contrast. As a result, many of the works across this exhibition suggest future scenarios.
A great example is a suite of kites made from helicopter parts. The artists were due to travel to Japan when the pandemic struck, and were literally grounded.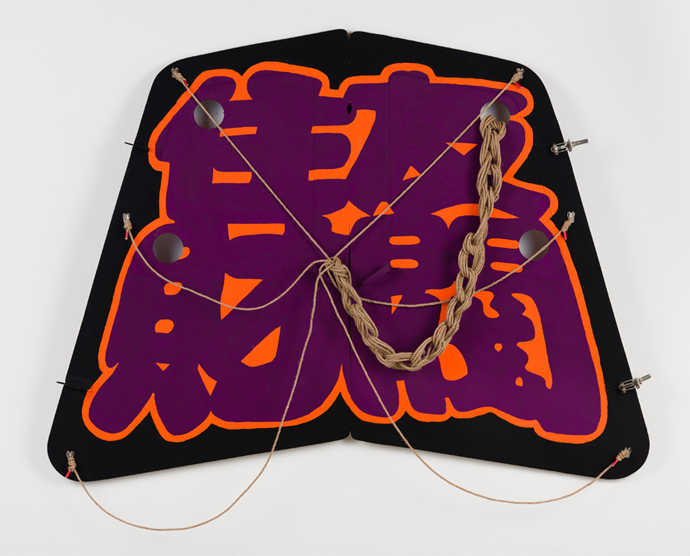 Oakley said: 'The agility with which the pair adapted to these constant changes, and still produced major new works, reveals their unique practice for what it is – an ability to assess an ordinary object (as subject) and transform it into a work of art layered with meaning. Their practice often involves a process of reduction until a material or object's essence, or language, is revealed.'
'How we perceive art and how we see icebergs are pretty similar. It's common knowledge that only a tenth of an iceberg can be seen … The experience and the creation of art has a pretty similar ratio.'

Claire Healy and Sean Corderio, artists
Complementing a number of the pair's earlier sculptural works compositing Lego and IKEA elements into artworks, a number of new pieces springboard from these materials into new thinking for our times.
Working with local schools in the Blue Mountains, the artists invited students to create A4 Lego size panels, which they have extended upon in lockdown to create the work Block Party. It is complimented by a further new work, Epicormic Growth, using outdated smart phones, where students painted landscapes upon the 'screen' – commenting on its role as a contemporary canvas usurping the natural world that we physically move through.
It has an uncanny connection of messages with another new work for the exhibition Mayday (2021), a large-scale Piper aircraft wing that has been 'sticker-bombed'.
Oakley told ArtsHub: 'The materials are not used flippantly. Every element, every action is considered. They are not rushing or using materials for the sake of it. They are chosen for a purpose – more than what we would associate with that material.'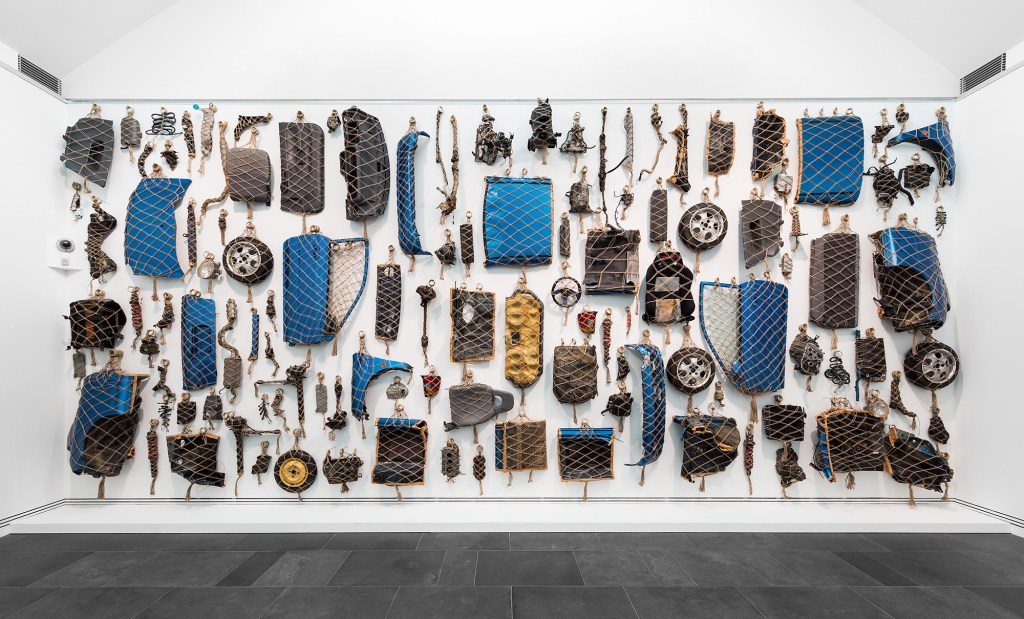 SEAMLESS COLLABORATION
Collaboration is a very contemporary word in art circles, pulled out for cross-medium or cross-venue projects. But for Healy and Corderio collaboration is seamlessly embedded in what they do.
Oakley explained: 'These artists are making work that seems impossible – they are not limited by questions, by things too hard, too big, or too expensive. Their imaginations reach beyond those boundaries.
'They are interested in the mass and form of things, and then they turn things on their head, throwing out all expected norms and tropes of a certain material. Working with them you see this – they jump from A to J, to E to Z – they are incredibly in sync in the way they think and produce.'
Healy and Corderio added of their partnership: 'Artistic collaborations are not surprising. What is surprising is how few artistic collaborations are actually declared! There are too many ghostwriters out there. Making artwork together is easy! Hell, people even bring up children in pairs, how hard can it be?
'We navigate each other's energy levels, natural talents and drives. Hopefully these shortcomings and strengths meld together to create a Voltron-like unit: greater than the sum of its parts,' they concluded.
Claire Healy and Sean Cordeiro: Post-haste is showing at Blue Mountains Cultural Centre, 30 October 2021 – 16 January 2022