Since 1999, philanthropist and art patron Judith Neilson has put her shoulder into collecting contemporary Chinese art.
Her passion has seen her amass a whopping 2500 artworks, all produced since 2000 and offering a snapshot of a country that has faced massive change.
Through her White Rabbit Gallery, located in the Sydney suburb of Chippendale, her team (largely under curator David Williams) has put together thematic exhibitions on a six-monthly cycle that seek to offer a more realistic view of a contemporary China and its art world than the dominant media-fuelled perceptions.
The result is often acerbic, wry, dark and challenging. The titles of those previous exhibition give a hint of the tone that has become signature to the gallery, which has come to champion its role as agitator, provocateur, lens and realist: State of Play, Serve the People, Heavy Artillery, Paradi$e Bitch, Commune, Double Take, Hot Blood, Reformation and The Sleeper Awakens.
The current exhibition, THEN, in contrast is less thematic. Rather, its collective statement celebrates the first decade of the 'Chinese century' – the moment when Chinese contemporary art exploded into the international arena. It's been described as 'examining the paradoxes of a nation on fast forward.'
Of note, all the works on display were produced in that first decade of Neilson's collecting, and with more than 60 artists on display, this exhibition feels dense – perhaps a little more than usual for the gallery. But that does not compromise the show; rather it fuels it further.
One critic has even described it as a show 'that fizzes with excitement'. And if the thrashing hot pink carpet on the second level is anything to go by, THEN is characteristically and unashamedly brash, bold and brave – a hallmark for Neilson and her gallery.
Walking into the former warehouse space, it is only fitting to face Chen Wenling's Valiant Struggle 11 (2006) with Red Memory – Smile (2007) dominating the three-storey void. These works were presented in Exhibition 1, curated by Neilson's daughter Paris Neilson, and remained on show for the first three exhibitions.
Chen Wenling's Valiant Struggle 11 (2006). THEN, White Rabbit Gallery installation view 2019. Photo ArtsHub.
Chen's is a narrative of gluttony and greed in a (then) new consumer-driven Chinese society, metaphorically captured in the lashing 11-meter tongue that dangles a golden pig, upon which male and female figures clutch to its dangling legs, not wanting to let their prize to escape.
Also fittingly, the first work encountered on the first floor of the gallery is Qi Zhilong's China Girl (2001), an artist bought to international attention during the heyday of China's 'political pop' movement.  
The young woman in her red guard uniform is likened more to the ideals of a classical Chinese tradition of depicting beauties than revolutionary bravado. Williams begs us to ponder what has changed since these works were made, and a time when these artists shot to global renown, against a China that today moves into a new chapter of dominance.
As a whole, the exhibition doesn't offer seamless transitions and conversations. Its choppy juxtapositions are almost a metaphor for the disparate histories that make up this complex nation.
One only need to consider the pairing of Qi Zhilong's China Girl (2001) next to a suite of photographs by Song Yongping, My Parents (1997-2001). The artist gives them the wedding photo they never had during the Cultural Revolution, then moves on to mapping human failings and frailty with age – the failings of a system and idealism.  
Song Yongping, like Qi Zhilong, makes the directory of 'who's who' of contemporary Chinese art; he was included in the groundbreaking China/Avant-garde exhibition in Beijing in 1989 that largely shaped the first wave of this movement.
Working with Neilson's incredible holdings, Williams ponders what these artworks say now, two-decades on and in a very different place both politically and in terms of prestige.
The exhibition is tightly curated to physically navigate the viewer through the gallery space, building upon that intensity with a collection of rooms, tight nooks and pathways. It is overwhelming and congested, true to China itself.
One moves from the dark display of a specimen from Shen Shaomin's Laboratory series (2005) to Jin Nv's installation Exuviate 2 – Where Have all the Children Gone? (2005) – organza dresses that hang like shed snake skins, seemingly a past exfoliated.
Here Zhang Dali's hanging mannequins, Chinese Offspring (2005), which have been cast from the bodies of rural migrant workers living on Beijing outskirts, haunt the annals of time as China transitions from an agricultural to a primarily urban nation in which the individual is rendered anonymous.
Indoctrination is never far from the surface in many of these works, but there is also a commentary on its failings. Meiya Lin's video The Times are Summoning (2007) feels playful, but by focusing on the practice of compulsory calisthenics in schools, it questions the point of effective doctrine.   
The tone changes, as viewers move into the neon glow of Wang Zhiyuan's Object of Desire (2008) – a pair of oversized 'panties' offset by pink carpet. Neilson first met Wang Zhiyuan in 1999 and they became close friends, often travelling to view and buy art together.
Wang's message is that love is just another transaction in the new economy, which has an uncanny twang in the context of the Chinese art market.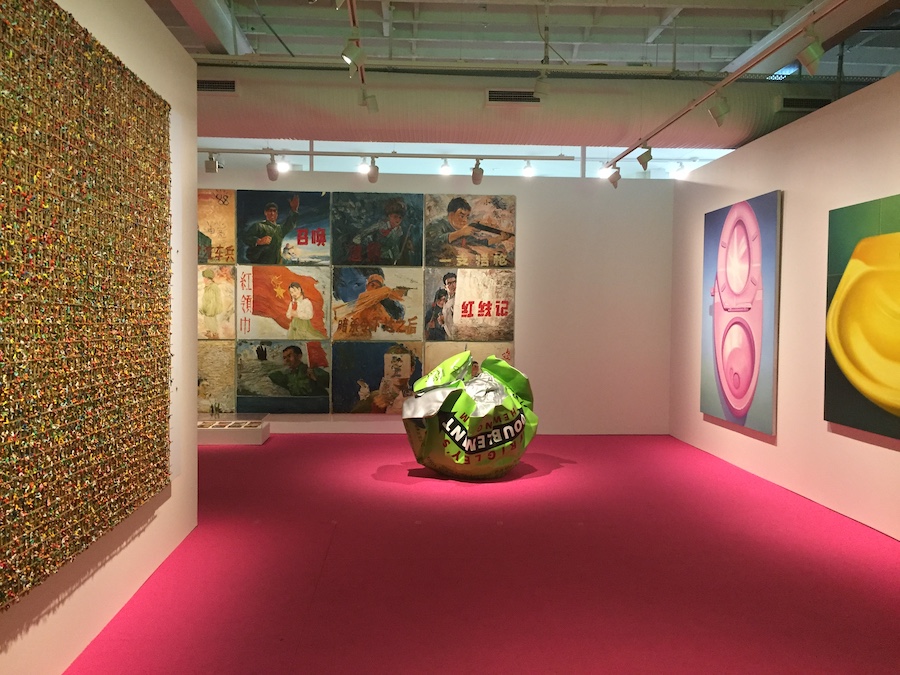 Installation view THEN, White Rabbit Gallery (2019). Photo ArtsHub.
A fantastic pairing in this central gallery is the work Jiao Xingtao's Green Diary (2007), a giant Wrigley's chewing wrapper with Shen Liang's This is a book (2007), a suite of heavy impasto paintings that remember a pre-globalised China through the covers of well-worn comic books from the period featuring revolutionary heroes and socialist role models that children were meant to emulate.
How those role models have changed, and realigned as throw away consumer culture! 
Other works that stand out are Qin Fengling's Scaffold 08.8 (2008) – a writhing grid of tiny figures – and a suite of 23-colour serigraphs by Tan Maohong, Orchid Fingers (2005), which use the classic motif of the moon window used in gardens to 'reveal' a window into surreal contemporary narratives.
Similarly, on the upper gallery level, Wu Junyong's suite of four paintings allude to cultural revolution punishments with his protagonists wearing a dunce hat and questioning, what lies beneath the thin veneer of social harmony?
This fragility or tension is played out more abstractly by Zhou Xiaohu with the kinetic installation Even in Fear (2008) (pictured top), a weather balloon that inflates and deflates in an endless cycle, gradually wearing out in the process. 
Like a lot of contemporary Chinese art, it is steroid in scale; it wows and woos audiences, and celebrates the one-line delivery.
Audiences see that skill of fabrication and scale again on the upper level of the gallery, with a world that in many ways connects with Zhou Xiaohu's piece.
Architectural in tone, Xu Zhen's installation Calm (2009) on first glance is a pile of rubble, but then slowly rises and falls as the sculpture appears to breath. Paired with You're Going to Heaven Tomorrow and Dah…Dah…Dah…Dah (2009) – rusty iron sculptures of the sound waves of speeches by unidentified politicians associated with the never-ending crises of the Middle East – the message is clear.
Installation view of Xu Zhen's work from 2009 as part of THEN, White Rabbit Gallery (2019). Photo ArtsHub.
The intoxicating lure of power and change is both destructive and liberating. It is impossible to touch on all the works in this exhibition, but walking through THEN, you can't help but recognise the passion of Neilson and her ability to have captured the pulse and heart of a era.
On one level, the collection is idiosyncratic. Neilson recently described that she refuses to become involved with the stories or emotions behind a piece. 'It just has to connect with me,' she says.
Read: Judith Neilson versus John Kaldor
That passion is not waning – nor is the number of people flocking to White Rabbit Gallery. THEN is the 22nd exhibition to be mounted in the gallery. It would seem that Neilson's passion is on par with a public curiosity for China and its contemporary art scene.
4.5 stars out of 5 ★★★★☆
THEN
Curated by David Williams
11 September 2019 – 26 January 2020
White Rabbit Gallery, Chippendale NSW
Free admission