If you're looking for an appropriate animal metaphor to conjure up the internal world of a child abandoned by his family, scared and wary, but desperate to find a new place to belong, the wolf seems like a pretty good option.
Wolf Play, from South Korean playwright Hansol Jung, was prompted by a newspaper report detailing social media groups being used by some adoptive parents to rehome their children – generally from other countries – in a sort of twisted case of buyer's remorse.
Jung has woven this theme into a story of Robin (Jing-Xuan Chan), a young woman so desperate for a child that she acquires one from the internet, much to the chagrin of her partner Ash (Brooke Lee), who is about to make their professional boxing debut. When the child is delivered by its original adoptive father Peter (Charlie Cousins), he makes the assumption that Robin's brother Ryan (Kevin Hofbauer) is her partner and will be the child's new father. Robin and Ryan deliberately do not disabuse him.
This omission leads to complications later on, when the truth is revealed and homophobia rears its ugly head.
Premiering in New York in 2019, Wolf Play is a timely piece about families, about belonging and about identity. Continuing its long tradition of producing vibrant contemporary theatre for Melbourne audiences, Red Stitch's production of Wolf Play is tightly directed by Isabella Vadiveloo and boasts strong performances across the board.
The arresting set design from Sam Diamond literally frames the action with a wash of blue bordered by a triple white line, which even runs through the furniture when it gets in the way. Vadiveloo pulls robust performances from the fine ensemble cast, with a particular emphasis on the physicality – appropriately for the boxing/boxing training themes that make for such a strong through line. It's also tautly paced – which it needs to be with a two-hour running time and no interval.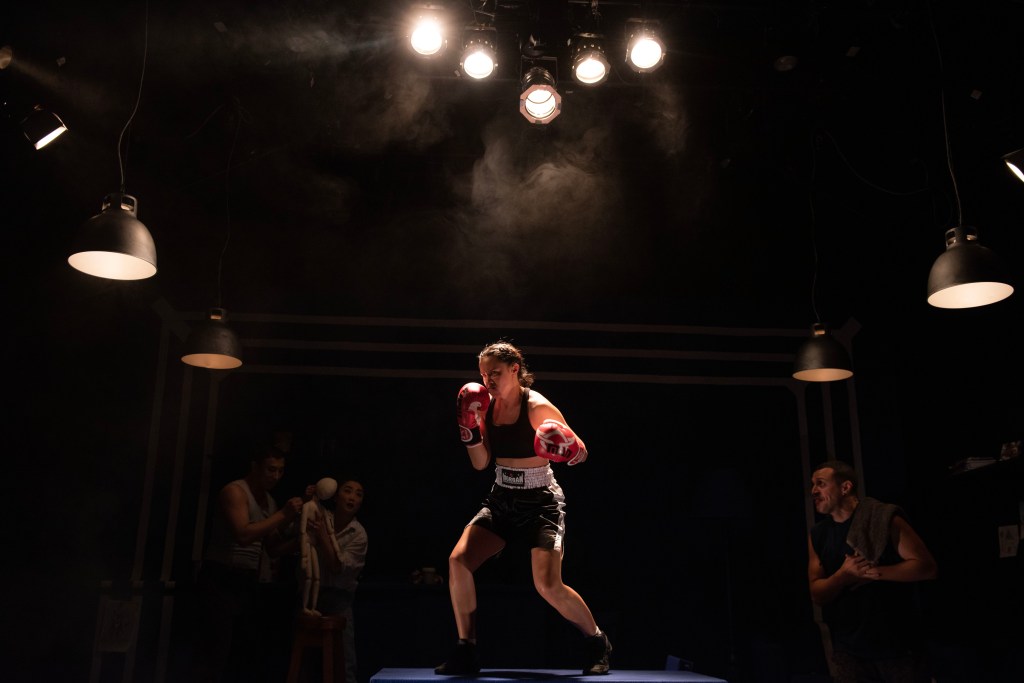 Jung circumvented the challenge of theatre companies having to find a child actor able to handle a role like this by stipulating the use of a wooden puppet for the child. The device also underlines the character's lack of agency and autonomy as he is passed from family to family to family, with such little genuine regard for his well-being that he may as well have been a doll.
However, there is also a negative to this device in the way it can mitigate the power of the play's message. As an audience surely we are far less likely to feel the required outrage and revulsion at the idea of someone buying an oversized faceless doll over the internet, than we would a real live child? Strong puppetry skills mean that our ersatz Pinocchio does become real for us as the play progresses, but it takes a while to get there.
The child, the Wolf, is also played by an adult actor (Yuchen Wang) who gives voice to his inner life, introduces the story and, at various times, breaks the fourth wall to comment on the action and, at others, simply shows off his enviable howling skills.
Read: Theatre review: The Sheep Song, Adelaide Festival
Curiously, he is also landed with the only other awkward element of the production, when he launches into a short series of 'knock-knock' jokes some way through. Although he has previously addressed the audience directly, the convention hasn't been set for actual audience response, potentially leading to silence or a tentative 'who's there?' from a crowd unsure if the production has taken a turn to the pantomimic and, if so, what is the expected response?
It's a tiny hiccup, however, in another considered and timely production from a company that continues to impress.