Routinely excised from contemporary productions of Macbeth, Hecate, the Goddess of Witchcraft, is restored to her rightful place and agency in this important new work from Yirra Yaakin Theatre Company.
The first ever theatre production staged entirely in the Noongar language, Hecate has grown out of the Noongar Shakespeare Project, initiated when Yirra Yaakin presented a number of Shakespeare's sonnets translated into Noongar as part of The Globe Theatre's contribution to London's 2012 Cultural Olympiad.
Spoken for thousands of years by the First Peoples of southwest Western Australia prior to colonisation, Noongar – repressed and forbidden during the years of the Stolen Generations – is today spoken fluently by less than 400 people. Thanks in part to the efforts of Yirra Yaakin and director/translator Kylie Bracknell, the number of people speaking Noongar – including the nine member cast of this production, all of whom have reclaimed the language as part of their rehearsal process – is growing every year.
Bracknell's mercurial and sparkling adaptation is presented without surtitles or intertitles, but is easy to follow for anyone familiar with the events of the Scottish play, thanks in part to Kate Mulvany's skilful dramaturgy. For everyone else, the program provides a handy breakdown of acts and scenes – reading over it before the production starts is recommended.
As in Shakespeare's original text, the corrupting power of Macbeth's unfettered ambition is one of the central themes of the work – but here, the focus is as much on Hecate (the poised and regal Della Rae Morrison), a matriarchal ancestor spirit who works to restore health and order to the land, as it is on Macbeth (a grim Maitland Schnaars) and Lady Macbeth (Bobbi Henry).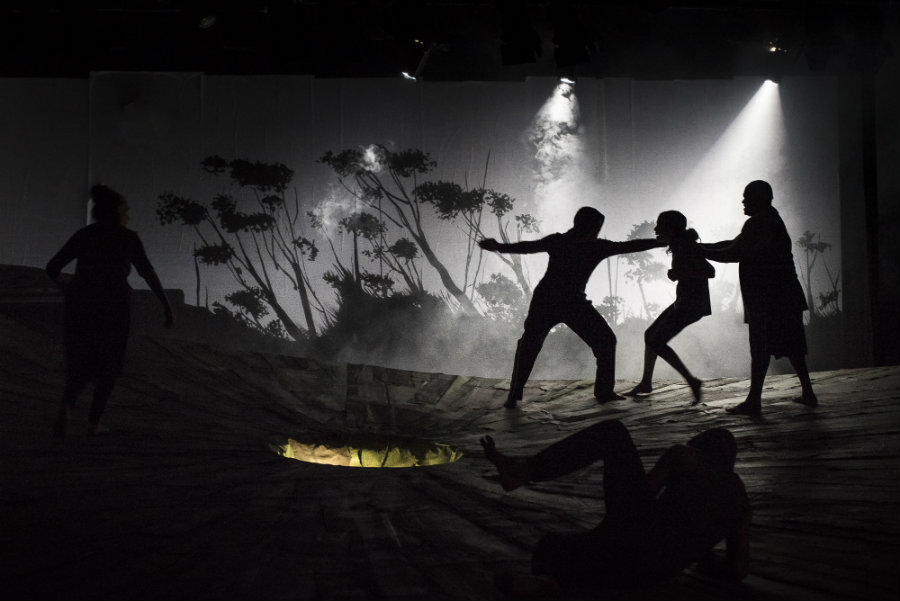 Photo: Dana Weeks.
Hecate is centre stage for much of the production; a constant presence instead of appearing in two brief scenes which may or may not have been inserted into Shakespeare's original script by Jacobean playwright and poet Thomas Middleton, and which are often cut in contemporary productions in order to emphasise the play's psychological aspects. While Bracknell does not shy away from the play's darkness and violence – a sudden shift to silhouette for the murder of Lady Macduff and her son is highly effective, as is the gruesome glimpse of the decapitated Macbeth's head at the play's climax – there's a refreshing emphasis on physicality, even comedy, throughout.
Occasionally such elements feel forced, with a tendency towards mime sometimes evident, as if to emphasise the dialogue's meaning for non-Noongar speakers, but at other moments – such as the final confrontation between Macbeth and Macduff (Ian Wilkes); the zombie-like shuffle of the ghosts of Duncan (Trevor Ryan) and Banquo (Reuben Yorkshire); and the gleeful expression of Hecate's mischief-makers (Bracknell's take on Shakespeare's witches) – the play's physicality is visceral and impressive.
Bracknell makes full use of the Subiaco Art Centre's main theatre, evoking the supernatural turmoil unleashed by Macbeth's murder of King Duncan through drumming and beating on the seating bank from below – recalling the pounding of Duncan's horses' hooves in their stables ('Beauteous and swift, the minions of their race/Turn'd wild in nature, broke their stalls, flung out … 'Tis said they eat each other') on the night of Duncan's murder, while Clint Bracknell's score displays a wide range of influences – at one point even evoking spaghetti westerns.
Performances are strong, with Mark Nannup especially striking as both the grieving Malcolm and a menacing footpad, although the constant exits and entrances Bracknell has called for result in the production feeling occasionally episodic and disjointed. Zoë Atkinson's set – a rocky plain with a deep waterhole in its centre – is simple but striking, and allows for one especially memorable entrance, while Mark Howett's often clean lighting design tends sometimes towards the unsubtle, such as a bloody wash of crimson light across the stage as Lady Macbeth is planning murder.
At only 90 minutes, Hecate is a fast-paced and highly entertaining production that uses one of the bastions of English colonial culture – the plays of Shakespeare – to ensure that a language once repressed by colonialism not only survives, but thrives. It's a towering achievement.
3.5 stars out of 5 ★★★☆
Hecate
Yirra Yaakin Theatre Company
A Perth Festival Commission
Presented in association with Bell Shakespeare
Director/Adaptor: Kylie Bracknell [Kaarljilba Kaardn]
Translators: Kylie Bracknell & Dr Clint Bracknell
Editor/Senior Language Consultant: Roma Yibiyung Winmar
Cultural Consultants: Judy Bone & Mitchella Hutchins
Set & Costume Designer: Zoë Atkinson
Lighting Designer: Mark Howett
Composer/Musical Director/Sound Designer: Dr Clint Bracknell
Movement Director: Janine Oxenham
Dramaturg: Kate Mulvany
Stage Manager: Sue Fenty
Bell Shakespeare Consultants & Associate Directors: James Evans & Peter Evans
Cast: Cezera Critti-Schnaars, Bobbi Henry, Della Rae Morrison, Kyle J Morrison, Mark Nannup, Trevor Ryan, Maitland Schnaars, Ian Wilkes and Rubeun Yorkshire
Subiaco Arts Centre
6-16 February 2020
Presented as part of Perth Festival
7 February – 1 March 2020
The writer visited Perth as a guest of Perth Festival.