Best of the Fest
One of the longest running comedy shows at the Sydney Fringe Festival 2023 is Best of the Fest, presented by the production company Comedy on Edge. Billing itself as 'an exclusive preview of the most outstanding international and local comedic talents', it is more amateur comedians testing works in development than a showcase of the Fringe's best stand-ups.
In an intimate performance space inside the Newtown Hotel, Best of the Fest presented seven comedians who each performed one seven-minute set. An emcee – who on 27 September was Seizure Kaiser – warmed the crowd up and provided brief introductions for this septet.
As with any comedy gala, the jokes varied in content and quality. Particularly funny were Kento David's bits on dealing with your parents in your 20s versus your 30s, and Rakhesh Martyn's take on Australian trips to Bali. On the other end of the spectrum, however, Juni's jokes about assault and Yosef Bender's excessive references to dick pics were not in good taste. The content warning on Sydney Fringe Festival's website only notes 'coarse language', and this most definitely needed to be amended – or at least provided to the comedians, who could adjust their material accordingly.
This variation in quality indicates the event's second issue. As noted above, it isn't really a "Best of the Fest". Rather, it's better to consider this showcase as an amateur one, presenting developing talent to a paying audience. This is both more reflective of the experience itself, and more on brand with the spirit of Fringe Festival. In this regard, it's unfortunate that the comedians weren't well-introduced – there was no program for the show, and Kaiser's verbal announcement of them was drowned out by audience applause. The event's page on the Fringe website also did not name them, limiting their exposure further.
Ultimately, Best of the Fest was problematic in name and content. Though comedy galas are always hit-and-miss, much more thought needed to go into this particular event.
★★
Best of the Fest
Presented by Comedy on Edge
Best of the Fest was shown from 30 August to 1 October at Newtown Hotel.
Me, My Cult & I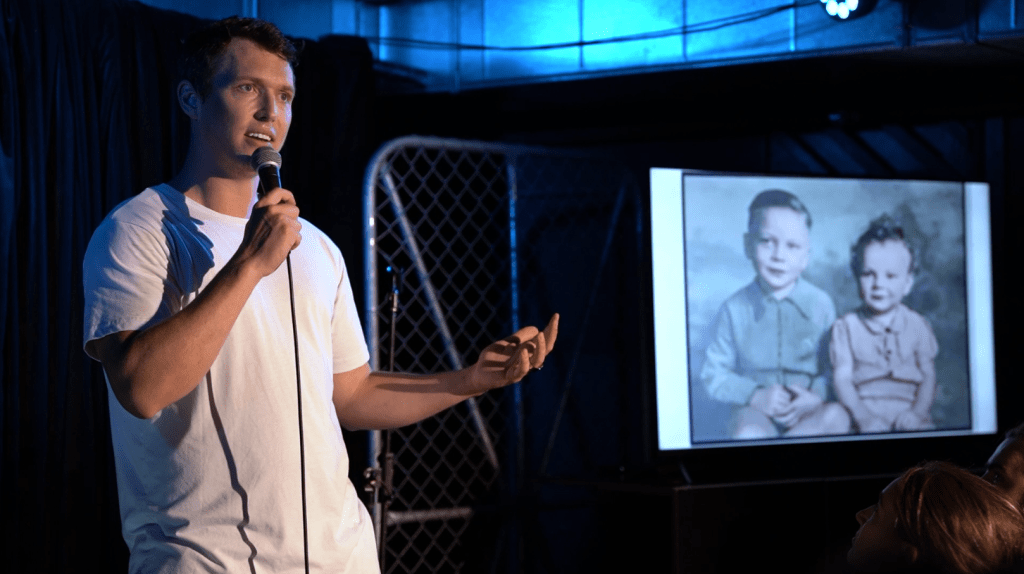 Me, My Cult & I was an intriguing look into life inside a cult, told by a person who was raised in one. Making its Sydney premiere after a run at Fringeworld last year, the show combined comedy, intimacy and storytelling in an outstanding way.
Performed by Colin Ebsworth, the hour-long performance detailed Ebsworth's upbringing in a religious cult. The cult in question is the Family Federation for World Peace and Unification, more widely known as the Unification Church. The church's beliefs, traditions and impact on the Ebsworth family were explored at length, from its rejection of Jesus Christ to Ebsworth's parents being matched through arranged marriage by the cult's founder, Sun Myung Moon. Ebsworth operated a Google Slides presentation as he spoke, which included family photos, church photos and the occasional sound effect.
The greatest strength of this show was Ebsworth's storytelling. He expertly weaved jokes and social commentary into his speech, avoiding the pitfall of talking about his family in a self-indulgent manner. He was also as personable as he was compelling; he made fun of the audience while he hit his vape, but then drew tears when he talked about the cult's negative effects on his mother. Ebsworth's speech jumped quickly from humour to heartbreak, but he successfully guided the audience through it more often than not.
That being said, the show could have been more polished. Technical issues with the Google Slides presentation should have been avoided with a tech run beforehand, and Ebsworth asking how much performance time he had left was unprofessional. These diluted from the storytelling aspect of his show; right when the audience was engaged in his speech, the illusion was somewhat shattered.
Nevertheless, there was a lot to like in Me, My Cult & I. It is exciting to wonder what stories Ebsworth will share when he next hits the stage.
★★★1/2
Me, My Cult & I
Performed by Colin Ebsworth
Me, My Cult & I was shown from 19 – 23 September at PACT as part of the Sydney Fringe Festival and 27 September to 1 October at Factory Theatre as part of Sydney Fringe Comedy.
This review is published under the Amplify Collective, an initiative supported by The Walkley Foundation and made possible through funding from the Meta Australian News Fund.