It is not often that the first impression of an exhibition is one that induces retinal burn. With walls painted DayGlow orange – the colour we associated with Hi-Vis warnings, and more recently, the colour of engulfing bushfires in a blaze of heat – viewers enter into an intensity that sits across this exhibition from the outset.
However, it is not the orange walls or the didactic texts of warnings that sit upon them, that permeate our very emotions. It is the melancholic sound of a cello that fills the gallery. It goes straight to the heart. It screams pay attention, and yet it holds a thin wisp of hope that lulls the viewer into the idea that we can make change. It is a different kind of release of information.
Hi-Vis Futures has been curated by Virginia Rigney for Canberra Museum and Gallery (CMAG) and is a compelling exhibition of our times. Mother / son artists Mandy Martin and Alexander Boynes have worked with Martin's son-in-law, musician and sound designer Tristan Parr, to create a dynamic and layered narrative with local and global connection.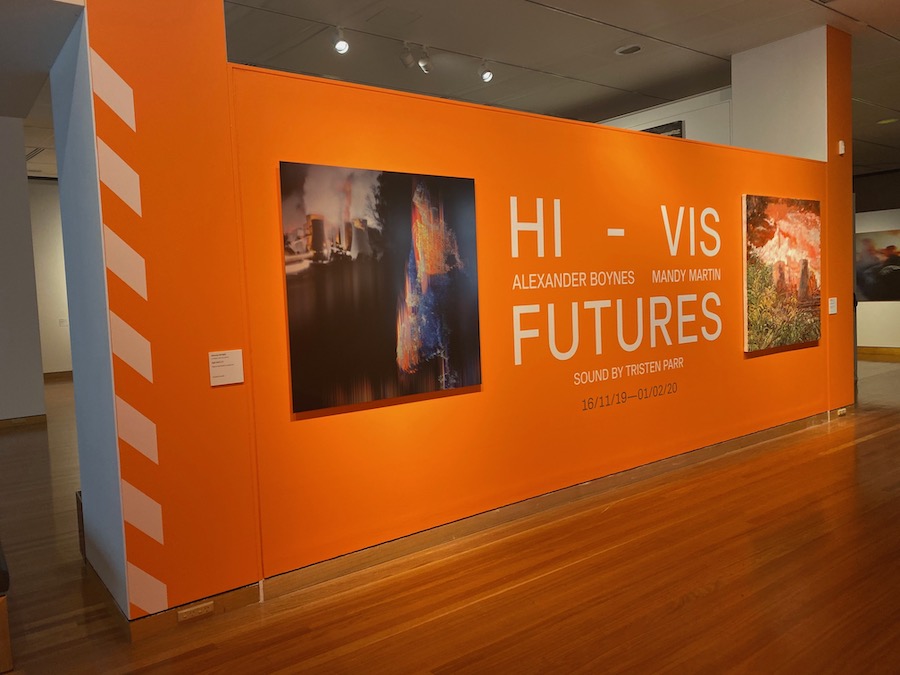 Installation view Hi-Vis Futures, Canberra Museum and Gallery. Photo ArtsHub.
The environment has long been embedded Martin's practice since the 1980s, known for her expansive paintings in heavy impasto, often sparse and haunting. They are the perfect canvas for Boynes to work with; his digital images flicker over them, visually mapping and layering the static surface with flashes of fire, workers in hi-vis clothing, cars navigating industrial sites, and the simple movement of a breeze across trees.
This is best captured in two major works that bookend this exhibition, both over 10 meters and shown in regional communities directly impacted by the changing practices of minerals extraction and power generation, before making their way to Canberra.
Luminous Relic was commissioned by Geelong Gallery in 2017. Rewriting the Score was commissioned by Latrobe Regional Gallery in collaboration with this year's CLIMARTE festival. They are incredible immersive works, and when paired with Parr's atmospheric sounds, lull us into deep contemplation.
Luminous Relic takes the narrative of a de-commissioned coal-fired power station, which Martin builds up through paint into an ice shelf. The message is clear. As Rigney describes, 'It has its own hulking grandeur'. She continues, '[these artist have] absorbed both the industrial grit of this history and the lightning speed of change'.
The painting and projection are blended with a sonic landscape of electronically manipulated cello, evocative of industrial production and the cracking of ice melting. The score adds pathos and gravitas to the  space and rethinks the sublime.
That narrative is continued into the next gallery space with the works Blast (2015) and Willow Yellow (2016).
Again the side story of collaboration comes into play. Orange Regional Gallery invited Martin to respond to a work in their collection. She chose a piece by Brett Whiteley, Willow at Carcoar (1978). But Whiteley's willow is placed with a vista of the Canoblas Range (Central Western NSW), a very different landscape of the area today as seen from Martin's studio.
Martin has kept the willow's fluorescent yellow, but it twinkles under Boynes' hand, caught between the romanticism of fairy lights and explosive cinders. It perches on a waste rock heap overlooking the Cadia Gold Mine – the third biggest open-cut mine, tracking down 100m below sea level. It is in perpetual motion, 24/7 – an energy that could only be captured through the collaboration with Boynes.
He takes the viewer through the mine's passages from night to day, day to night – the movement of the industrial vehicles like fire flies. It captures the continuum of this narrative; one that has little time to stop, and metaphorically, an issue that goes on unabated, digging deeper, and deeper.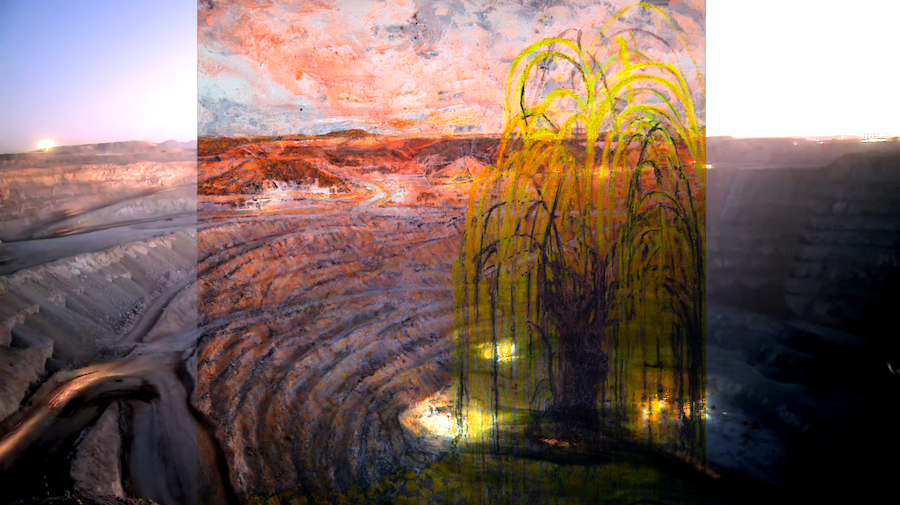 Image via Alexander Boynes video https://vimeo.com/157525136
The sight lines across this exhibition add to the compounding impact of its environmental message.
In the next space are a selection of wall works by Boynes and Martin sporting titles such as Unknown knowns, Oblivion, Slow violence and The cost of lies. A group of work by Boynes produced this year – Faith and Fear, Inertia and Deafening Silence – follow them, painted on aluminium they hover slightly off the wall, their hi-vis orange edges creating a kind of nuclear-glow emanating from them. 
There is a great video pop-up in the exhibition, which triggers conversations for viewers – one that is extended with an erudite curated public program across the show's duration. Take the time to listen.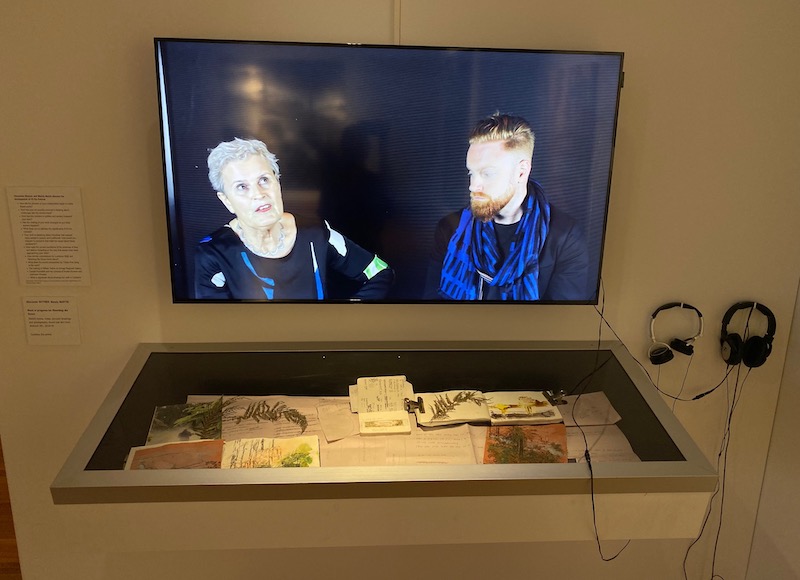 Installation view Hi-Vis Futures, Canberra Museum and Gallery. Photo ArtsHub. 
Overall, this exhibition sends a message that we can't underestimate the impact that industry has on regional communities – it is a bittersweet pill in many cases. While it is often the economic heartbeat for a community, it is also where those environmental impacts are most felt.
Martin, Boynes and Parr do not profess to offer an answer. In fact, there are strains of hope in Parr's score. It is not an exhibition soldiered by extremists. Rather, it is an incredible testament to the volume with which soft diplomacy can speak.
Often we describe exhibitions as timely. As this exhibition's title suggest, Hi-Vis Futures is about thinking forward, if we care to stop and listen.
★★★★☆ 4.5 out of 5
HI-VIS Futures
Alexander Boynes, Mandy Martin with sound by Tristen Parr
Canberra Museum and Gallery
16 November 2019 – 1 February 2020
Curator: Virginia Rigney