Hard Sell is the graduate showcase for Class of 2019 at the National Institute of Circus Arts (NICA). With 18 performers including the charismatic host, Mitch Jones, it's a hefty production, but one that easily holds your attention right through to the final curtain call.
The set-up is that we're attending an auction at which eager bidders can snatch up the latest release of elite circus talent. As the auctioneer, Jones provides entertaining banter, physical humour, audience interaction and even some wry commentary on the value and purpose of art, but his character does not dominate. It's a simple, clever conceit that frames the showcase while letting the uniqueness of each act shine.
The show gets off to a cracking start with Tro Griffiths on the aerial straps. He delivers a swooping, dramatic and assured performance paired with a stormy soundtrack. As lightning flashes across the stage, the atmosphere sparks with electric anticipation.
Credit must go to the production team and stage crew for thoughtful design and largely seamless operation, despite the complex and varied demands of a show like this. There are no slow moments and, in fact, there's a balletic beauty to watching the rig transform in time with the performance. In particular, Will Anton's stylish routine on the Roue Cyr is enhanced with mics amplifying the sounds of his body and the rolling, thudding wheel, making music from movement.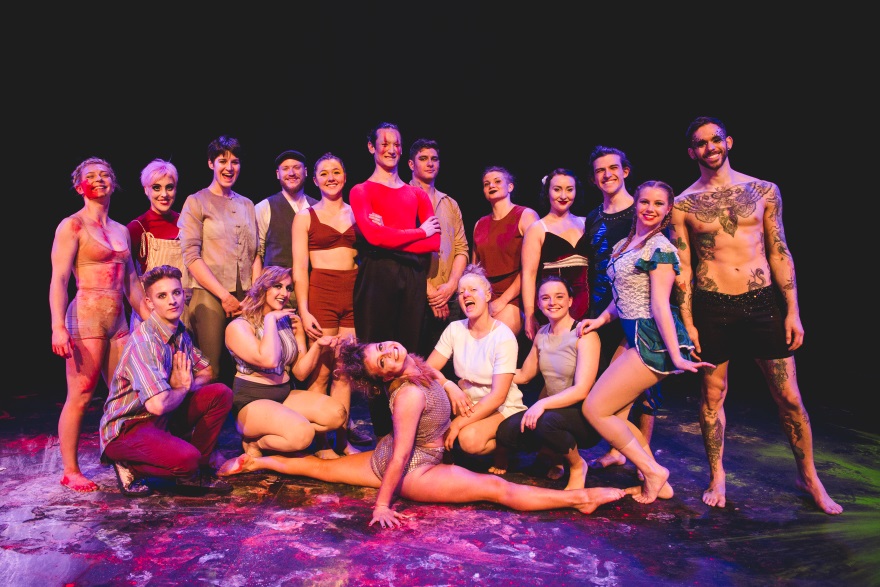 The cast of Hard Sell. Image: Theresa Harrison.
The only shortcoming in terms of staging might be in Nicole Pienaar's act on the aerial hoop. Pienaar uses her acrobatic movements to play theremins – electronic musical instruments that operate without physical contact through antennae that read the performer's movements and translate them into pitch and amplitude. Conceptually, it's extraordinary: Pienaar pulls off a beautiful routine while composing and performing her own soundtrack through the frequencies controlled by her choreography. But visually, it's a little convoluted, with the theremins moving up and down alongside Pienaar – and as someone who had never before encountered this unusual, drone-like instrument, I had no idea what was actually going on until I got home.
All the acts are enjoyable in wildly different ways. Aerialist Easa Min-Swe performs a stunning and quite moving routine on rope, while Stephanie Pick's clowning act with a plastic skeleton is joyful and ridiculous. Acrobatic duo Aleshanee Kelso and Maui Ryan are fluid and cohesive, covering the whole stage in a dynamic routine. Every performer demonstrates strength, grace, and the wonder of the human body.
For me, the standout act of the night is another acrobatic duo, Hannah Richards and Cassia Jamieson, whose routine is weird and fleshy and absolutely magnetic. Dressed in terracotta and white outfits, their tumbling bodies suggest pottery in the making – soft, damp organic forms, warm and smudgy with the push and pull. The pair shift sinuously through a series of forms, at one point appearing as sniffling, chewy marsupials, at another moving as one unimaginable animal. It's an inventive routine, and every bit as astonishing as circus should be.
4.5 stars out of 5 ★★★★
Hard Sell
18-21 September 2019
Cast: Mitch Jones, Tro Griffiths, Hannah Richards, Cassia Jamieson, Jessie Carson, Thomas Correia, Lindsey Bowyer, Aleshanee Kelso and Maui Ryan, Chanel Phelan, Georgia Webb, Fara Mir, Eric Quast, Nicole Pienaar, Stephanie Pick, Easa Min-Swe, Will Anton and Stephanie Benson.
NICA National Circus Centre, Prahran VIC
Tickets $23-$30
Presented as part of Melbourne Fringe Festival, 12-29 September 2019