Light, art, technology and music combine under the aegis of Illuminate Adelaide, a relatively recent addition to Australia's winter arts festival calendar.
Launched in 2021, and returning last year following an inaugural festival plagued by wild weather and a six-day COVID-induced lockdown, the festival is Adelaide's answer's to Vivid Sydney and Dark Mofo – an opportunity for South Australian audiences to explore their city in the depths of winter and a potential attraction for off-peak cultural tourists from interstate.
Based on conversations with a few local taxi drivers, the latter may not yet be attending Illuminate Adelaide en masse, but given the crowds flocking to experience the outdoor program City Lights (more of which below), the festival is certainly appealing to locals, for whom the combination of free entertainment and ticketed interactive installations is clearly a drawcard.
As a regular visitor to Adelaide during "Mad March", when Adelaide Fringe and Adelaide Festival transform the city and the streets swarm with visitors, attending Illuminate Adelaide this month was a refreshing chance to see Adelaide in a more regular guise – albeit one where a diverse range of families with small children in tow are out on the streets late at night, viewing the festival's illuminations and installations and eating Illuminate-branded fairy floss (with the sticky layers of spun sugar lit up by a flashing light in the confectionary's stick).
Read: Robert Lepage opera announced for Adelaide Festival 2024
Across four nights, I attended a range of festival events, including the experimental music program Unsound, to be explored in my next review. Here then is part one of my cumulative impressions of Illuminate Adelaide – a festival that is perhaps still consolidating its identity, and that faces the challenge of how to grow cohesively and what new works to incorporate should the existing program expand further.
The upcoming Illuminate season of Restless Dance Theatre's Shifting Perspectives next weekend (27-30 July) hints at how such growth could be successfully achieved. Indeed, given the presence in Adelaide of companies such as Patch Theatre (whose Sea of Light was commissioned by the Art Gallery of South Australia and Illuminate Adelaide in 2021) as well as interstate companies, including Brisbane's Australasian Dance Collective and Melbourne's Lucy Guerin Inc (whose works Lucie In the Sky from earlier this year, and 2021's Pendulum respectively would seem a perfect fit for the festival program) the future looks bright for Illuminate Adelaide – pun definitely intended!
UK company Architects of Air first toured Australia in 1996 with Meggopolis, since which time its fantastic, inflatable luminaria have been seen at festivals in Perth, Melbourne, Castlemaine, Hobart, Rockhampton and more.
A cathedral of colour and air, Arborialis is one of the company's latest works – a vast maze of inflated plastic that simultaneously evokes Islamic architecture and the natural world. Once admitted, audiences are free to wander to their heart's content past air-filled "tree trunks" rising to sunlight-dappled domes that evoke the sense of entering a forest glade or a hallowed place of worship – awe and beauty are judiciously balanced as viewers marvel at the interplay of light and form.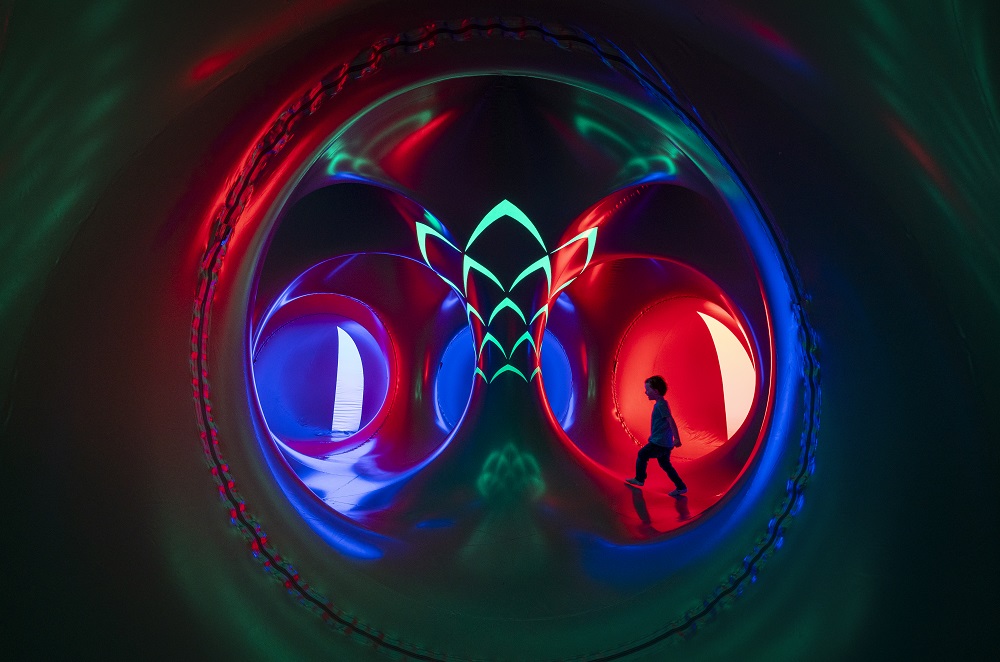 The experience is beautiful, meditative and evocative; one could easily spend considerable time seated in an alcove of Arborialis, soaking up the rich colours and the subtle soundscape, were it not for the plethora of delighted, squealing children bouncing off the inflated walls and sliding along the plastic floor. Despite a reminder upon entry that the luminarium is more art gallery than bouncy castle, the energy of children is hard to redirect and contain – though it's equally hard to begrudge their joyful celebration and embrace of the space for play.
Consequently, while the soundscape 'Song of Danu' by Irish composer Dr Michael Morris was hard to focus upon, the experience of Arborialis as a whole was transporting and uplifting. A series of adults-only sessions late in the day could perhaps be introduced to remove the distraction of overly-enthusiastic children for those wishing for a more immersive experience; otherwise it's hard to see how a visit to the luminarium could be improved.
Arborialis, Rymill Park/Murlawirrapurka until 23 July. Tickets: $15-$18.
In many ways the centrepiece of the Illuminate Adelaide program, City Lights is a free, outdoor series of public artworks, some static, others highly interactive.
The program is clustered around three key precincts: North Terrace (home to the city's major cultural institutions including the Arts Gallery of South Australia and SA Museum), the East End (along the spine of Rundle Street) and the West End around Light Square/Wauwi and Victoria Square/ Tarntanyangga.
The East End works are often, sadly, rather static – projections on buildings featuring some gently animated aspects, such as a skull with a blinking eye above which beats a telltale heart, for instance, or slowly swimming goldfish (both works being collaborations between cook/artist Poh Ling Yeow and NSW-based projection mapping specialists The Electric Canvas), but which lack the visual impact and artistic ambition of the large-scale projections seen annually at Vivid and Melbourne's now cancelled White Night.
Along North Terrace, however, works such as Amigo & Amigo's Affinity and Groupe LAPS' Line 4 and Snake are more ambitious and delightfully interactive. These technological interpretations of traditional games like Connect 4 and others are both clever and engaging – as indicated by the swarms of children eager to play them.
One of the simplest but certainly the most evocative of such works is Groupe LAPS' Singing Light, a voice-activated piece reliant on speech or song to activate its lighting display. When visitors sing into a series of speakers, the work responds with waves and threads of colour shooting up the trunk and branches of a tree – making me wish that an opera singer had been present on the night I visited, in order to be able to see how the artwork would respond to the powerfully controlled voice of a truly skilled artist. Instead, I made do with the trills and giggles of children and the occasional confident adult, all of whom the work responded to with ripples and threads of rich, warm colour, as if the tree's water and nutrient-bearing xylem and phloem tissues were transporting light instead.
Read: Celebrating the fusion of light art, technology and music
Not every work along North Terrace is so dynamic – the washes of colour across the South Australian Parliament building feel tokenistic, while Sydney company Atelier Sisu's Ephemeral Droplets (essentially a series of illuminated bubbles clustered along the trees outside Government House) are aesthetically pleasing but far from memorable.
More provocative are Tasmania-based artist Amanda Parer's series of giant white rabbits, Intrude, easily read as a comment on colonialism, the destructive impact of white settlement and the way such pernicious feral species (both humans and lagomorphs) are whitewashed and romanticised in children's narratives. Cocoon Films' Into the Light (projected on the façade of Government House) is similarly striking but also a tad didactic – closer to a traditional albeit abstracted documentary about outstanding South Australian women across a range of disciplines and sciences than an artwork proper – nonetheless, a lovely albeit earnest work.
And so to the West End, where the highlight is undoubtedly Overture by artist Aniruddh Mehta and composer Aaron Myles Pereira: a vivid, compelling screen-based work that's both overpowering and hypnotic in equal measure. Another work by Amanda Parer sits nearby – this one a plump take on Rodin's The Thinker – while a series of digitally augmented artworks (many exploring the intersection between First Nations culture and a Western way of living) can be accessed at Victoria Square.
Overall, City Lights engages though not every work impresses – nonetheless, as a program designed to appeal to both the general public and art lovers alike, it certainly offers more than just an array of Instagram-friendly images. By turns playful, provocative and occasionally bland, it offers a strong selection of artworks for virtually every taste.
City Lights, various locations until 23 July. Free.
Illuminate Adelaide runs until 30 July 2023.
The writer visited Adelaide as a guest of Illuminate Adelaide.