A liminal space, that threshold between one state and another, can be a challenging place to navigate. It can be suggestive of a period of change, such as the passage from childhood to adolescence, or a place of spiritual growth. It may be represented by a doorway or a corridor, a person or a place. And it is this notion of these changed states that is the impetus for the current exhibition Thin Skin, showing at Monash University Museum of Art (MUMA) in Melbourne.
In terms of the exhibition, Australia-born, London-based writer and guest curator, Jennifer Higgie, characterises the term as the 'space between figuration and abstraction'. Partly inspired by the research for her book, The Other Side: A Journey into Women, Art and the Spirit World (2023), Higgie says the final exhibition evolved organically from conversations with artists and studio visits. Consisting of 36 paintings by both national and international artists, the exhibition works are drawn from the Monash collection, private and other public institutions, as well as some commissioned pieces.
Accompanying the exhibition is an immersive soundscape composed by Australian musicians Suzie Higgie (sister of Jennifer) and Tim Oxley, who drew inspiration from the works on display. In addition, a fully illustrated catalogue can be purchased with written pieces by Jennifer Higgie and Mexican American novelist and writer Chloe Aridjis to provide greater contextual understanding.
The large minimal spaces of MUMA with their beautifully polished concrete floors, crisp white walls and carefully lit galleries stand in contrast to the hallway entrance – its exposed substructure and minimal lighting highlighting and perhaps playing on the exhibition theme. This is a theme that should perhaps be understood more in terms of a starting point on which to reflect rather than an end in itself. Like a good poem, the works on display require the viewer to take time to move between ways of seeing and understanding.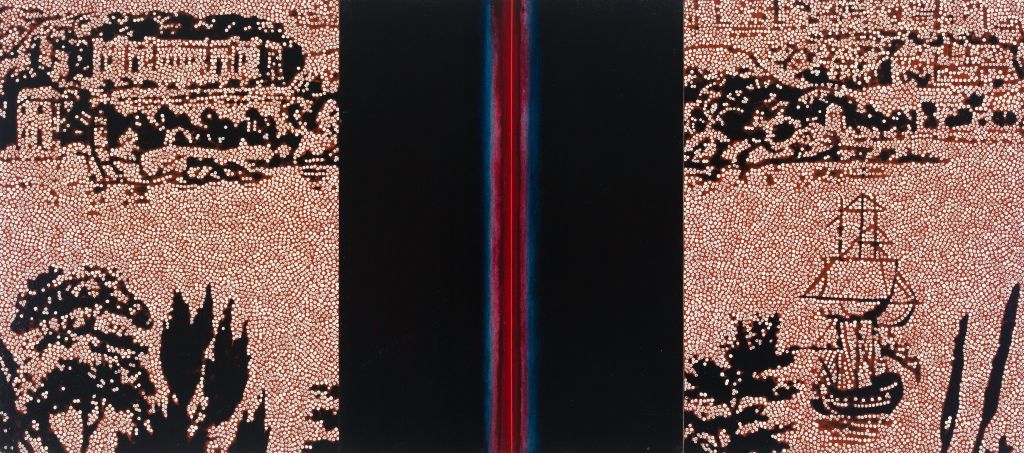 Partway through the exhibition Gordon Bennett's large painting Wound (1990), in oil and synthetic polymer, dominates one wall and is a good place to reflect on the idea of the liminal. At right angles to this sits Sidney Nolan's enamel on composition board painting, Kelly at the Mine (1946-47) and a conversation ensues. It is an interesting space in which to pause between the modern and post-modern and each artist's treatment of Australian mythology.
The middle section of Bennett's three-panelled painting consists of a long red mark, a wound perhaps, encased in a black rectangle. Flanking it on either side are symbols of colonialism, surrounded by the Papunya Tula-style dots that denote the original inhabitants of this land; the iconic black rectangle of Nolan's Ned Kelly, with a red slit in the armour for the eyes, echoes this notion of the wound.
On entering the exhibition, Jelena Telecki's painting Mirroring (2019), oil on canvas, gently draws the viewer into the slide between figuration and abstraction through exploring that space between the corporeal and the other. Figurative in its expression, it taps into that very human desire to communicate with a loved one that no longer has a physical presence. The dominant figure fully clothed is warm in colours of orange and maroon, his hand connecting or perhaps reflecting the colourless other – something that perhaps only he sees.
Ethereal ghost-like bodies and skeletal body parts interweave and overlap in John Spiteri's Dis-solution (2006), oil on canvas. Its largely monochromatic, flattened picture plane, like Telecki's work, leads the viewer into a place beyond our physical existence.
Nearer the end of the exhibition, the partly autobiographical, A Cave in the Mind of a Shadow: My Memory of Looking Upon Mantegna's Rescue of Lost Souls from Limbo (2023), oil and synthetic polymer paint on canvas, by Peter Graham is a large multilayered work. Using religious symbolism and the notion of limbo, that in-between state of life and death, Graham explores interior thought processes and traumas. Jarring greens, yellows and blues along with fractured kinaesthetic forms demand the viewer's attention, drawing the eye into a complex and intriguing narrative.
The flattened picture plane in David Egan's oil painting, Welling Up Weekly Green (2023), reflects symbols of the outer world such as playing cards, a dinner setting, a flower; it is only on further viewing that images below the surface begin to emerge. We discover an inner working, below the outer layers of the painted skin – organs, bodily functions, plant, animal?
Although more figurative in nature, Lisa Brice's work Parting at Dusk (2018), gouache on drafting film, finds a depth in its references to art of the past – her response to William Rothenstein's Parting at Morning (1891). The figure in Brice's painting, however, is not the demure young girl of the earlier work. We are faced with a hollow-eyed woman, cigarette in mouth, staring out at the viewer and challenging their judgements. The warm gold background, icon-like in nature, contrasts with the cold saturated blue of the figure, creating a slightly uncomfortable ambiguity.
Along with the initial information panel prior to entering the exhibition, visitors would benefit from multimedia support material exploring examples of the artists' working styles and processes to give a greater contextual understanding. The discrete grouping of text labels, however, does help curatorial flow, enhancing the meandering, dream-like nature of the works on display.
Read: Event review: MIFF XR, Melbourne
At the very end of the exhibition two elderly figures on separate couches sit mirroring each other, staring out of a large window at the night sky beyond, in Tala Madani's oil painting Lights in the Living Room (2017). In an image that is largely monochromatic in greys, the slightly luminous, warm white of the couches give it an otherworldly quality. Although divided by the physical setting, the figures sit, cocooned in a state of timeless awe, a liminal space. A fitting end to a well-curated show.
Thin Skin, Monash University Museum of Art
Curated by Jennifer Higgie
Thin Skin will be exhibited until 23 September 2023.