People crave stories; it is almost as though it is threaded through our DNA. So it is not surprising, then, that a new exhibition at the National Portrait Gallery (NPG) prefaces storytelling over conventional (and arguably more static) interpretations of portraiture.
Responding to a challenge by long-term patron Tim Fairfax AC – who wanted to see the organisation 'play in spaces it hadn't played in before' according to Director of Exhibitions, Sandra Bruce – the Gallery invited 23 artists and collectives 'to create a new work that expands on, and transcends, conventional notions of portraiture'. The resulting commissions were unveiled this past weekend in Canberra.
Where this exhibition gets interesting, is that those 23 creatives are artists who would not conventionally call themselves portraitists, which drives the exhibition into a collision with a very niche genre, priming it to break through its constraints.
That shift of headspace is signalled to visitors even before they enter the Gallery. On approach they will see a new work by street artist Baby Guerrilla – two floating figures that waft across the Gallery's iconic blade wall. Then, further along, in the forecourt, is an exterior wallpaper of Alison Alder's monumental screen-printed poster series, Some Women You May Not Know.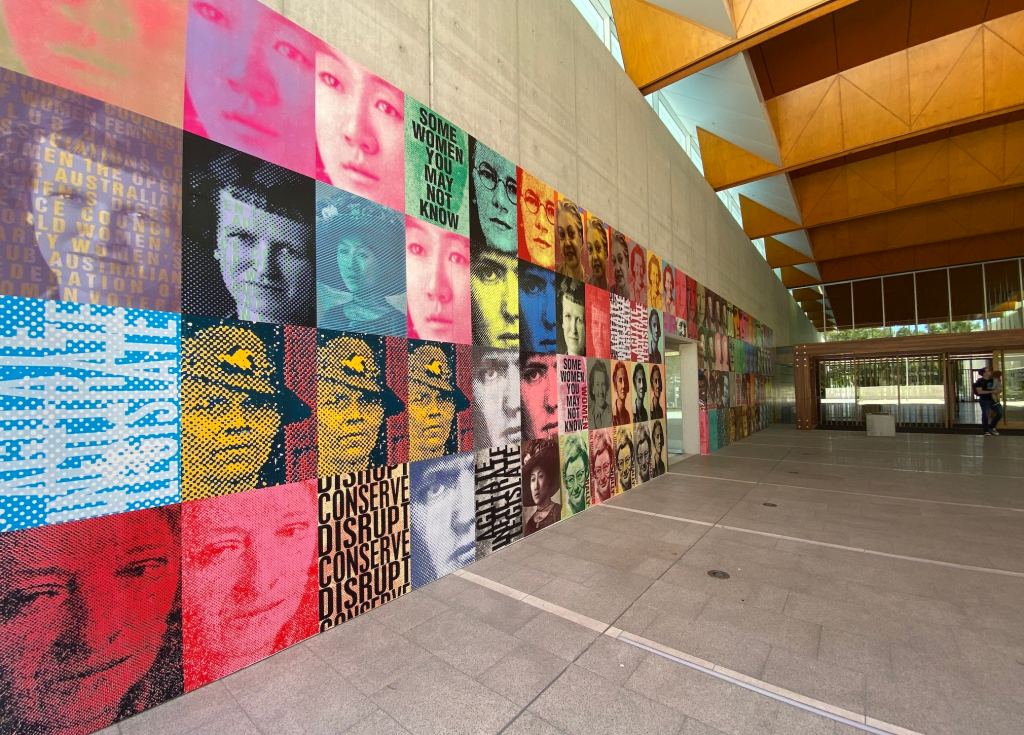 Further pushing the boundaries – both inside and outside – is the work of Kate Beynon. As part of Canberra's Enlighten Festival, the Gallery's façade has become a future-fantastic forest of supernatural characters by night, while inside her soft-sculpture Fantastic Faces Space invites visitors to construct hybrid portraits by applying fabric facial elements to a wall using Velcro (akin to Mr Potato Head).
It is a perfect ease into our contemporary hybrid world of identity, where we are given free licence to construct who we are.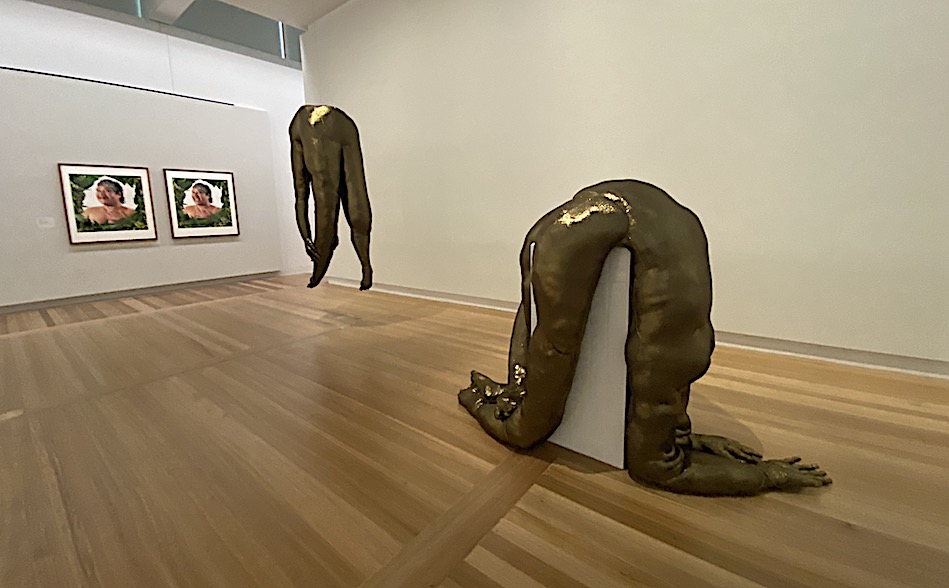 The role of material in shifting perception
The ideal of 'the new' is mapped out across a range of mediums that posit this exhibition as fresh, different, while maintaining integrity, with particular note given to the inclusion of performance, textiles and video.
The exhibition is perfectly nuanced across its breadth, with works by Tarryn Gill, Julie Gough, Amrita Hepi, Angelica Mesiti and Vipoo Srivilasa, for example, which are emphatically individual, and yet, when collectively choreographed, lead the viewer through a connected journey of consideration.
That is perhaps best demonstrated across this thread of works: Gill's large-scale suspended textile sculpture Limber hovers in the space – an abstracted self-portrait in plump bronzy-gold fabric that speaks to her other pursuit of being a gymnast, and a woman who understands her body at peak of physical fitness. For many it will be a challenging 'portrait'.
It has a lovely synergy with Atong Atem's floating scrims of fabric for her work, A Facet for Every Turn, which carries spliced and reconfigured images on silk. It feels fleeting, ethereal, almost like capturing a distant memory, a reflection or a passing emotion. With this portrait of migration, and literally a deconstructing of the Western gaze, Atem says the work is 'a reckoning between the fraught, tumultuous and horrible history of photography' from the position of an African woman confronting the history of ethnographic photography.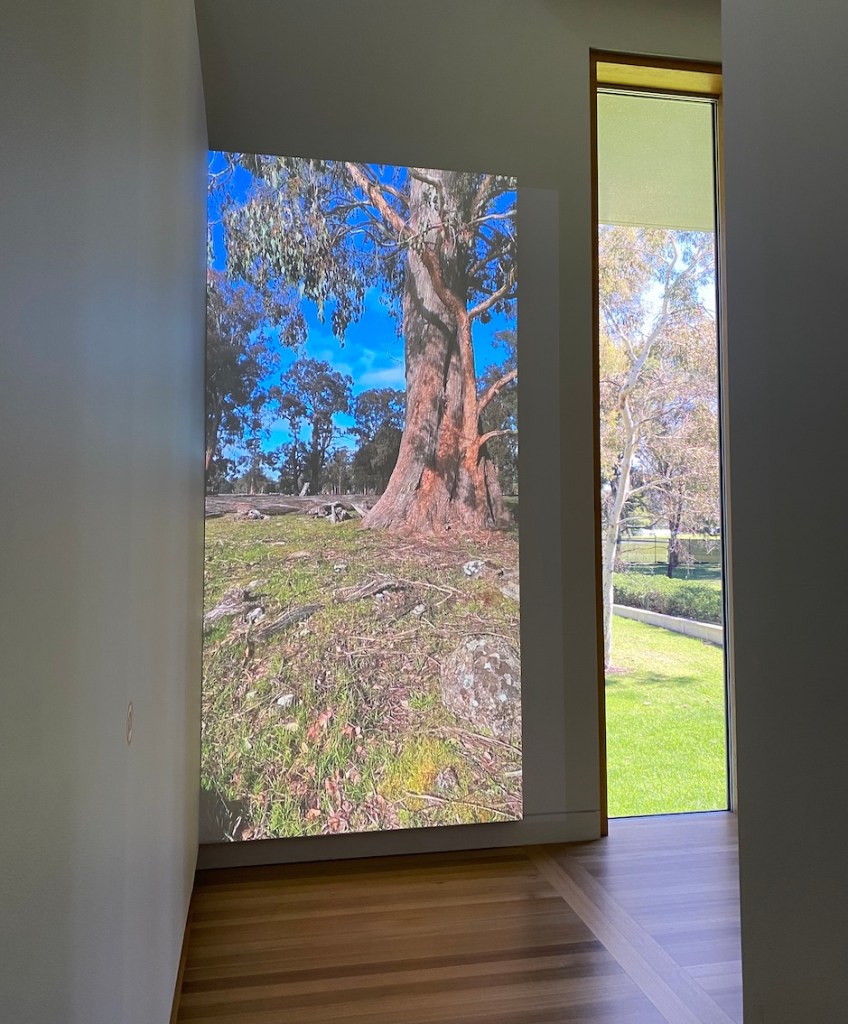 This rethinking of portraits is perhaps best explored in the video work Country Waits by Tasmanian First Nations artist Julie Gough and, similarly, in a suite of ceramic forms by Queensland First Nations artist Naomi Hobson – both of whom remove the body entirely. In work viewed at the end of a passageway – and screened in a 'door format' adjacent to a window that looks out over Ngunnawal/Canberra – Gough approaches identity as one embedded in Country.
You hear Gough's footsteps on her Country, in conversation with the viewer's gaze out of Ngunnawal, in a full sensory consideration. Along with many others across Portrait23, this piece is about having an understanding of who we are as people, as a community, as an expression of self.
This is especially true of the works of Yuwi man Dylan Mooney – who depict his arts community from Central/North Queensland – and Deborah Kelly, who facilitated public sewing circles to update two portraits she made a decade ago, effectively 'restitching' their connection to this place.
That sense of legacy and continuum – and, of course, the underlaying of gender narratives – is embedded in Kelly's work, but also the Alder piece on entry.
There is also an ephemeral/performative element to Gough's work, which connects with Amrita Hepi's photographs that document what could be considered a 'performed portrait'. This has long been an interest of artist Sally Smart, whose new work of 10 puppet sculptures consolidates 30 years of practice exploring the intersection of feminism, body and performance – a cross-genre use of medium. She says, 'The language of the puppet has always been interesting from the psychology of it,' sitting in for, and yet suturing storytelling with theatrics of identity.
It has a nice connection with a new suite of works by Vipoo Srivilasa inspired by people's drawings of themselves in outfits that represent their imagined costume for happy moments. A new digital portrait by Angelica Mesiti, however, falls short in that same challenge to express portraiture as a vehicle of representation beyond physical likeness.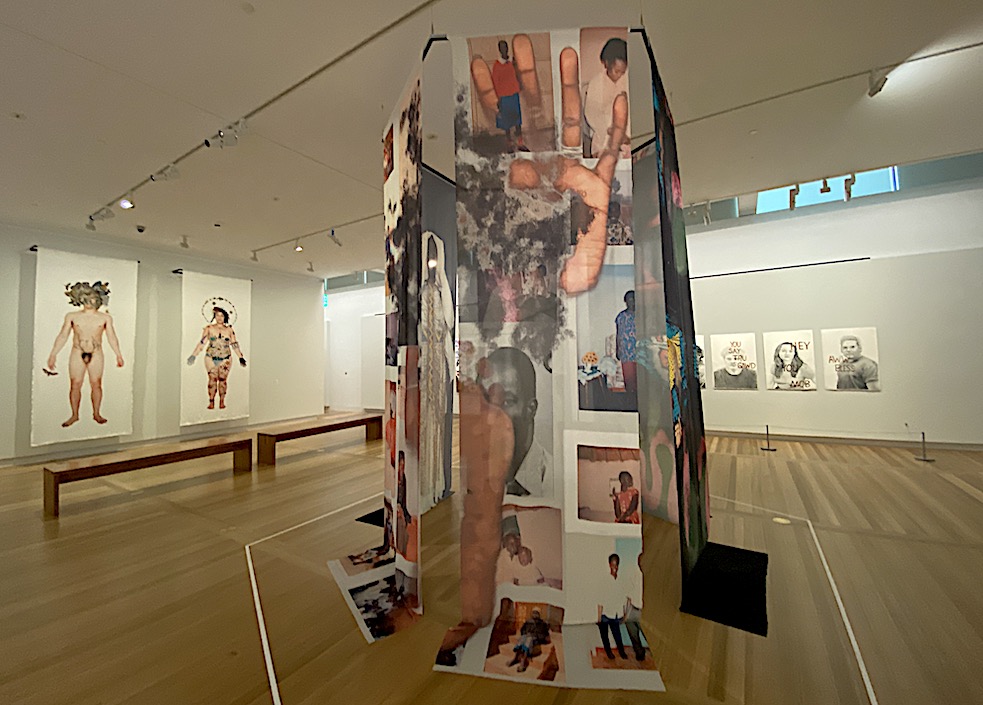 The exhibition is peppered with oversized texts that push the 'storytelling' aspect of the exhibition, and is accompanied by a major publication with nine commissioned texts to extend the ideas.
In short, Portrait23: Identity is a practice-led interrogation of identity and the role of portraiture today, which opens up a porous flow of ideas and dialogue around the genre. It is refreshing, engaging and a great step forward in facing what can be a tired old topic (despite incredibly popular) in Australia.
Portrait23: Identity
National Portrait Gallery, Canberra
10 March to 18 June 2023
Free entry
Artists and collectives included in Portrait23: Identity: Nell, Abdul Abdullah, Angelica Mesiti, Atong Atem, Baby Guerrilla, Christopher Bassi, Deborah Kelly, Dylan Mooney, Fiona McMonagle, Julie Gough, Kaylene Whiskey, Sally Smart, Alison Alder, Mia Boe, Tarryn Gill, Vipoo Srivilasa, 'stArts with D' Performance Ensemble, Kate Beynon, Latai Taumoepeau, Yarrenyty Arltere Artists, Naomi Hobson, Amrita Hepi, Arts Project Australia.