STATE from West Australian Ballet is contemporary ballet at its finest, featuring two impressive works by Australian choreographers. GAINSBOURG is a humorous exploration of Parisian debauchery, inspired by the life and loves of the titular provocateur. Slow Haunt is dystopian speculative fiction, in which precarious humanity experiences itself unfolding before being snatched from the mortal realm. Both works entail artistic expressions of the human condition, aesthetically expressed and technically accomplished.
GAINSBOURG
Off to a percussive start, GAINSBOURG opens with a jazzy 'Chez Dali' to heighten the noir-ish suspense of a darkened stage.
In a Parisian bistro setting with a rhythmic jazz-pop soundscape, ballet artists bring the stage to life in a palette of navy and maroon. Sixties-inspired makeup and androgynous silhouettes adorn each sleek and smoky scene, highlighting Adam Alzaim's playful and chic approach to set and costume design.
The stage is laden with tables, chairs and café patrons smoking fake cigarettes. Central among these figures are the scandalous polymath, Serge Gainsbourg, and his creative/romantic muses Brigitte Bardot (Asja Petrovski) and Jane Birkin (Dayana Hardy Acuña).
Magnetic soloist Candice Adea directly addresses the audience as Maître Demon, breaking the fourth wall to introduce the work as a "weird piece", casually claiming to have seen better. Clad in a comical costume and holding a clipboard, Maître Demon first appears alongside the momentarily silent Gainsbourg (Juan Carlos Osma, on opening night) and reappears frequently throughout the performance, contributing humorous dialogue and physical comedy in addition to excellently executed dancing, choreographed by Alzaim.
A fusion of contemporary dance styles combines comedic motion with mime and the occasional well-timed scream. The robotic choreography of 'Baudelaire' contrasts with another French number, in which waiters dance absurdly with napkins and tablecloths, graceful and funny in equal proportions. Tray-smashing antics and generous jazz-hands accompany sobbing, wailing, the poking-out of tongues. An inebriated woman crawls shoe-lessly across the stage, clutching an empty wine bottle. Slapstick has never been quite this classy.
The Gainsbourg character is surrounded by many others, but finds himself increasingly unable to connect with them. Eventually, he teeters on the edge of an emotional precipice, lost in a fog of poetry and whiskey.
The 'Black Trombone' solo showcases Osma's fluid expression of hedonism, inebriation and unpredictability as the debauched figure of a deteriorating Gainsbourg. Osma displays impressive control in his approximation of its gradual non-existence.
Dance accompanies poetry and laughter as easily as it does music. At times, the only sound to be heard is the percussive thud of multiple hands high-fiving the stage in unison. The intermittent screaming is surprisingly not unpleasant.
Damien Cooper's lighting design adapts itself boldly to the unique requirements of this unusual performance. A series of vertical neon strips transform throughout the performance, turning blue for 'Mambo miam miam', and red for the onomatopoeic Gainsbourg/Bardot duet, 'Comic Strip'.
Much of the narrative occurs in the literal background, requiring attentive observation from the audience. The entire cast excel in delivering Alzaim's ambitious choreography. There are many aspects to focus on at any given time, from apparently drunken dancers to mimed escalations of conflict, making this performance mentally, visually and comedically stimulating.
Unorthodox in its approach, and impeccable in its execution, GAINSBOURG is an exciting, often hilarious, rarity.
Slow Haunt
Choreographed by Melanie Lane, Slow Haunt is an amalgamation of influences spanning disciplines, mediums and cultures. Created specifically for West Australian Ballet, Slow Haunt inverts the pre-interval STATE mood with an invented mythology of cultural extinction. Dealing with themes of precarity, desire, pain and crisis, this contemporary work stems from classical inspiration, presenting itself as a dystopic history or futuristic fantasy.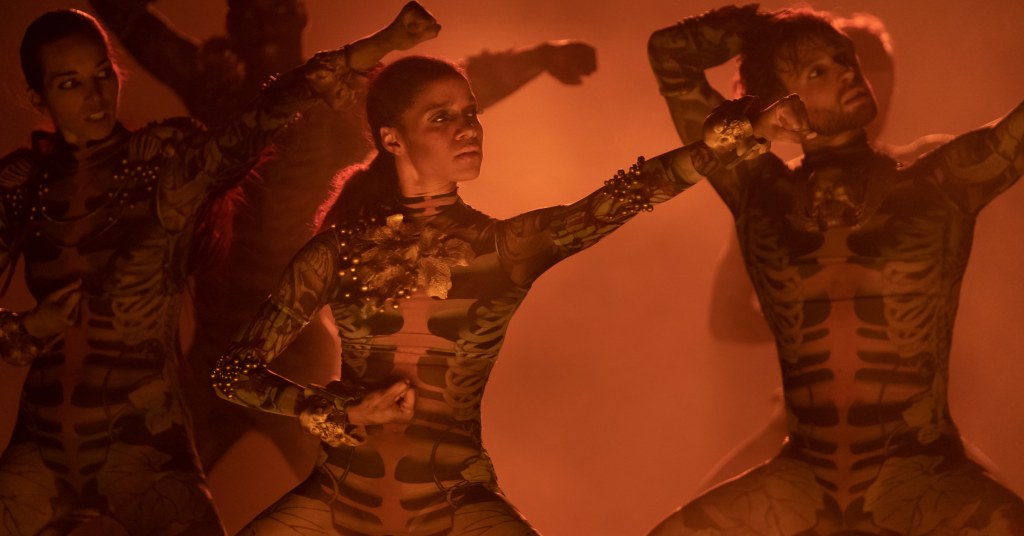 Veiled figures appear from within the fog, like spectres in mourning – beautiful and tragic. Aesthetically remarkable skeleton suits are defiant in their invisible strength – encroaching, extending, entrancing. Dancers in nude suits contort their semi-silhouettes into shapes of amazing grace. Akira Isogawa's costume design ranges from bulbous and flowing to shiny and angular, and seductively macabre. As well as being visually impressive, every costume either augments or reveals the movement of the dancers, aware of form as much as function.
The resonant hum of Christopher Clark's original score holds a surreal space in which the dancers move as one, towards their own inevitable undoing. Percussive intensity keeps the energy high, as the mesmerising beauty and unusual atmosphere of the performance piques and maintains audience interest. Clark's unique techno-compositions pull the audience ever deeper into the trance of the dance itself, as the narrative embeds itself in their collective psyche. A sense of aural isolation is asterisked by hints of sonic connectedness, in a thematic paradox woven equally throughout Clark's hypnotic score and Lane's surreal choreography.
At one point, the rigging descends upon the stage like an alien craft attempting to land. Snakes of smoke spread across the stage. This perfect canvas for Damien Cooper's atmospheric lighting adds to inbuilt impressions of wandering, lostness and the sublime.
Slow Haunt tells a subtle story of human beings, alone together. It is both haunting and powerful, with repeated illusions of implied nudity evoking a sense of stark vulnerability. Tension exists between the dancing humans, linked as they are, but all are capable of breaking the chain, or simply letting go of their place in the dance.
Read: Theatre review: Exiles, fortyfivedownstairs
Once again, West Australian Ballet has set the bar high, jete-ing above and beyond expectations. GAINSBOURG and Slow Haunt are unforgettable works of contemporary ballet, each with their own distinct strengths. The 2023 season of STATE is one you don't want to miss.
STATE
State Theatre Centre of WA
GAINSBOURG
Choreographer, Set and Costume Designer: Adam Alzaim
Dramaturge: Polly Hilton
Lighting Designer: Damien Cooper
Music: Serge Gainsbourg
Opening night cast: Juan Carlos Osma, Asja Petrovski, Dayana Hardy Acuña, Polly Hilton, Brent Carson, Candice Adea
Slow Haunt
Choreographer: Melanie Lane in collaboration with the dancers of West Australian Ballet
Costume designer: Akira Isogawa
Lighting designer: Damien Cooper
Music: Christopher Clark
Opening night cast: Dayana Hardy Acuña, Candice Adea, Alexa Tuzil, Nikki Blain, Juan Carlos Osma, Ziggy Debrincat, Ludovico di Ulbaldo, Jurgen Rahimi

Tickets: $30 – $89
STATE will be performed until 1 July 2023.