We assembled in St David's Park, established in 1804 as Hobart's first colonial burial ground. The cemetery was once crossed diagonally by two small streams, and 900 people were buried here in the early years of the colony – many of those remains are somewhere under our feet. In a grassy dell in front of a stone rotunda, we turned our backs on Salamanca's busy market where tourists trawl for gewgaws and coffee. We were slowly drawn into the quiet and grounded energy of Be Here.
Performed by nine members of the Senior Company of DRILL Performance Company Inc as part of Ten Days on the Island, Be Here was a moving expression of connection to imagined and real landscapes. Artistic Director Isabella Stone describes her approach to dance as 'centred on people and kindness, play and imagination, liberation of self and the importance of community' and this was evident in Stone's final work with DRILL, choreographed with Risa Muramatsu Ray.
The young dancers lay on the damp grass, and Rachel Meyers' score for strings and sound seemed to pull them out of the ground and into movement. They followed each other, in circles that spiralled contiguously, and then came together, to form tableaus, up and down into the ground. Sometimes they came to stillness and stood looking into the distance, seeing landscapes we could only imagine.
Be Here modelled a dance lineage of accessible and collaborative making, but the way the ensemble enacted and contributed to this lineage was light, idiosyncratic and powerfully inward. The dancers explored the weight and heft of pelvis and limbs, and how shifts in weight and balance brought them to standing, to upside-down, to the ground and back again. Shared dance practice, accessible choreatic work and finely-tuned ensemble listening melded with Meyers' slowly thickening score, and the ground on which they were dancing.
The work and its slow listening asked us to sink our awareness into place, and we became like the dancers, pinned there, on the ground with all the dead, breathing together, holding our awareness of Tasmania's violent past, the reparations not made, and how these young people hold a possible future for us – a future of collaboration, listening and reckoning.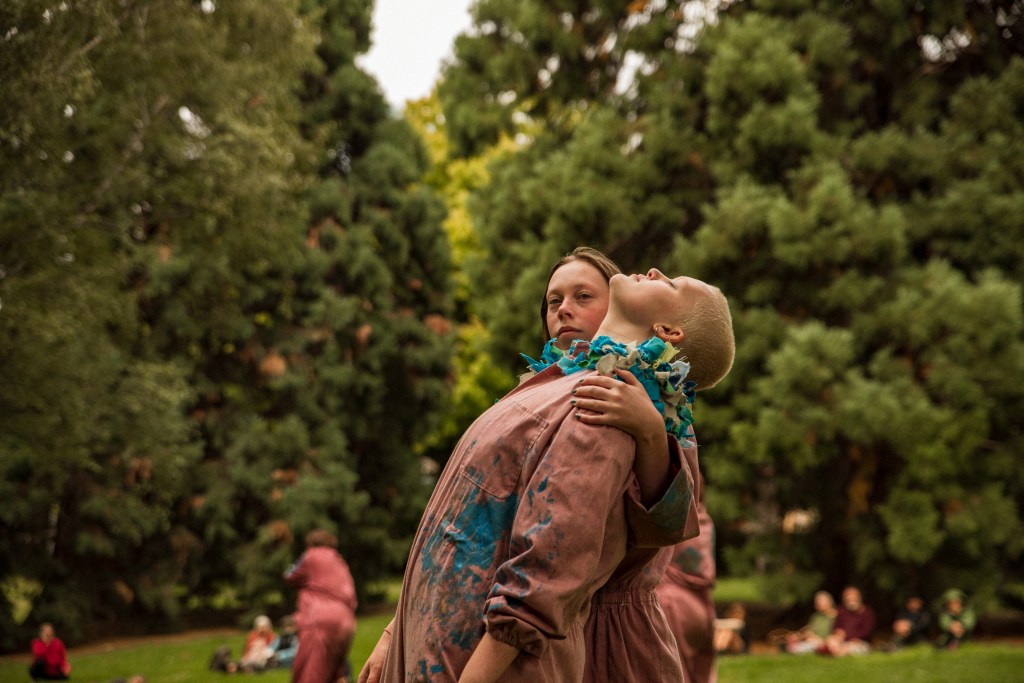 Meyer's violin melody became elegiac, soaring and dipping into the minor key, and deepened our awareness, as we heard the ghost streams running, becoming louder and, finally, the sound of running water was the last sound we heard, as the dancers stood, faced the future and walked towards it.
Accompanying the DRILL performance in St David's Park was Qwerin, by dancer and choreographer Osian Meilir, and performed by Meilir, and fellow dancers Cêt Haf and Elan Eidyr. At the Hedberg Talk the day before, Meilir described the work as an expression of queer joy. Fascinated by the Rebecca Riots, when in the early 1840s a group of Welsh farmers protested at rising taxes and tariffs by dressing in women's clothing and destroying toll gates, Meilir took the image of the cross-dressing Welsh farmers as a starting point for an exploration of their own queer identity in Wales, and to create a work that blended traditional folk dancing, Welsh history and queer dance culture.
After the departure of the DRILL performers, the Welsh ensemble began their slow entrance towards the rotunda. Music by Tic Ashfield and Benjamin Talbott established a creepy atmosphere, as the dancers made their slow progression towards us, their heads covered with upscaled versions of the Het Gymreig, the traditional black hat worn by Welsh female folk dancers. Even though the three dancers had their heads enveloped by the hats, eyeholes allowed them to see us, and us to see them meeting our gaze. Becky Davies' lurid tartan costumes referenced the dresses worn by Welsh folk dancers, and the full circle skirts were soon twirling and flipping for dynamic effect.
The dancers transitioned out of their slow arrival from the 19th century and ritually removed their hats, setting them on the grass. The music shifted into a clubbing energy, and quickly became a mash-up of club and folk. The audience, gathered in a half circle around the dancers, began to clap and smile, and we were brought into an experience of pop-up community and belonging.
Members of the DRILL ensemble suddenly stepped into the work, and it was joyous to witness them reeling with the Welsh visitors. Qwerin showed us just how unrestrained and queer folk dancing can be. We were irresistibly drawn into the wild circular shapes of folk dance, surprised to find ourselves moving our bones, as we danced in Hobart's first graveyard.
Read: Dance review: Jurrungu Ngan-ga, Adelaide Festival
The dancers finished with a sequence of physical entanglement, embracing each other, and taking each other's weight. Then they took up their big black hats, carrying them on the hip like a basket, and moved through the audience, sowing invisible seeds – perhaps of queer joy.
Qwerin moved across the island in the week following its Hobart performances, dancing for audiences in Launceston, Burnie, Ulverstone, Devonport and finishing in Stanley.
Be Here
DRILL Performance Company Inc
Choreography: Isabella Stone and Risa Muramatsu Ray
Music and Sound: Rachel Meyers
St David's Park, Hobart, Ten Days on the Island
Be Here was performed from 11-12 March 2023.
Qwerin
Direction and Choreography: Osian Meilir
Performers: Osian Meilir, Cêt Haf and Elan Eidyr
Sound design: Tic Ashfield and Benjamin Talbott
Design and Production: Becky Davies and Amy Barrett
St David's Park, Hobart, Ten Days on the Island
Qwerin was performed on 11 March 2023.