What is an art fair? It's a simple-enough question. The answer can be found partly in understanding what commercial art galleries do.
An art fair is a 'grand bazaar' in the Turkish sense of a covered market. It is an event at which galleries promote their artists, and a platform for showcasing their own distinct identity to both the public and their fellow gallerists. But first and foremost, an art fair is a forum for sales.
So, let's look first at what art galleries do in this covered market, before we look at how the way they are doing that is changing.
The art sales need to pay for the stand. Our stand at the recent Sydney Contemporary 2019 for five days was a base price of $62,000. All up, with extra lights, an architect designed booth, installation projects, client events, staffing and so on and so forth, there was no change from $100,000, which we had to pay upfront.
Aside from the challenge of simply breaking even financially through art sales during the fair, the next major professional and budgetary task is to make money for your artists and your gallery. This is, after all, the core role of a commercial gallery, and increasingly the art fairs.
The art fair in Sydney, in September, traditionally one of the better months for gallery art sales, is an opportune time to sell before the dreaded end-of-year sales drought. No one acquires a major artwork in late December; January is holidays, and February means school fees. Thus, the last sales quarter of any art year is September/October/November and then we are off again in March of the following year.
Art fairs are an opportunity to make hay while the sun is still shining.
Alongside art sales, an art fair is a platform for showcasing an exhibiting artist's work and practice for five days to a viewing public of 30,000 people in order to raise their profile, build their market and develop future art sales. It's all about selling. Never take your eye off that ball.
The fact that a gallery has chosen to present an artist indicates to the collecting public that the gallery is investing them; that the gallery believes they are important, and that collectors and the art market would be well advised to do the same.
Michael Reid Gallery for Sydney Contemporary (2019). Photo Jodie Barker.
EYE CANDY CUT THROUGH
Art fairs are intentionally 'noisy'; a visual cacophony of colour, texture and bling that can overwhelm subtle artworks that reward close scrutiny and contemplation.
A characteristic of much artwork found at fairs is their 'look at me' contemporariness. The art is designed to scream 'I am contemporary art', with lots of gimmicks, pop-culture references and other clichéd rubbish.
Within the context of this thick visual soup, art galleries need to express their corporate identity in a way that makes them stand out from the crowd. Collectors look to a gallery's art fair stand for a reason to choose that gallery and its artists over another.
While what makes art 'contemporary' is constantly changing, what art galleries do at an art fair remains constant: they differentiate their gallery from the pack, promote their artists and sell their art.
It's how we now do this – how we display our artists' art – that has changed, though some galleries have been slow in detecting this radical shift.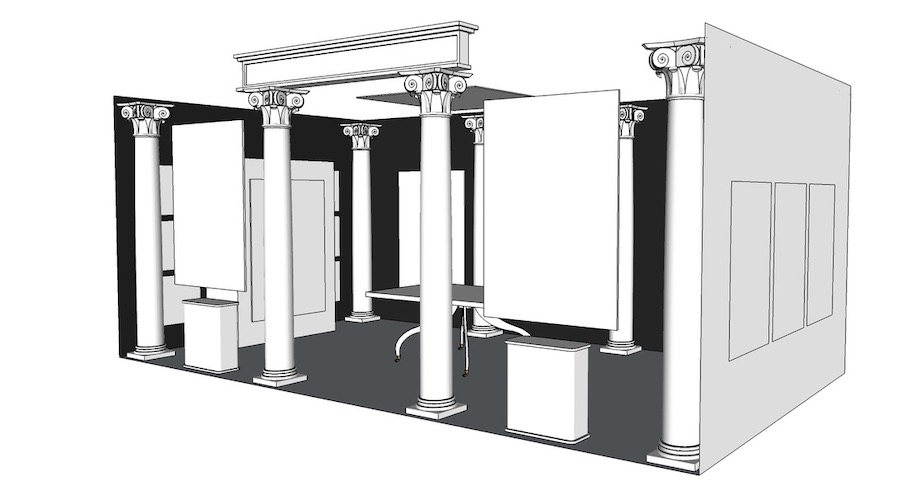 Digital design by Thomas Hamel for Michael Reid's presentation at Melbourne Art Fair (2018). Image supplied
HOW ARE FAIRS ARE CHANGING
In North America, a good nationally ranked art gallery would attend up to eight art fairs a year. The big galleries have dedicated art fair teams that travel to a dozen fairs a year and are constantly on the road, and artworks are shipped ahead to the next fair.
This frequent turnover sees trends taken up very quickly. What was new at one fair may be mainstream practice within three months, three fairs later.
In Australia, trends are taken up over years, not months. For instance, at Sydney Contemporary, some galleries' displays are on point, while others bring out their stock room yet again.
In my experience, one way to differentiate yourself and stay fresh is to rethink how to approach booth design.
Galleries exhibiting at art fairs can no longer function like lookalike outlets in a shopping mall.
For Sydney Contemporary this year, we decided to theatrically dress our stand, and for a brief moment ventured into Andrew Lloyd Webber territory. That never eventuated because an intern with our Berlin space, Julia Kostyra, held a master's in architecture majoring in exhibition design.
Led by Sydney Director Toby Meagher, they laid out every square centimetre of our stand in 3D detail long before the September event.
Read: 15 challenging ideas to boost your career in the art world
We took the stand given to us by the art fair and threw those plans right out the window. The stand was configured for optimum crowd flow. My colleagues redesigned every panel of the stand so that artworks would project outwards on their own sightline.
Every panel was designed to highlight the artwork intended for that wall. For example, for the artist Marc Etherington, whose work encapsulates his quirky experience of living in a small Canadian town during a far northern winter, we painted his wall with falling snowdrifts.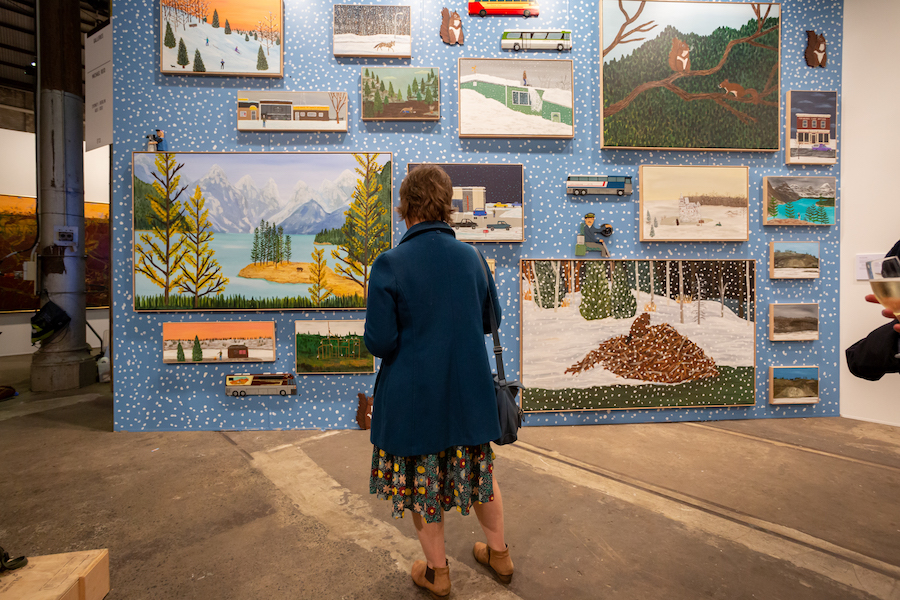 Theatrical presentation of Marc Etherington's work by Michael Reid Gallery for Sydney Contemporary (2019). Photo Jodie Barker.
Similarly, at the Melbourne Art Fair in 2018, we displayed work by photographer Joseph McGlennon and approached renowned interior designer Thomas Hamel & Associates to collaborate on the booth design (pictured top). 
Joseph's work required a contemplative space, outside of the bustle and busyness of the fair, to allow audiences to truly engage with and be drawn into the world he had evoked.
His new series, entitled 'Eclectus Australis', illustrated specimens of strange flora and fauna that were observed, collected and catalogued by the colonial explorers of Australia. To create such a space, we envisioned a booth that would take the viewer into the contemplative atmosphere of a 19th-century neo-classical library. 
This is how what we do at an art fair has changed. We stage grand designs. We employ professional architects and interior designers to amplify the aesthetics of the whole stand and its individual components.
It is a trend that is becoming mainstream.
However, change is costly, and it's that financial extra step that has probably stifled the broad uptake by galleries of theatrical displays. Even the basic cost of an art fair stand, let alone the extra cash required to augment it, can be a reach too far for some galleries that run a real risk of not recouping their financial outlay.
Yet, it's this additional investment, both of money and of effort, in creating an attention-grabbing theatrical outcome that will differentiate your gallery stand from its neighbours and help your gallery do what it's at an art fair to do: show potential collectors what makes your artists' work stand out from the visual soup.
Galleries exhibiting at art fairs can no longer function like lookalike outlets in a shopping mall. The days of the dealer as passive front-counter art-shop keeper are long gone. Art fairs are what art galleries do – and baby, we do the showbiz of art.