Way back before COVID was even a glint in a pangolin's eye, I ran into Anni Davey at a writers' festival. I have always had a huge admiration for Anni's work – her years in Circus Oz and her many independent projects and performances. Anni told me she had recently been appointed Artistic Director of the Flying Fruit Flies Circus, the youth circus training school in Albury. I love circus.
'I've been thinking about doing a Fruities show with a girls-only cast,' she said. 'And I'm wondering – would you like to collaborate? Make a circus show that would use your cartoons somehow?'
I don't think that I've ever been asked a more delightful question.
I've been drawing cartoons with feisty, pointy-nosed female characters for over three decades, with messages about feminism, social justice and the environment. And a lot of just plain silly ones as well. My cartoons have appeared in newspapers, books, journals, on posters, on trams and buses, on mugs, aprons, even tea towels. Sometimes I feel like my 'career' has been a search for new places to put cartoons. Circus? Yes please!
One of the joys of this project for me was the opportunity to use my body of work as a resource to create something completely new. It wasn't like anything I had ever done before.
My working life has been spent almost entirely alone in a room. Contemporary circus is made by many, many people, with expertise in different areas – training, performing, OHS issues, rigging, development of new ideas and skills, sound design, lighting design, costume design, organising of the venues, applications for funding, plus many things I don't even know about. For Girls with Altitude, there was a whole extra level of technology to allow the projection of cartoons and animations. It wasn't like anything the Fruities had ever done before either.
I had two stints up in Albury working at Fruities HQ, which came with the added bonus of sparkling river walks along the Murray before work. Talking with Anni, looking at cartoons, thinking about what on earth we were going to do and how we were going to do it. A lot of time spent watching Anni working with the cartoons and the girls, most of whom hadn't been aware of my cartoons previously, nor cartoons in general really. Luckily nearly all of them had grown up with Where is the Green Sheep?, my first and much-loved picture book with Mem Fox, so I wasn't entirely without cred.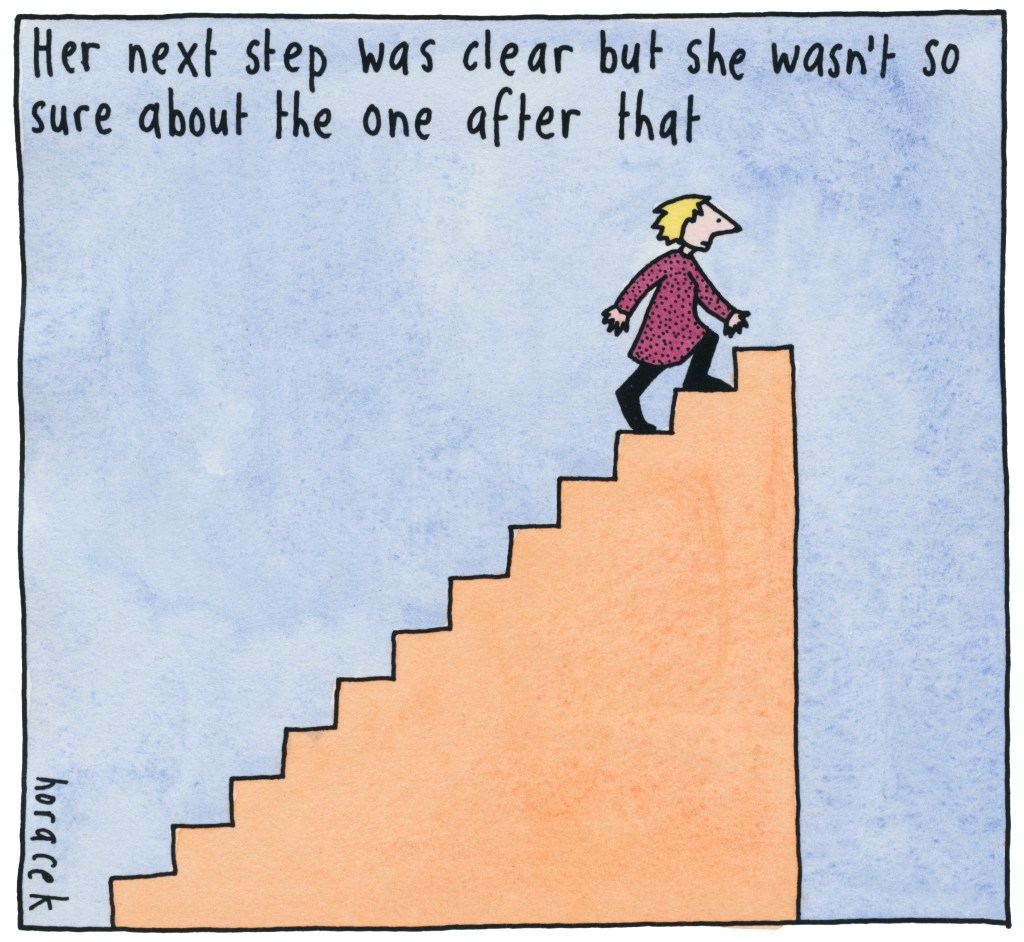 My cartoon characters have always flown, leapt into the air, climbed high. It's how I show freedom, joy, escape. Metaphorically speaking, flying is how my cartoon characters defy the limitations that society imposes on everyone, and especially on women and girls. But it's quite a different thing for people who actually fly or leap through the air. There are mechanics, logistics and practicalities associated with flying through the air in real life, with real bodies.
We had two starting points:
1: my body of work, the cartoons with their themes and ideas, and
2: the abilities of the girls, who specialise in different skills and different apparatuses – trapeze, German wheel, juggling, tumbling, bottle walking, silks, straps – not only the skills they already had (amazing), but things they would be able to learn to do across the development of Girls with Altitude (absolutely incredible).
Over time we worked out the various ways we could show the cartoons and which cartoons we would show. A few cartoons (pictured) began to take on more overarching roles thematically, and their visuals began to feed into the action and into the set design – stairs, boxes, post-it notes.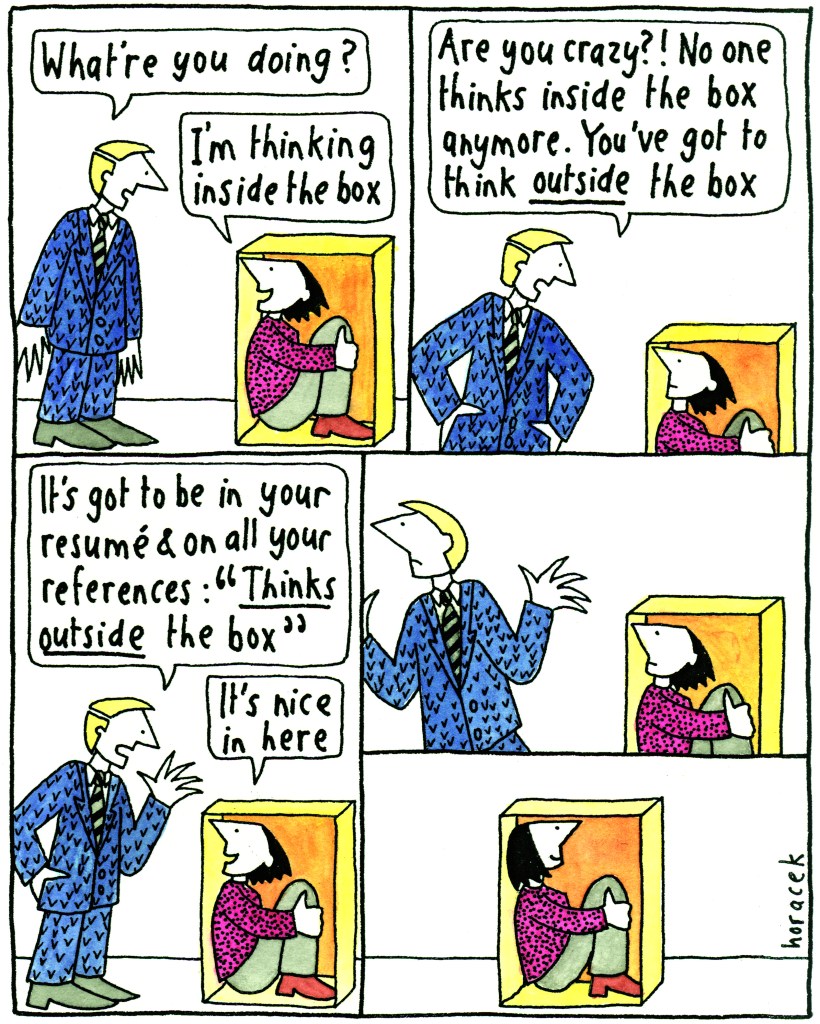 Other cartoons appear more briefly in the show in short slide shows, the captions and dialogue read out loud by different girls. Some cartoons were gently animated – a character blinking or turning her head, a rocket ship shooting diagonally across the stage, a giraffe swimming across the cartoon frame. The animator Bernadette Trench-Thiedeman, created composites from my drawings which we called 'atmospheres', designed to take up the whole stage: underwater, in space, a wild garden.
The political messages about the environment, feminism and social justice are all there, gentle but strong, along with sillier things – creatures such as the Mermonauts, half astronaut, half mermaid.
Some characters from Where is the Green Sheep? even appear – well, why not?
After two COVID-imposed cancellations, Girls with Altitude premiered in Wodonga on 24 February 2022 and is now touring in March and April. I saw it five times in Wodonga and will go again as many times as I can, at all the venues I can get to. I'm one very proud parent.
I can't imagine ever tiring of it, or of not having my breath taken away as I watch. My 2D characters combined with the real girls of the Flying Fruit Fly Circus – who are as feisty as any of my cartoon figures, although not quite as pointy-nosed – have a magic that creates something that is very moving. And joyous – crazy-joyous.
Read: Circus review: Girls with Altitude, Flying Fruit Fly Circus
The show opens with a projection of my Woman with Altitude cartoon, six metres high, the cartoon figure standing on top of a mountain, hands on hips, proud and independent. Her hair waves slightly in the breeze, small clouds drift past. The lighting changes and the cartoon becomes transparent, revealing a pyramid of real girls standing on each others' shoulders, echoing the shape of the mountain. And then the girl on the very top lifts up her arms and flies away. Her flight involves rigging, belaying and a harness and I have no idea how that feels, and whether it is scary or not. But to me sitting in the audience it certainly looks a lot like freedom.
Girls with Altitude is now touring. Visit Judy Horacek's website for updates about her work.