'Circus Oz is at a pivotal point in its history, and I think the appointment of the new Board actually reflects an eagerness on the part of the company to evolve,' said Regina Hill, one of four new Circus Oz Board Members appointed at an Extraordinary General Meeting on Wednesday night.
As reported by ArtsHub earlier this week, the new Board replaces previous Board members who had announced their intention to shut the company down in December last year.
Following Wednesday's meeting, the new Circus Oz Board shared the following message with the Company Members: 'There are big decisions to be made about how the Circus moves forward. Circus Oz's strength has historically been grounded in the collective agency, ambition, skill, experience, pragmatic optimism and energy of its members and the network of stakeholders and supporters that it has built up over time. Those strengths and resources are what we need to draw on now.
'We are committed as Directors to working with the Membership to work out a pathway forward,' their message read in part.
Collectively, Circus Oz has almost 100 Company Members who span diverse generations and skill sets. Those members fought back against the previous Board's attempt to eject them from managing the traditionally artist-led company, allegedly because of a directive from key funding body the Australia Council (contained in a report that has not been made publicly available).
In response, the former Board announced that they had no option than to wind up the company.
Once again, the Company Members disagreed, resulting in the former Board stepping down en masse and a new Board being elected at Wednesday night's EGM.
Staying true to company values
Speaking on behalf of the new Board, Regina Hill (a consultant who has worked across the government, not for profit, and philanthropic sectors) said Circus Oz as a company intends to, 'stay true to the values and commitments that have underscored the way it has navigated the past – and part of that is a very real connection to the grassroots circus community and working with smaller companies and individual artists.'
Hill is adamant that this commitment to the Australian circus sector will sit at the heart of the company's operations as it moves out of the current crisis.
'Other things that are going to have to sit at that centre are the Circus's ongoing commitment to creativity and innovation, being able to take up and advance the circus form, and the company's ability to connect with audiences as it has in the past,' she told ArtsHub.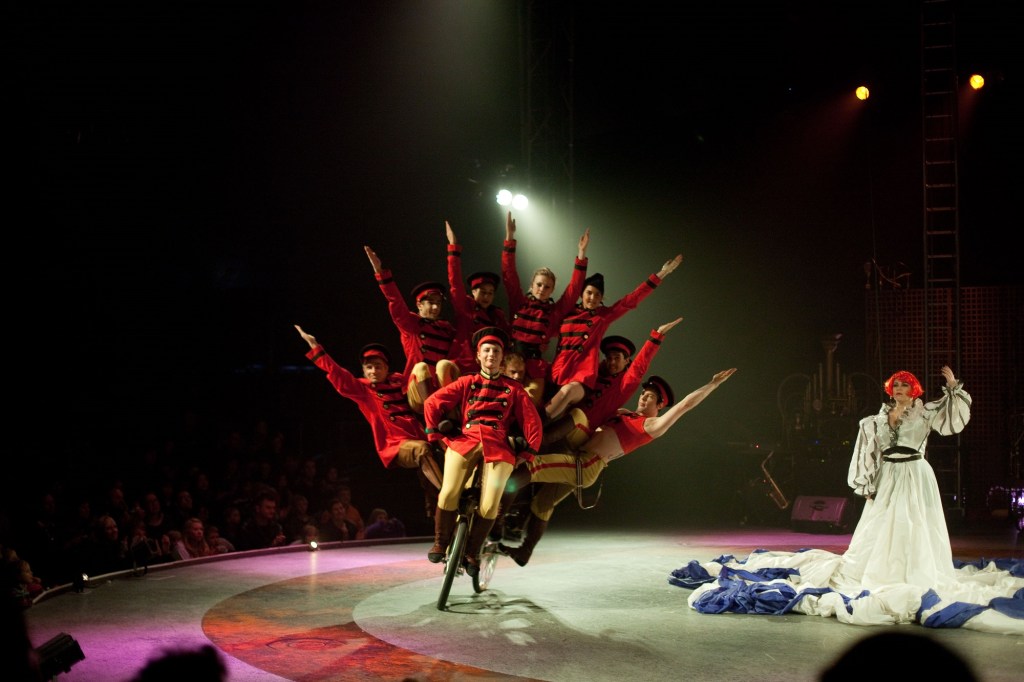 Hill continued: 'Having just been appointed on Wednesday night, our immediate priority is to actually work through the transition process with the past Board and to understand deeply where Circus Oz is at the moment, and then based on that to explore how best we move forward to position the company for the future,' Hill explained.
'We've already initiated conversations with the past Board, engaging through Mike McCredie as past Chairperson and Treasurer. And so we're going through the financials, to understand the accounts and exactly where we're up to. We're looking at the current operating structure of Circus Oz, and doing that rapidly, obviously as is appropriate from a governance perspective,' she told ArtsHub.
Is Circus Oz financially secure?
Questions put to the new Board about the company's financial position, including the state of its cash reserves and if and when new staff will be hired, cannot be answered at the current time.
'We need to finish that [research] process – to have an understanding of the current state before we can actually determine what comes next. But obviously, the questions you're asking about operations and staffing, those are things that we will think about, but we need to think about them in the context of the situation the Circus is in. And we're not yet in a position to comment on that from a practical perspective,' Hill said.

One urgent priority is to establish an open and frank relationship with Victorian Minister for the Arts Danny Pearson and the team at Creative Victoria, as well as with the Australia Council for the Arts.
'The Australia Council and Creative Victoria have been long-standing funders in the past of Circus Oz and Circus Oz has had a very strong relationship with them. So that relationship, I think, stands. We need, as we work through this pivot point, to explore what comes from that. But certainly the expectation is, and the understanding is, that we'll be able to engage in conversations with them.'
Given Circus Oz's long history, and the public grief that accompanied the carefully stage-managed but apparently pre-emptive news of the company's demise in December, Hill believes there is considerable goodwill towards Circus Oz in the wider community.
She is also optimistic about the resources the company can call upon as the new Board and Company Members work towards the next phase in the life of Circus Oz.
'Circus Oz has a broad repository of skill and resources to draw on. When you think about the membership of the Circus, there are almost 100 members and they come from a really diverse range of professional backgrounds. They have broad professional networks and they come from across the different generations of Circus Oz,' Hill explained.
'We also have a broad range of external stakeholders and supporters who are keen to see Circus Oz succeed. People are already reaching out to us enthusiastically to say, "We are here to support the circus and do what is needed now." And so I firmly believe that we are well positioned to navigate this phase in our life and to navigate it really well.'
This article has been amended for clarification following publication.