The purpose-built new Shepparton Art Museum (SAM) creates 'an experience of arrival and an experience of entering into a space that is unique, and that you can never mistake for being anywhere else in regional Australia,' according to Dr Rebecca Coates, SAM's Artistic Director and CEO.
Opening to the public this Saturday 20 November, the $50 million, five-storey museum has been designed to take full advantage of SAM's location – on a floodplain beside ancient wetlands at the gateway to the regional Victorian city of Shepparton.
'We look out onto these incredible river red gums and the forest surrounding us. It's a very flat landscape. So as you drive from Melbourne into Shepparton, the first thing that you see is what I call a "temple of culture,"' Coates laughed.
Because of SAM's wetlands surroundings, it wasn't possible to embed the new Museum's foundations deep into the earth. Instead, the building soars upwards, opening up new possibilities in terms of function and design.
'The building is set proud; it's slightly higher than the surrounding landscape. There's this incredible art hill which is a really interesting new public space that integrates the building into its landscape … and we've located the collection up on the third floor. The collection storage is usually in the basement and of course we couldn't do that, and so it means that it is, I would suggest, one of the rock-star parts of the building,' Coates explained.
'We've got ways that we can show people the inside of the back of house, and some of those things that are usually behind closed doors. So there's a real desire to have an open and transparent building that is welcoming and inclusive of all, whether it's behind the scenes and the operations of the museum, or whether it's in those public spaces of galleries, and the shared spaces that we can all enjoy.'
The unique aspects of the building extend to the way SAM's nationally significant collection of ceramics is displayed in the new museum.
'We have embedded display cases specifically for the ceramics connection throughout the building on every floor. So there will always be ceramics on display when you come into the gallery,' Coates said.
CONNECTIONS WITH COUNTRY…
The Denton Corker Marshall-designed museum joins the practice's impressive cultural portfolio, including the Australian Pavilion in Venice, the Melbourne Museum, the Stonehenge Exhibition and Visitors Centre in the UK, and the Museum of Sydney, and has been specifically designed to ensure connection with the surrounding landscape for visitors and staff alike.
'There are a lot of windows in the building – even in the galleries there's natural light. We can close it off of course, if we need to, but there's that integration between inside and out. In part that's really good practice so that as a viewer and as a visitor you don't get that sense of gallery fatigue, but equally I think this is a unique part of regional Victoria.
'It's a unique part of our world, and connecting us to this location, to the history, to the people, to the context within which we're having these experiences is really important,' Coates said.
Read: Australia's newest regional gallery opens
Built on Yorta Yorta Country, the new art museum houses over 4,000 artworks and features four main gallery spaces, including a dedicated Kids Space and Workshops. Its holdings include one of Australia's most significant South East Australian Indigenous regional gallery collections and the nation's largest holding of Namatjira family works, as well as a significant collection of ceramics.
Of the new galleries, one is named after Yorta Yorta artist Lin Onus, while another, the People's Gallery, hosts the opening exhibition Lin Onus: The Land Within, the first significant showing of his works on Country.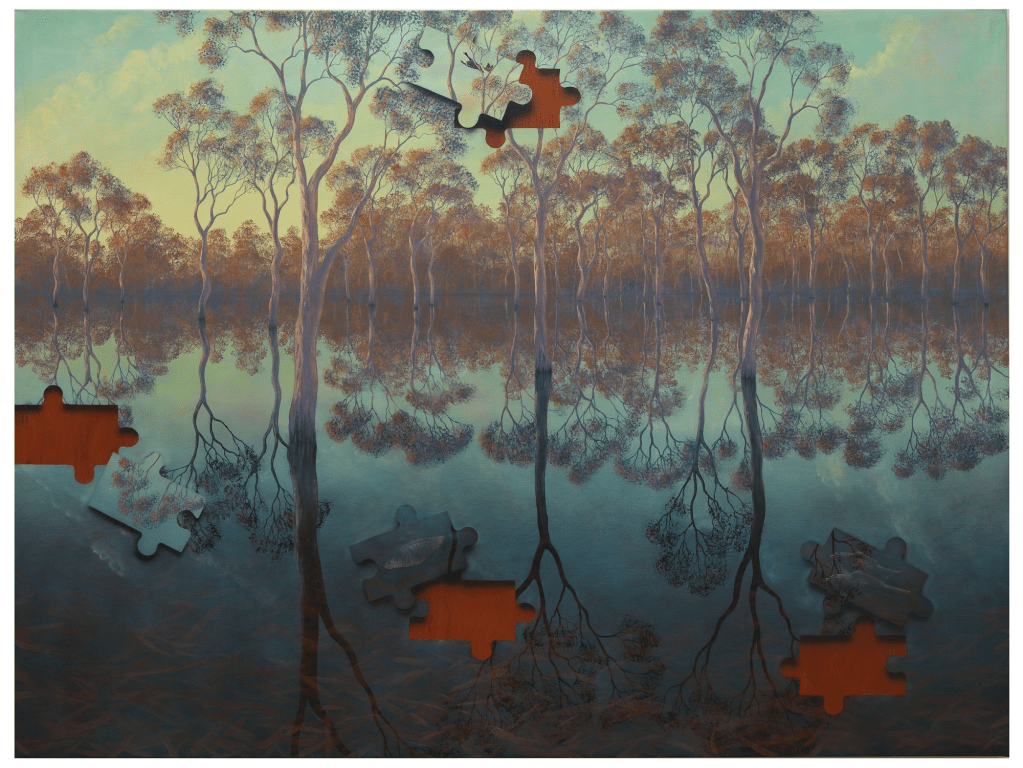 Other opening highlights include an exhibition of over 60 artists from SAM's collection in Flow: Stories of River, Earth and Sky, featuring major new acquisitions shown for the first time alongside works from the Carrillo and Ziyin Gantner Collection of Australian Indigenous Art; and a new commission by acclaimed Yorta Yorta, Wamba Wamba, Mutti Mutti and Boonwurrung artist, Maree Clarke, titled Connection to Country – I Remember When…
Speaking at the museum's launch on Friday, Tiriki Onus, a Yorta Yorta man, opera singer, artist and Head of the Wilin Centre for Indigenous Arts and Cultural Development at the University of Melbourne, welcomed the opportunity to see his father's work displayed on Country.
'I forbade the curator from sending me images because I needed to have that moment where I get to meet the works again. We've shown Lin's artwork all over the world but this show is the most important. Lin's work has never been shown on Yorta Yorta Country,' Onus said.
'Those floodwater images have particular relevance for me. Whenever Lin found out Barmah Forest was in flood, he would insist we make a pilgrimage up here to photograph it. I would have the task of wading through freezing cold floodwaters in my stubby shorts. And I had to make sure the car wouldn't sink. So in many ways this show has a significant amount of my own artistic pain and suffering, even as a child.'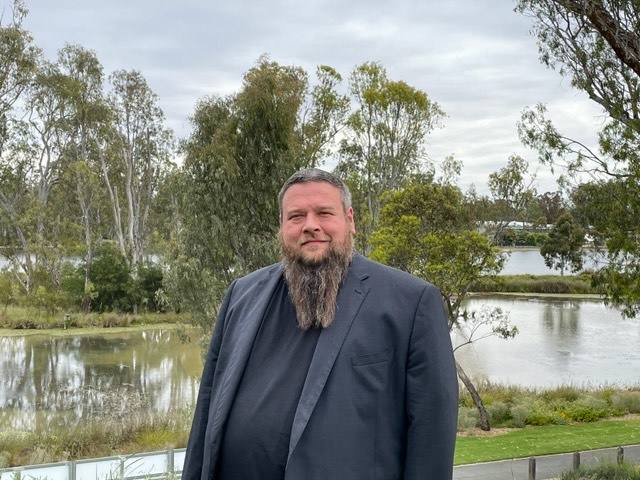 Onus spoke fondly of the experience of seeing the works displayed in SAM's People's Gallery. 'There's a beautiful moment of silence when you get to be intimate with these works again. And there's something about seeing works I've walked past my whole life and seeing them in a gallery space and getting to marvel at the incredible good fortune I've had in my life.
'This has largely been normal for me, but it's moments like this that give me the moment for pause, and I realise the significance of these works and what they mean – not just for me but for everyone else who has or will cultivate a relationship with them over the course of this exhibition,' he said.
…AND COMMUNITY
Another feature of SAM, and one which ensures it will attract visitors to the region, are its co-residents. As Coates explains, the new SAM is now home to the Shepparton Visitors' Information Centre and also the region's Aboriginal community arts centre.
'Very importantly, we're co-located with Kaiela Arts, our local Aboriginal community arts centre, and there are great opportunities, I think, to collaborate and work together,' she said.
'Equally, both organisations have very distinct roles. But it's a really exciting thing. To my knowledge, it's the first time that an art museum and a community art centre are co-located in the one building, and we also have the visitor centre too.
'So we're going to get people who arrive in Shepparton and ask "What can we do? So I think it's an interesting mix for a building and we were very keen that we have a shared experience,' said Coates.
Speaking at the launch of SAM on Friday, Coates said its future will include 'blockbusters, there will be paid shows that will draw people from near and far … but in the first year we made a decision that everything is free and we don't want economics to limit anyone's access.'
Access is clearly important for Coates and her team, who intend that the new museum should be welcoming to all.
'We have a large and strong Indigenous community here in Shepparton, and we also have an extraordinary range of multicultural communities … so we've been very mindful of how people will experience this space. It's free, but will there be any hesitation in coming in? So how do we make it comfortable and normal?' she said.
'We've gone out to bring people in, and we've worked a little subversively too. They might come and have a coffee. They might come and have a coffee four times. They might meet as a mother's group and it might take several visits before they go, "I'll just stick my nose in the gallery and see what's going on in there."
'But in the meantime, they've been surrounded by art. They've walked past art. The way it's made, the subjects it engages with may have made them stop and look for a couple of minutes or stop and look again … Even when the museum is closed, there's art you can experience and enjoy,' Coates concluded.
Learn more about Shepparton Art Museum.