2020 was a year of fear but 2021 is the ear many art galleries are taking the pandemic in their stride. For many it presented an opportunity to re-evaluate the status quo with some commercial dealers actually growing.
Overall, the Australian commercial gallery sector did much better than it had first thought when it faced that initial wave of shutdowns. Online sales were strong and many art fairs took their offering into the virtual space, expanding to new audiences in their fever for engagement.
Read: New Australian Galleries and Museums opening in 2021
We take a look at how a number of Australian galleries used this momentum to open new spaces or ramp up their activities.
NEW COMMERCIAL GALLERIES THAT PROMISE OPTIMISM

1. N.Smith Gallery, Sydney (NSW)
Nick Smith is no stranger to the commercial gallery sector, despite have served in the Defence  Force. Most recently he was an Associate for Australian mega-gallery, Sullivan + Strumpf, and the well-established, well-heeled, Philip Bacon Galleries.
Smith will go out on his own this month, taking over Saint Sophia Hall, formerly Kudos Gallery – a student-run exhibition space a short walk from the UNSW Art & Design campus.
Director Nicholas Smith in his new space N.Smith Gallery, ready to receive exhibitions. Image supplied.
Smith told ArtsHub, that 'absolutely', he felt there was an optimism in the art market. 'People are keen to support artists.'
It was less a COVID-driven decision for Smith, and one that simply came down to timing. 'I always told myself that if the right artist came along, I couldn't say no'.
That artist was Thea Anamara Perkins, who will have a solo show with N.Smith Gallery, Shimmer opening 8 June. 
Smith continued: 'I kept having the same conversation over and over again with so many people: the need for more galleries and emerging talent in need of representation. Someone had to do it – why not me?'
He said that he would like his gallery to be known for, 'giving a platform to incredible artists'.
The gallery will open 25 May with a group exhibition.
N.Smith Gallery is located at Saint Sophia Hall, 6 Napier Street, Paddington (Sydney).
2. Futures, Collingwood (VIC)
FUTURES is a new project space 'foolishly conceived mid-pandemic', describes co-directors Steven Stewart and Zara Sigglekow (pictured top). The gallery is 'sinuous but workable' they described, just 55 sqm with exhibitions turned around every five weeks. Additionally, the gallery comes with an outdoor exhibition space primed for performance and ephemeral projects.
When asked why open now, Sigglekow told ArtsHub: 'Uncertainty can, ironically, inspire ambition, and after the deprivation of culture that the pandemic wrought, there seems a space for new voices. We want to be that breath of fresh air since we're all able to step outside again.'
She continued: 'After being home bound and interacting through digital screens the tangible experience that is standing in front of and artwork IRL has a renewed intense appeal. We want to help provide these encounters'.
Stewart added that the pair were optimistic for the market. 'Pandemics – like recessions – can provide business opportunities to galleries, artists and collectors alike. Travel is limited, so you may as well enliven the tour of your domestic space and beat us up on a price tag while doing so.'
Collectors in Australia are committed to patronage, and they know the art world needs kept alive in these trying times. At least this is the casino we imagine placing our bets within!
Steven Stewart
Stewart is from the United States and brings with him more than a decade of experience, having previously owned and operated commercial galleries in New York City, with a focus on emerging artists. Locally he has worked with Neon Parc and Gertrude Contemporary, setting up that Melbourne connection.
Sigglekow is a writer and curator from Aotearoa (New Zealand) and was Associate Gallery Manager at Neon Parc (2015-2019), and has written for a wide reach of art publications. She has also been pivotal in setting up the Emerging Writers Program at SEVENTH Gallery.
She said, 'Steve and myself have spent our entire upbringing, education and life savings looking at, supporting, studying and enthusiastically following the works of important artists, past and present … [we] have been conspiring to collaborate in some capacity since we met working together at Neon Parc in 2018, and an exhibition space just happened to find us at the right moment.'
'Our blended backgrounds afford us the means to offer intellectually triggering and moving exhibitions. Caring for our artists and community is also important to us,' Stewart concluded.
FUTURES is located at 21 Easey Street, Collingwood.
3. SEVENTH Gallery, (VIC)
SEVENTH Gallery is not new, but it is expanding with a new ambition. It has partnered with City in delivery a new space, opening 16 June. Described by Gallery Manager Diego Ramirez as 'a big improvement in our premises and our capacity to represent emerging artists', the space has expanded to include three galleries, two artist studios and meets accessibility. Its program turns around every four weeks.
A non-profit gallery mostly run by artists, for artists, the gallery is supported by a volunteer Board of Directors, made of curators, writers, and people who labour in the arts.
Ramirez told ArtsHub: 'We have been operating for 21 years, since Jon Butt inaugurated the space in Fitzroy. This strategic move to Richmond is the culmination of a 'COVID-19 Crisis Management Plan' that first allowed us to resist, then survive and finally, thrive.'
'I cannot even begin to describe how well we landed this fall: it totally feels like Road Runner and the Coyote because we avoided every injury.'
Diego Ramirez
Importantly, and a first for the gallery, the new space will be wheelchair accessible right from the start. 'This is a crucial moment to open a new space like ours, for we exist at the rare intersection of experimental practices and a community ethos. We are also free to show,' added Ramirez.
He said that he is optimistic about collectors acquiring work at artist run spaces. 'For artists showing at SEVENTH, a sale is crucial to the development of their practices,' adding that the gallery does not take a commission.
'This is a space where people with a median income can make a huge impact on the life of a younger person. Making careers happen is a collector's responsibility, and it should be their calling – something they approach with insatiable passion. This is a healthy proposition for the art market.'
Of their business model and commercial pursuits, Ramirez said: 'We are fundraising by selling artist apparel to remain free for artists to exhibit'. He continued: 'We pay artists a nominal fee to show, and there are no rental costs for the gallery. We select our artists with an open call that happens twice every year.'
Explaining the vision of the gallery, Ramirez said on behalf of the Board: 'Our exhibitions are experimental and critical, which means we show art about complex ideas. '
Of note, SEVENTH Gallery also runs an Emerging Writers Program for new writers interested in art, and we do public programs, including readings, workshops, talks and live events.
SEVENTH Gallery – details and location of the new space soon to be announced.
4.  Gallery of Central Art (GoCA), Uluru (NT)
Despite the Northern Territory being hit by the retraction of international tourism in the wake of the pandemic, the Northern Territory, it has not stopped Ayers Rock Resort opening a new gallery. The Gallery of Central Art (GoCA) opens 15 July.
While we think of hotel gallery as part of the upswing of the commercial sector, GoCA says, 'It is designed to support the artists to achieve a more sustainable income stream by ensuring they are being remunerated fairly and in line with industry standards.' 
The Gallery will feature around 80 artworks supporting existing and emerging artists from the Central Desert region along with specially curated items like punu (traditional Anangu wood carving) and pieces designed and hand-made by communities across the region.   
5. D'Lan Contemporary, Melbourne CBD (VIC)
Also opening in March was D'Lan Contemporary with a new gallery space in Melbourne CBD. They opened with a curated non-selling survey exhibition by Anangu Pitjantjatjara Yankunytjatjara (APY) artist, Dickie Minyintiri (1915-2014), Life in Layered Time. It signals a new direction for the gallery with a move into the Primary Art Market and Artist Estate Management.
Director, D'Lan Davidson, said: 'Last year, we presented two high-profile exhibitions – in collaboration with Gagosian – in New York and Hong Kong, and this year, I could not be more thrilled to launch our new gallery space and exhibition programme here, in Australia.'
'The move is part of a broader mission to revitalise this important segment of the contemporary art market and will see the gallery host a series of focused survey exhibitions curated by Vanessa Merlino,' he added.
The opening of the gallery coincides with the launch of the National Endowment for Indigenous Visual Arts (NEIVA), formed in collaboration with (and managed by the licensed trustee company) Australian Executor Trustees, to centralise and distribute profits from art sales back to Australian Indigenous artists and their working communities.
In late 2020, the gallery brokered the largest single private acquisition of Australian Indigenous Art in history, with the sale of more than 250 works from the California-based Kelton Collection, the most significant collection of Australian Indigenous Art in North America, to Swiss art collector Bruno Raschle.
D'Lan Contemporary is located at 40 Exhibition Street, Melbourne.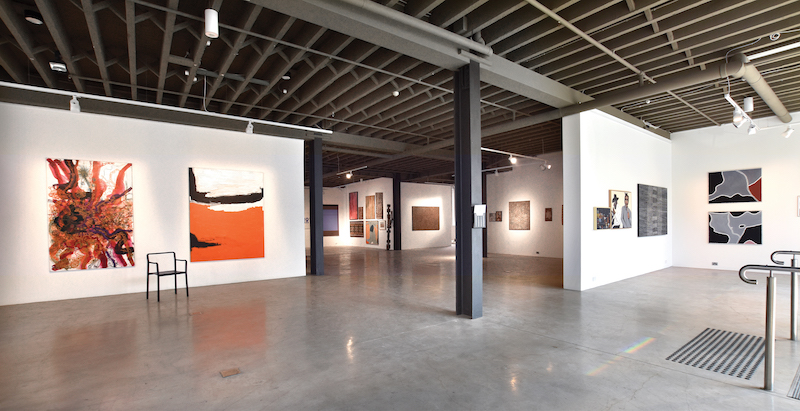 Installation view inaugural exhibition at Cooee Art's new Redfern gallery. Image supplied.
6. Cooee Art, Redfern (NSW)
Just as SEVENTH Gallery emerges with a fresh face from a long history, so too does Cooee Art in Sydney, which has been around for 40-years.  But its charter could be seen as the antithesis of the Melbourne ARI. Cooee Art has used the pandemic to expand, opening a new 480sqm flagship gallery and auction space in Redfern in March.
With a reputation for showing Aboriginal art, the new hybrid space will expand its activities into the auction marketplace with its first sale in the new space in June. Cooee Art Auctions will host two auctions a year.
The gallery reported: 'The introduction of contemporary art to the Cooee Art Auctions program follows an exceptional year in 2020 which saw a growth in Australian Indigenous secondary market art sales of double the previous year's total but Modern and Contemporary art fall by 8.5% in the art market.'
Directed by the expertise of Contemporary Fine Art Specialist, Litsa Wilkinson said: 'Australia will only benefit from a legitimate secondary art market for collectors and artists to on-sell their works. The market needs a long-term plan that allows the industry to thrive into the future. The response from artists, collectors and gallerists with works for the first auction has been incredibly positive.'
Litsa Wilkinson (nee Veldekis) is former CEO of Menzies Art Brands (2009-2011) and was Head of Australian and International Art at Bonhams (2013-2014).
Founding Director Adrian Newstead said of the new space: 'The premises is owned by Ken Done and was his art studio and clothing warehouse for many years … The Redfern location is everything we could have desired. It is large enough to accommodate Cooee Art as it expands into the future.'
Cooee Art is located at 17 Thurlow Street, Redfern.