Travelling interstate this summer holiday, or just looking for something memorable to do in your hometown? We've made it easy for you to plan with this list of summer blockbusters – the major exhibitions that promise to deliver wow.
QUEENSLAND
Brissy's blockbuster for summer is one that is a calling card for the climate crisis. Titled WATER (until 26 April 2020, ticketed). it is a message that will strike a chord with a nation caught in drought. The exhibition has been curated as an international dialogue about our most precious resource globally, with a newly commissioned work by Icelandic artist Olafur Eliasson – a vast Riverbed landscape featuring more than 100 tonnes of rock through which a stream of water flows.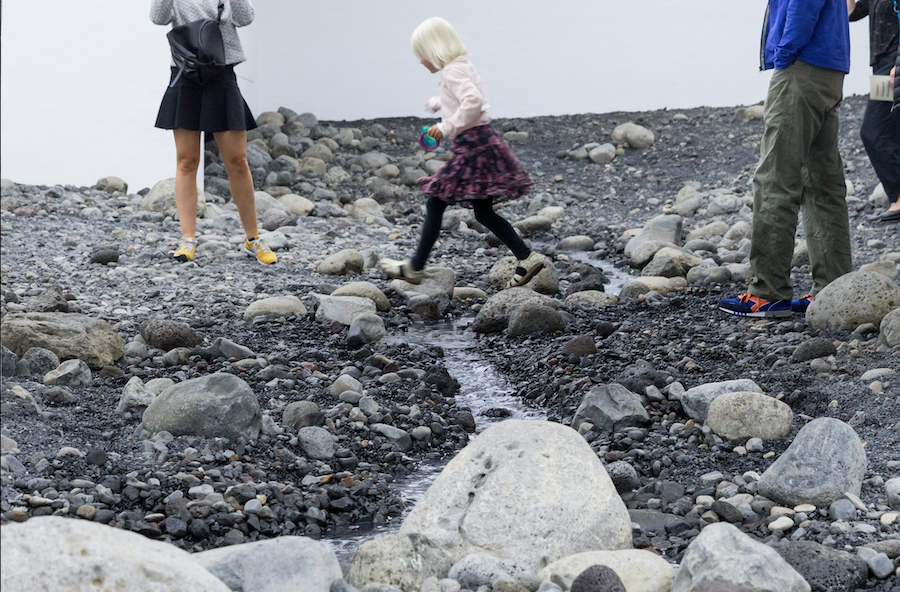 Olafur Eliasson Riverbed 2014 (detail). Site specific installation. Pictured: The Louisiana Museum of Modern Art, Humlebæk, Denmark Courtesy of the artist. Photo: Iwan Baan
Visitors will see the return of Cai Guo-Qiang's installation Heritage (2013), a kind of icy billabong surrounded by a menagerie of animals coming to drink. You will also see Aboriginal artist Megan Cope's RE FORMATION, an imposing mound of cast concrete oyster shells; Snowman by Peter Fischli and David Weiss – an unexpected sight in Brisbane's summer heat; and navigate William Forsythe's The Fact of Matter, a cloud of suspended gymnastic rings to navigate rising tidelines. Blockbuster stuff indeed!
The Brisbane stalwart is also celebrating Australian artists, with the survey exhibition Jon Molvig: Maverick (until 2 February 2020, Free), one of Australia's founding expressionist painters. Described as passionate, rebellious and a relentless innovator by QAGOMA Director Chris Saines, this exhibition looks back over a career cut short. Molvig died at just 47.
'He cultivated the persona of an outsider, a maverick who distanced himself from the acknowledged art centres of Sydney and Melbourne,' said curator Michael Hawker, and in that has always been an artist deeply respected by other artists.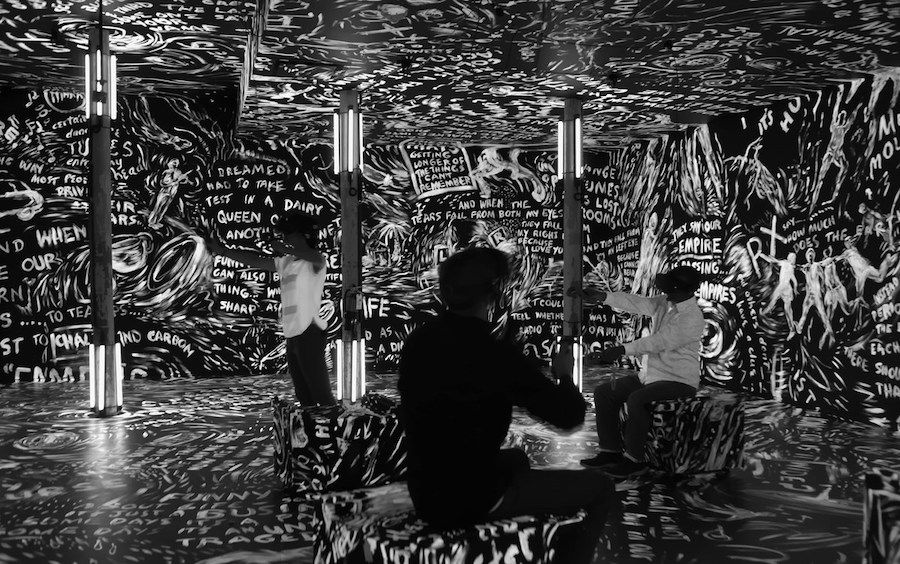 Chalkroom by Laurie Anderson and Hsin-Chien Huang, coming to PICA for Perth Festival. Image supplied.
WESTERN AUSTRALIA
If you are in Perth, then be sure to join celebrations for the 40th anniversary of AGWA's construction. Its birth was the result of a decade long push to relocate artworks from the damp, un-air conditioned dungeon of the old gaol, and it is the quintessential story of brutalism embrace, if you are an architecture fan.
Perth Brutal: Dreaming in Concrete (until 17 February 2020) takes viewers from construction to completion through plans, design models, and early promotional brochures – and pits the building as much more than bricks and mortar, but as a sculpture. This is what our Perth reviewer thought of that idea.
Across town at PICA, this contemporary arts organisation is taking a different approach to internationalism. Unfolding Acts: New Art from Taipei and Perth (until 22 December, Free) brings together artists to examine the social, cultural and economic fabric of these two cities and surrounding geographies, while exploring shared histories, civic acts and shifting landscapes.
It is part of PICA's 30th anniversary program along with Chalkroom (9 February – 19 April 2020), an immersive world created by American artist and musician Laurie Anderson and Taiwanese new media artist Hsin-Chien Huang. Enter a room that is made words, drawings and stories – literally – as text roams and flies across the space n a Virtual Reality experience like no other.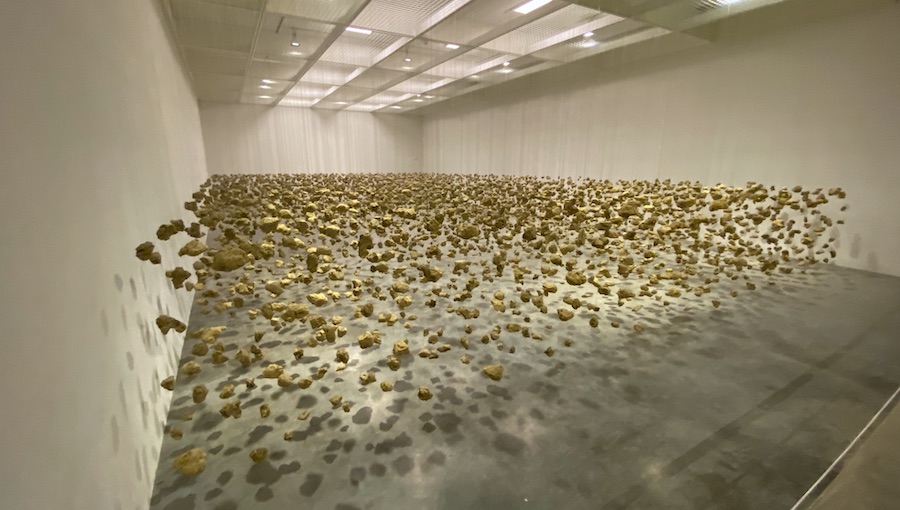 Subconscious of a Monument  2001–05, installation view, Museum of Contemporary Art Australia, 2019. Private Collection, Turin. Image courtesy the artist, Museum of Contemporary Art Australia and Frith Street Gallery, London. Photo ArtsHub
NEW SOUTH WALES
Sydney International Art Series returns this year with two sensory explosions – exhibitions that will blow your mind and force you to rethink your definitions of art.
At the Museum of Contemporary Art Australia (MCA) a major survey of British artist Cornelia Parker (until 16 February 2020) will make you rethink gardening, as garden tools are literally exploded (by the British Army) – and suspended in 3-dimensional space in the room-size installation, Cold Dark Matter: An Exploded View (1991).
It is joined by a suite of other equally immersive installations that suspend awe, such as thousands of dried lumps of earth excavated by engineers from under the Leaning Tower of Pisa to thirty suspended pools of silverware collected from car boot sales and charity shops, then flattened by a steamroller, or the salvaged red paper off-cuts from the Remembrance Poppy Factory in Richmond, London. We gave it a Five Star review.
Across town at the Art Gallery of NSW, kids and adults alike will get buzzed on the kooky world of Japanese superstar, artist Takashi Murakami, in the exhibition Japan Supernatural (until 8 March 2020).
Come face-to-face with magical creatures, legendary monsters and phenomenal beings through 180 wildly imaginative artworks by some of the greatest Japanese artists, and played out in massive mural-scale paintings, to miniature carvings and vibrant ukiyo-e woodblock prints. Art Gallery of NSW director Dr Michael Brand said this is an exhibition that 'truly blows your mind'.
With works coming from major museums all over the world this is not only a one-off for art lovers, but a boon that will keep the kids enthralled.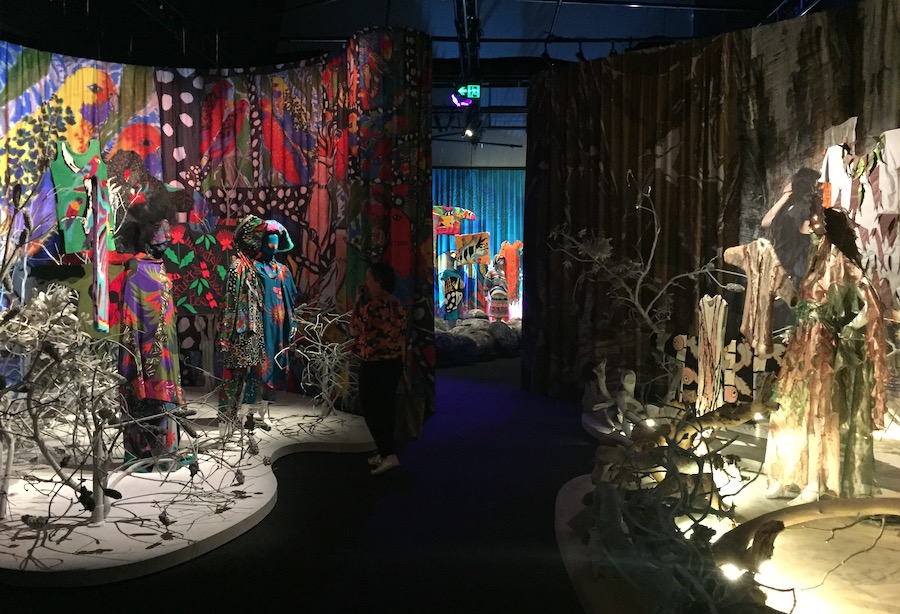 Installation view Step Into Paradise at Powerhouse Museum. Photo ArtsHub.
If fashion is more your thing, Powerhouse Museum's equally immersive exhibition, Step Into Paradise (until 18 February 2020) washes over you in an incredible celebration of life, of colour, of creativity. Tracking the careers of Australian designers Jenny Kee and Linda Jackson, it is the first major in-depth survey of their work, with over 150 outfits, photographs, ephemera and stories that capture four decades of shaping an Australian narrative through fashion.
Everything about this exhibition is palpable. Walking through Museum's temporary galleries, it is seemingly endless in its gift to visitors. To read the full review of this exhibition.
Continuing the spectacular tone, but with a different inflection altogether, is White Rabbit Gallery's tenth anniversary exhibition THEN (until 26 January 2020, Free).
Exhibition view of Zhou Xiaohu with the kinetic installation Even in Fear (2008); THEN, White Rabbit Gallery (2019). Photo ArtsHub.
Step inside the collecting habits of a millionaire, in this private museum dedicated to contemporary Chinese art, with a somewhat dissident tone. Owner Judith Neilson has amassed a whopping 2,500 artworks. Located just a hop from Sydney's Central Station, take a squiz at our review if you are considering the walk.
And ensuring that Australian artists are celebrated amidst this international line-up, the AGNSW is presenting the touring exhibition QUILTY (until 2 February 2020), which presents a portrait of a socially engaged artist, a critical citizen, who wields paint to draw attention to our responsibility as human beings in an increasingly fraught world.
Read: Ben Quilty on self-doubt and the toll of success
NORTHERN TERRITORY
Art in the Top End is never too hot in summer. Therese Ritchie: burning hearts (until 28 June 2020) at the Museum and Gallery NT (M&GNT) is a great example. It is a sizzling survey exhibition of one of Darwin's most committed and socially engaged artists.
Ritchie is renowned for her provocative prints that make fearless political and social commentary, in particular the complexity of race relations and political deficiencies in the Territory over the past three decades. This exhibition situates these prints within her practice more broadly and considers the fundamental role photography has played in her development as an artist. A great one the outdoor heat for.
Sticking to the outdoors, Bruce Munro: Tropical Light (until April 2020) is a solo exhibition of light sculptures that peppers Darwin's CBD and Waterfront precinct.
Bruce Munro, Water-Towers (2010). Installation view in Tropical Light, Darwin Waterfront (2019). Photo: ArtsHub.
Walking its 2.5km art trail of sculptures, Munro's sculptures seemingly breathe colour into the landscape; their LEDs pulsing as if in conversation with the viewer, the soft evening breeze and languid, diffused heat is like a balm. The celebrated British artist is known for capturing the stories unique to this place – discover what Darwin's are this summer. Here's what we thought of the project.
TASMANIA
It seems that Tassie's arts and culture never stops these days!
Headlining this summer is Mona Foma 2020, which will be held in Launceston for its second year (11-20 January 2020). Returning to the Queen Victoria Museum and Art Gallery at Inveresk as the Festival Hub, while Albert Hall will serve as a focal point for electro-acoustic music, including an improbable homage and recreation of a show legendary German composer Karlheinz Stockhausen performed 50 years ago at the very same venue.
The Penny Royal Dark Ride is being reinvented as a psychedelic trip of visuals, lasers and retro-analogue synthesiser music. Faux Mo is an all-nighter through many of the dark corners of the Launceston CBD. There will be an inflatable maze-like structure sprouting in Royal Park, while Mona's curators have whipped up a melange of sport-and-athletics-oriented visual art at Elphin Sports Centre, where our art curators. In short, it is a walkable festival. Visit the website to plan your program.
In Hobart, and continuing the Mona brand, we recommend talking a look at Siloam, the celebrated museums most recent addition – a new tunnel.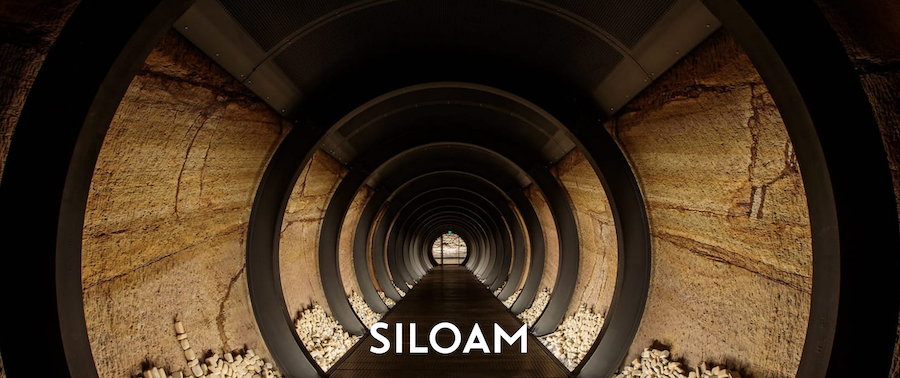 Catch Mona's new tunnel Siloam. Photo Mona.
The Pharos wing of the museum (which houses the early phase of David Walsh's collecting habits) had a short tunnel to nowhere. 'David figured he'd work out later what to put there,' explains the Museum.
The new tunnel complex takes you from the museum's underground galleries, to the colourful, airy Pharos wing; between light and dark; between sandstone bedrock and the River Derwent. Along the way you'll find Oliver Beer's giant ear, Mona Confessional; and Chris Townend's sound installation, Requiem for Vermin – that we're calling (possibly correctly) the largest multichannel sound-based artwork in the world. Up one level are the bones of a Qing dynasty house (White House, by Ai Weiwei). Siloam also hosts The Divine Comedy, by artist Alfredo Jaar – a three-stage journey through the chambers of the afterlife. Hell, purgatory, paradise.
Siloam is free with museum entry, but you need to book tickets ($20) to The Divine Comedy.
Across town, Tasmanian Museum and Art Gallery (TMAG) unveiled its summer show this week, West: Out on the Edge (until May 2020). On the edge of an island at the edge of the world lies a distinctive, complex and compelling yet elusive place: Tasmania's west.
It's a captivating new multidisciplinary exhibition shows how people have shaped the west and, in turn, been shaped by it. It asks: 'Can you truly know Tasmania unless you know the west?' Contribute your own views and reflections on the west and its past, present and people, both in the galleries and online via Instagram as part of the Hydro Tasmania Photography Project.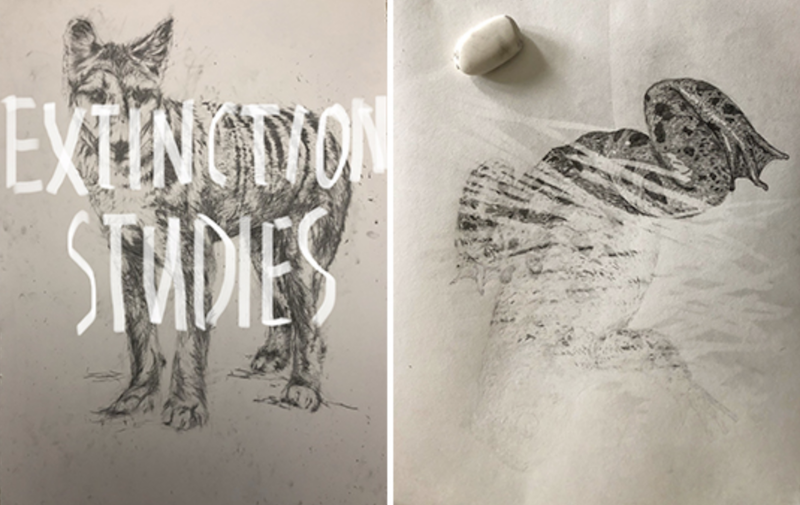 Lucienne Rickard Extinction Studies (detail) at TMAG. Image courtesy the artist and TMAG.
While in the building, catch Tasmanian artist Lucienne Rickard's twelve-month durational performance Extinction Studies, where she will undergoes the daily reckoning: drawing, then erasing, a recently extinct species. Rickard will draw and erase on the same paper, eventually worn thin by the marks and indents of loss.  
Each extinct species is sourced from the International Union for Conservation of Nature's (IUCN) Red List of Threatened Species, the authoritative list of extinct and threatened species used by scientists globally. 
VICTORIA
Love it when a museum has a parking bay for prams? Well witness the pull that National Gallery of Victoria (NGV) exhibition KAWS: PLAYTIME has with its rich sensory experience welcoming kids and families into BFF's world. Young visitors are invited to nestle into cosy nooks, explore and play (until 13 April 2020). It is paired with an exhibition surveying KAWS murals, large-scale sculptures, street and public art, and fashion, graphic and product design.
Elsewhere in the gallery things get a bit more serious for the art officianados among us. Keith Haring | Jean-Michel Basquiat: Crossing Lines (until 13 April 2020) has been described as 'an unprecedented, world premiere exhibition of two of the most significant and influential artists of the late twentieth century'.
Tony Ellwood AM, Director, NGV, said: 'The works of Haring and Basquiat remain so impactful as they demonstrate a complete mastering of how to use visual language and communicate bold statements on politics, race and social justice.'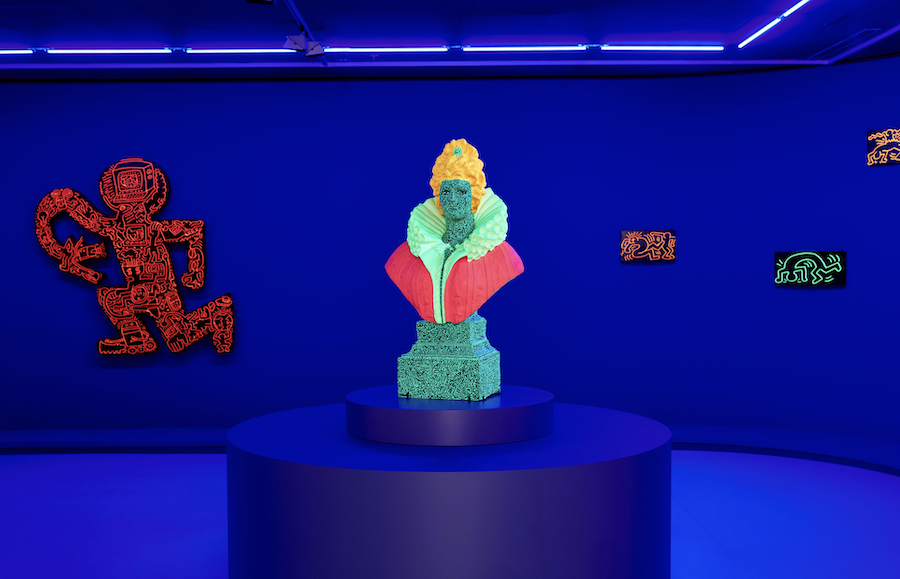 Installation view of Keith Haring | Jean-Michel Basquiat: Crossing Lines at NGV International,© Estate of Jean-Michel Basquiat. Licensed by Artestar, New York © Keith Haring Foundation Photo: Sean Fennessy
Collectively the two shaped the culture of the 1980s, but had an incredible impact on global youth culture. Haring foreshadowed emojis with his image-word alphabet, said the curator. Check out the edgy program of events over the summer.
From street culture to catwalk culture, NGV continues its celebration of fashion and design with the major exhibition Collecting Comme (26 July 2020), which examines the radical concepts and design methods that have informed Rei Kawakubo's practice since 1981, the year she first presented in Paris.
NGV is also offering incredible comprehensive solo exhibitions by Australian artists Roger Kemp – described as a visionary modernist (until 15 March 2020, Free); photographer Polixeni Papapetrou – and they way she celebrated her daughter Olympia as her muse (until 29 March 2020, Free); and a survey exhibition of hyperreal, surreal photographer Petrina Hicks: Bleached Gothic (until 29 March 2020, Free).
More than 50 works and videos explore Hicks photographs children, animals and young women against simple backgrounds, returning to the same models and motifs frequently to define and hone her distinctive bleached style.
Louise Weaver Taking a Chance on Love 2003 (detail) Mixed media. The University of Melbourne Art Collection, Michael Buxton Collection. Image supplied.
Buxton Contemporary has also chosen a survey exhibition for its summer hit. Between appearances: the art of Louise Weaver (until 9 February 2020) references Weaver's fascination with cycles of growth, transformation and metamorphosis, the intricacies of camouflage, the dynamics and fragility of the natural world, knowledge and the power of mythology and make-believe.   
Best known for her whimsical, thought-provoking sculptures of animals this exhibition encompasses more than 100 works in diverse media including sculptural installations, paintings, drawings, printmaking, collage, textiles, movement and sound.
It is an exhibition that intrigues and delights for all ages.
Carrying the dedication for celebrating Australian artists this summer, TarraWarra Musuem of Art is presenting ASSEMBLED: The Art of Robert Klippel (until 16 February 2020). Klippel is regarded as a giant of Australian art, having associated with Henry Moore, Eduardo Paolozzi and André Breton in the late 1940s, while in New York in the 1950s he was a member of 'The Club' founded by Willem de Kooning and Jackson Pollock.
His impact on the landscape of Australian sculpture was incredible, championing experimentation and the use of unexpected materials in his so-call surreal 'junk sculptures'. This exhibition is a rare moment to see over 100 of his works in one place.
Jess Johnson and Simon Ward with their Balnaves Contemporary Intervention Terminus. Image courtesy of National Gallery of Australia.
If you are less analogue, and more digitally minded, then head to Heide Museum of Modern Art for Terminus (until 1 March 2020), a major Virtual Reality (VR) installation created by New York-based New Zealand artist Jess Johnson and Wellington-based videographer and animator Simon Ward.
This does more than transport into another world, it is a mind-altering immersive experience that is exhilarating, at times frightening, and downright entertaining.
Johnson said: 'I think VR is the most effective conduit from one brain to another that's ever existed. With VR, you can seduce someone into accepting an entirely new reality.'
The exhibition features five virtual reality artworks situated on a full-scale tessellated floor map.
In short, TERMINUS enables audiences to have the simulated experience of entering into the hypnotic realm – a mysterious universe of alien architecture populated by humanoid clones and cryptic symbols, explored via a network of travellators and gateways.
Here's how to become a pioneer and take on this new world.

Henri Matisse Seated odalisque 1926. Gift of Adele R. Levy Fund Inc., Metropolitan Museum, New York © Succession H. Matisse/Copyright Agency
AUSTRALIAN CAPITAL TERRITORY
Matisse and Picasso – they are iconic household names – and this summer they are paying a house call to the National Gallery of Australia (until 13 April 2020) to settle their feud.
While most of us recognise that these artists are two of the compelling in modern art history, lesser known is their artistic rivalry and turbulent friendship, spurring each other with grudging respect.
This creative battlefield is stepped out across 200 paintings, sculptures, drawings, prints, illustrated books and costumes in this exhibition that brings works to Canberra from some of the greatest museums in the world.
It was only after the death of his friend in 1954, Picasso acknowledged the influence Matisse had on his own career. 'Nobody ever looked at Matisse's work as thoroughly as I did. And he at mine.'
Now you can look at both their work in a rare opportunity this summer.
Hugh Ramsay, Two girls in white 1904 also known as The sisters, Purchased Art Gallery of New South Wales. Photo: Ray Woodbury, AGNSW
Also at the NGA is a major retrospective of the work of Australian artist Hugh Ramsay (until 29 March 2020, Free) – the first in 25 years. Often described as an artist's artist, Ramsay started at just 16 – his career sadly cut short at 28. But in that time he was prolific – and incredibly successful. He was not only selected for the iconic Paris Salon, but was included with four paintings – unheard of for any artist, let alone an Australian. This exhibition includes over 85 works and sketchbooks – it is better than the Archibald or other portrait prizes – Ramsay's likenesses seemingly staring back at you with incredible engagement. Learn about this lesser know story of Australian art.
Across town at the National Portrait Gallery, fashionistas and doignans of fashion will be satiated by Women in Vogue (until 24 November), and exhibition celebrating sixty years of the Australian icon and how it has shaped the image of women in Australia – on and off the pages.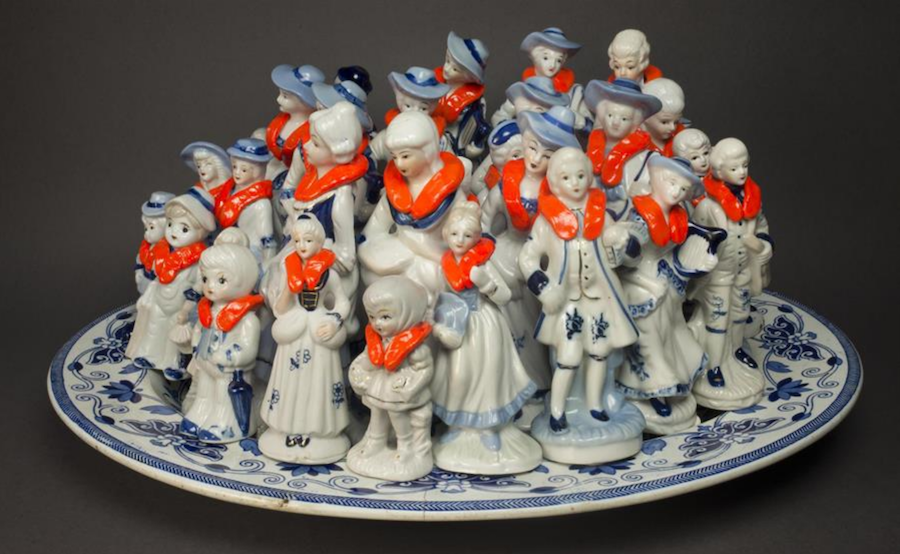 Penny Byrne, #EuropaEuropa (2015). Antique porcelain serving platter, vintage porcelain figurines, epoxy putty, epoxy resin, enamel paint. Darebin Art Collection © Penny Byrne / Copyright Agency, 2018. Photo: Angela Bailey.
And for fans of contemporary craft practice, Craftivism. Dissident Objects and Subversive Forms puts a fresh spin on how we think of craft-based materials and how they are used for political intent. Showing at the Museum of Australian Democracy, Old Parliament House (until 2 February, Free), 17 artists explore ideas and issues of our time through modes both familiar and cutting edge.
Craftivism 'challenges visitors to reconsider activism and everyday objects in an age where forms of protest for social change are necessarily having to evolve and adapt,' writes ArtsHub reviewer.
Another blockbuster that has been moving around nationally makes its way to Canberra this summer, is DreamWorks Animation: The Exhibition – Journey from Sketch to Screen, presented by the National Museum of Australia (until 2 February 2020).
Join your favourite characters – Shrek, Toothless and Po – in a rare glimpse into the studio's collaborative, artistic and visionary approach to animation, and go behind the scenes of DreamWorks Animation's most popular films.
More than 400 objects from the studio's archive, including original artworks, storyboards and scale-models, as well as immersive and interactive digital experiences, make this exhibition a sure kid-pleaser.
SOUTH AUSTRALIA
True to Tarnanthi: Festival of Aboriginal & Torres Strait Islander Art 2019, the Art Gallery of South Australia presents a diverse and timely major exhibition that offers renewed understanding of our First Nations culture (until 27 January 2020, Free).
Tarnanthi Artistic Director, Nici Cumpston says, 'Tarnanthi is a place of ideas and discussion, a gathering place for people to come together to encounter other viewpoints and to make   connections.'
Participating artists range from fifteen to eighty-one years of age, while works of art span range of mediums across painting, photography, printmaking, carving, sculpture, moving image, works on paper, textiles and performance.
At AGSA, Artists from Buku-Larrŋgay Mulka Centre at Yirrkala in north-east Arnhem Land, present a project titled Gurruṯu, which explores the intricate knowledge system that connects people and the universe across time. It offers lessons for all.
This is just a hint of things on offer – the Tarnanthi program reveals more.