It is a very uneven world at the moment. While some of us are still battling the mental and physical limits of rigid isolation, others are starting to enjoy gallery and theatre experiences again, as doors and programming are slowly reopening.
One thing we can all relate to however, is that the rules have changed.
But confined by tight legalities, there is very little 'change' permitted for Australia's oldest and most prestigious suite of awards – the Archibald, Wynne and Sulman – presented annually by the Art Gallery of NSW (AGNSW).
The flipside is, while content is the same as always, the delivery of this year's prizes have had to be adaptive. ArtsHub speaks with AGNSW Deputy Director and Director of Collections, Maud Page on how this year's prize is different.
1. To cancel or not to cancel – and dint a 99-year tradition
In 1919, between one-quarter and one-third of all Australians contracted pneumonic influenza, more commonly known as 'Spanish' flu. That same year, J. F. Archibald, editor of The Bulletin and founder of The Archibald Prize, also died.
The Archibald Prize has been awarded annually since 1921, with only two exceptions 1964 and 1980 – both because the Trustees decided that the entries were not of a sufficient standard. The award has never been cancelled in its 99-year history, however, in 2020 the competition has been delayed due to the onset of the COVID-19 pandemic.
AGNSW closed on 23 March for 70 days reopening 1 June. The exhibition has traditionally opened in May.
2. How to paint a 'live' sitter in iso
Page explained that the Archibald Prize terms and conditions stipulate that entries must be 'painted from life', which means artists must have at least one 'live sitting' in person with their subject. Artists entering the Archibald Prize this year were expected to adhere to these terms.
'Drawing and painting from life in front of a subject is invaluable in enabling an artist to fully capture a likeness. At this sitting, they can take photographs and do sketches as references to help them complete the portrait,' added Page.
They are serious about this rule! In 1975 John Bloomfield's portrait of Tim Burstall was disqualified on the grounds that it was painted from a blown-up photograph. And in 1995, the Archibald Prize application form was amended to read: 'For the purpose of this prize the trustees apply the definition of a portrait as determined in the judgment of 1983: "a picture of a person painted from life".'
This refers to John Bloomfield's unsuccessful attempt in 1983 to sue for the return of the 1975 Archibald Prize.
'We were fortunate that many artists would have held at least one live sitting before entries were postponed in March 2020 due to the coronavirus pandemic,' said Page.
Works created between 3 April 2019 and 14 August 2020 were eligible for the 2020 Archibald Prize.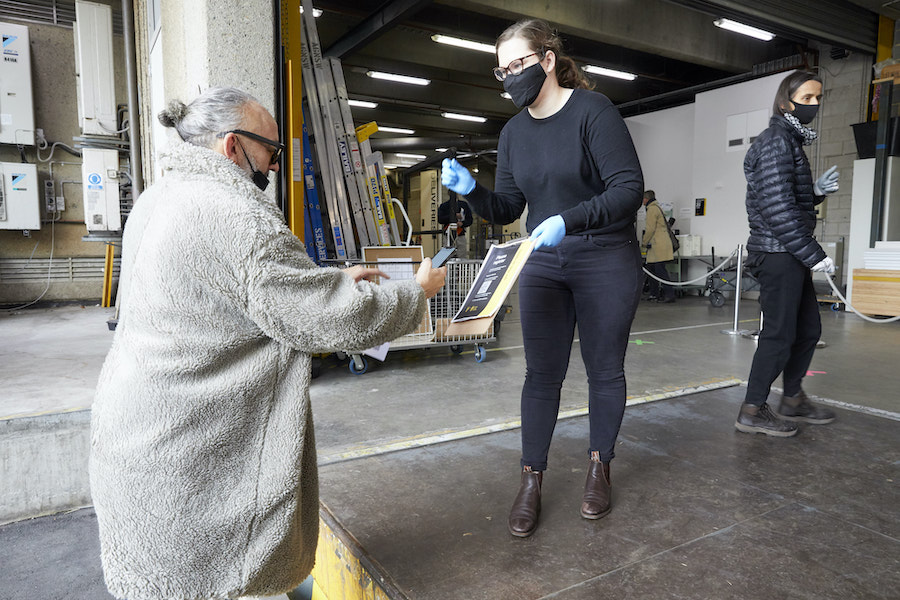 Archibald, Wynne and Sulman Prize works arriving at the Art Gallery of NSW loading dock Mim Stirling © AGNSW.
3. Bubble wrap is no longer a protector, but a predator
When receiving such a volume of Archibald, Wynne and Sulman Prize entries from a broad geographic stretch, the level of risk of infection through handling increases. Working with the new conditions – and NSW Government's health guidelines – the gallery has managed the acceptance of entries differently this year.
Page explained: 'The gallery implemented a range of strict physical distancing and hygiene measures to protect the health of artists, couriers and staff and minimise the spread of COVID-19 during the delivery period for the Archibald, Wynne and Sulman Prizes this year.'
Understandably, this included measures like 'staff in the packing room wore personal protective equipment (PPE) and were providing hand sanitiser and face masks to artists and couriers,' and of course the frequently cleaning of surfaces, but there were also less conventional adaptations.
The 2020 #ArchibaldPrize delivery period was unprecedented in more ways than one – this year, we succeeded in significantly minimising the plastic waste going into landfill. Here are our proud art handlers with some of the plastic to #reuse and #recycle.

📷: Jake van Dugteren pic.twitter.com/QHfz9VOz1T

— Art Gallery of NSW (@ArtGalleryofNSW) August 22, 2020
One of the unexpected outcomes was a reduction in bubble wrap, so that when an artwork was delivered and it was removed by the artist, it was also taken off site to reduce surface contract.
'2020's artists arrived with their works wrapped in towels, shawls and fitted sheets and took their protective plastic home,' the gallery reported on social media.
'This year we succeeded in significantly minimising the plastic waste going into landfill,' the gallery added.
Page continued: 'The Gallery added an additional week to the normal one-week delivery period, specifically for deliveries by courier, to allow for physical distancing in the loading dock and packing room.'
While always a controlled zone, the number of people allowed in the packing room and loading dock was further limited, said Page,  and there were markings and signage to help people maintain safe physical distancing.
'It was a huge job but artists, couriers and all who dropped off artworks were totally understanding – so frankly, it was smoother than we had envisaged!' Page said.
4. Gone is the out-of-state dash … or not
Gone is the out-of-state, drive-all-night dash to make the entry date. With borders largely closed artists managed to be creative – or better organised – this year to ensure their entries made it to Sydney.
'Amazingly, there was no reduction in out-of-state entries,' said Page. The first may not be that numbers have changed, but rather that artists were more prepared this year.
In 2019, in an all-time high, 919 entries were received for the Archibald Prize alone. This year's numbers will be announced, along with the finalists in all prizes and winner of the Packing Room Prize on Thursday, 17 September. 
5. Opening while preparing to shut shop
The Prize exhibition will also be a different visitor experience this year, one that has a win with timed tickets meaning less people jostling to view works.  
Page told ArtsHub: This year, we have introduced timed and dated tickets, with limited numbers per session, to manage visitor numbers and allow everyone to enjoy the popular exhibition in a comfortable and safe environment.
But there also remains the threat this pandemic could 'turn on a dime' and the gallery doors again close. 'As always, all Archibald, Wynne and Sulman Prizes 2020 finalist works will be exhibited on the Gallery's website … We will continue to be adaptable and find ways to allow everyone to see more art.'
The Archibald Prize awards $100,000 to the successful winner, who will be announced on 25 September. ArtsHub will be publishing its predictions for this year's prizes next week. Tickets are now on sale and visitors to the Archibald, Wynne and Sulman Prizes are encouraged to pre-purchase online. The exhibition will be available to visit from 26 September 2020 – 10 January 2021, pending current health regulations.