In June last year, an all-female curatorium was announced for The National 4: Australian Art Now. Not only had this cross-venue survey of Australian art been extended (it was launched in 2017 and was funded as a three-edition biennial event), but it was keeping astride the issues and topics reverberating throughout the wider arts sector.
2017 was the year that the hashtag, #MeToo was first used; today, gender and sexual equity is a pillar embedded across most of our arts institutions, from programming to policy. And that is echoed in this year's curatorium. The National 4 presents over 80 artists and collectives with the numbers skewed towards female artists.
Read: Female curators (re)shaping Australian art
Has The National changed?
The exhibition opened this past week across a range of venues – the Museum of Contemporary Art Australia (MCA), Art Gallery of NSW (AGNSW), Carriageworks and, in a first, Campbelltown Arts Centre (C-A-C).
While the geographic footprint of The National has expanded, the exhibition itself remains on point with its original vision. Back in 2017, when ArtsHub first asked, Do we need The National?, it was off the back of the exhibition's rhetoric, as offering 'a holistic view of Australian art at a point in time [that] fosters dialogue between generations of artists'.
It was envisaged as an opportunity for Australian artists in the off years to the Biennale of Sydney (1973-ongoing), but the idea was not entirely new.
Australian Perspecta (1981-1999) was a parallel too large to deny, not to mention other surveys such as Adelaide Biennial of Australian Art (established 1990, Art Gallery of South Australia), Primavera (in 1992, MCA) and, more recently, Melbourne Now (2013 by the National Gallery of Victoria).
Time, however, has proven that there is still more room in this landscape. Interestingly, The National 4 coincides with Melbourne Now 2023 – back after its 10-year hiatus. Originally, it drew 753,000 visitors, affirming that the contemporary art survey did have a place and that Australia blockbuster surveys have the capacity to engage audiences, just as much as, say, the buy-in Rubens or Hermitage blockbusters.
Read: Exhibition review: Melbourne Now, NGV Australia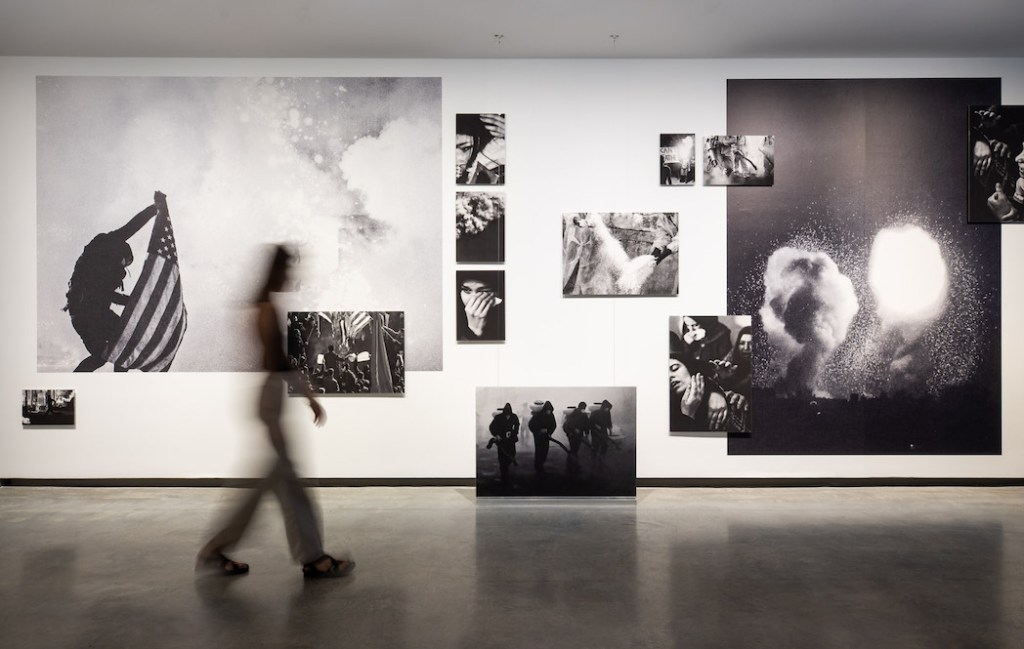 Content over context
The National 4 is presented as four distinct exhibitions. There is little overlap or through-thread. The MCA turns to notions of time, ecology and social concerns, with key works including Hoda Afshar's installation of found images, Simryn Gill's gentle botanical studies of urban gardens alongside Amanda Williams' photographs of endangered wetlands, and the collaborative barkcloth installation by the Ivi collective (evolving over the duration of the exhibition). The star, however, is YOYI (dance), a collaborative video by Jilamara Arts and Crafts and 30 artists from Milikapiti Tiwi Islands, dancing on Country.
The AGNSW takes visitors on a physical and emotional journey through the work of 14 artists, from Nabilah Nordin's stunning sculptural pieces, Corinthian Clump, riffing off the architecture of the Gallery's entrance vestibule, to a peppering of works from Glen Mackie's prints and dance machines, to Esther Stewart and Gerry Wedd's pieces viewed as visitors move down the levels of the Gallery.
Overall, here it is more calmly paced, with less bold bling, looking at social, environmental and political histories, with a strong sense of materials and making. A great example of this is Robert Fielding's 61 milpa – the pieces of bent wire used to draw into the red earth when storytelling – and Wedd's 600-plus hand-formed tiles and ceramic vessels playing off their vernacular as a tool for mass communication but honed to the personal message.
Carriageworks feels like the weak link in the group of venues and comes across as reduced in scale, with 11 artists presented in the vast venue. Notably, there is a strong Indigenous focus – not surprising given co-curator Freja Carmichael's (Quandamooka) role here – and a number of the works reimagine found materials in social and political commentary. A highlight is the performed work by Jo Lloyd, FM Air (2023), scheduled to be performed three times during The National 4.
The newcomer, C-A-C, could be described as the most cohesive venue, also presenting 11 artists. Here again is a strong emphasis on materiality, memory and narrative. Some of these works have connections to pandemic lockdowns, while others take the longer path by reflecting on diasporas and trauma. It's well worth the journey south of Sydney.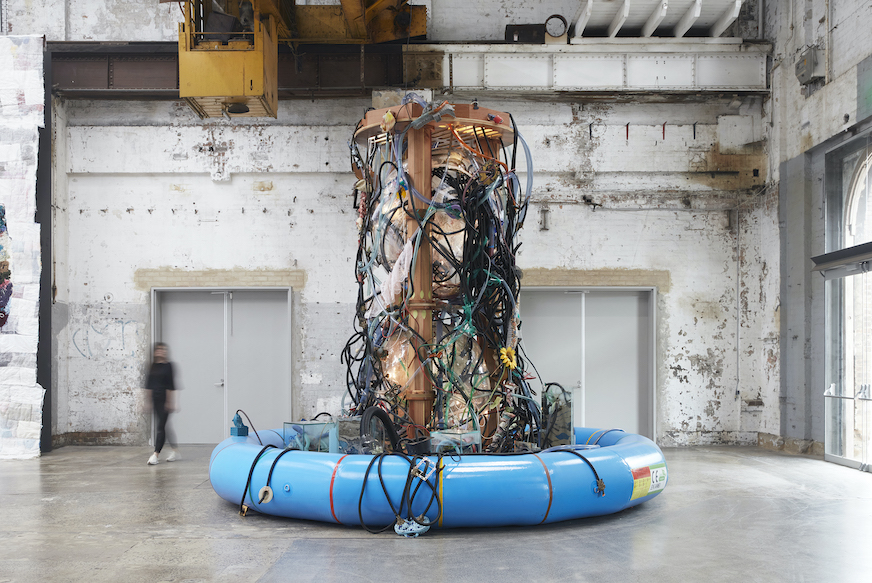 … and the artworks that shine?
Across the exhibition there are a number of clear highlights. As mentioned, standing in that lower gallery of the MCA and being faced by 30 Tiwi artists performing YOYI (dance) on Country offers an incredible bodily engagement for audiences.
Sensitively connecting with architecture and site across the venues are a number of pieces – for the MCA it is Mia Salsjö's work The Bridge, which is a translation of architecture forms into site specific musical compositions as both visual and sonic patterns, in view of Sydney's Harbour Bridge. At the AGNSW, Esther Stewart uses architecture to encourage a closer look at built environments and their histories; her piece is inspired by 1970s kitchens advertised free online.
Social issues of our times – and the role memory plays in shaping our understanding of them – is fleshed out beautifully by Hoda Afshar in her composite work, Aura, which grabs found images of riots and protests from Black Lives Matter, to US air strikes on Iraq in 2019 and the Australian bushfires, inviting us to consider the acts of violence and shared human experiences, and how short memory is.
Time and memory are poignant at C-A-C, with a quiet work by Shivanjani Lal, a field of 87 cast sugar cane stalks, which references the number of boats that transported over 60,000 indentured labourers to Australia. While at Carriageworks, Elizabeth Day's massive, to-scale recreation of the 1797 Parramatta Gaol entrance – created with op shop garments and unravelled woollens – offers a wall of layered emotions that are enmeshed in colonial narratives and displaced generational rupture.
Rupture was an outcome of COVID for many artists – that is, how to cope and how to maintain a practice. David Sequeira's stunning installation of over 300 gouache paintings at AGNSW, Song Cycle – one made each day for a specified person, place or feeling during lockdown – is a sure highlight of this year's The National.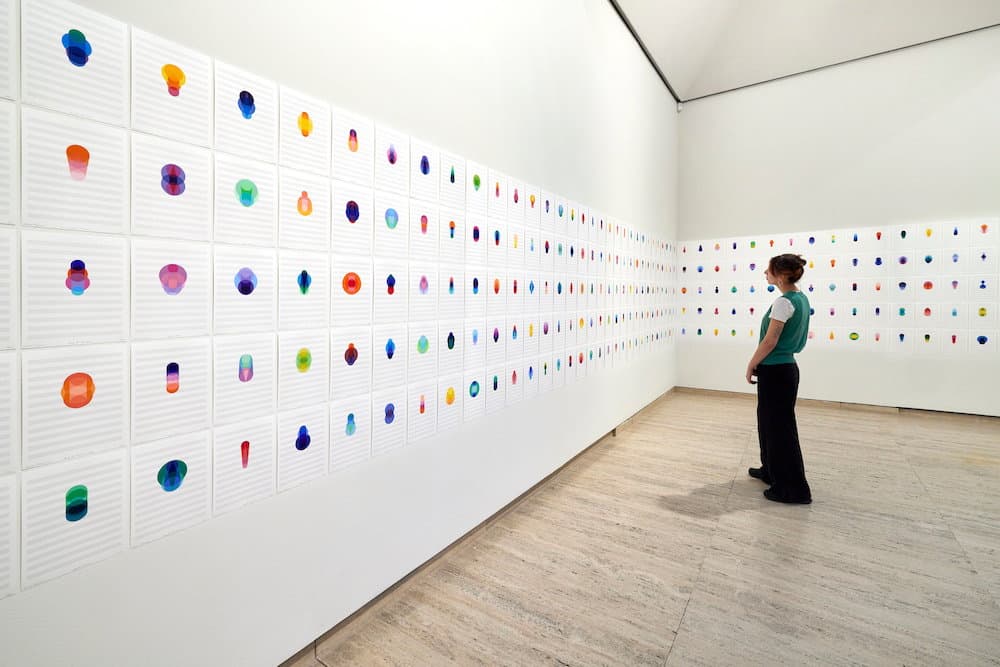 Lynda Draper's collection of ceramics in Talismans for Unsettled Times at C-A-C, while some were created over the past decade, were largely made during that anxious pandemic period, which Draper describes to ArtsHub as a way of 'assigning meaning to objects while navigating love, loss and change'.
They make sense in connection with two other works at C-A-C, an installation of 500 paper cutouts made by Jumaadi in his home studio during lockdown, and a collection of four installations reimagined by Isabel and Alfredo Aquilizan and the Fruitjuice Factory Studio (their children), from whom they were separated for three years. Their work typically uses personal objects that are imbued with histories, with narrative and connection, as a way of anchoring the wash of feelings that come with displacement.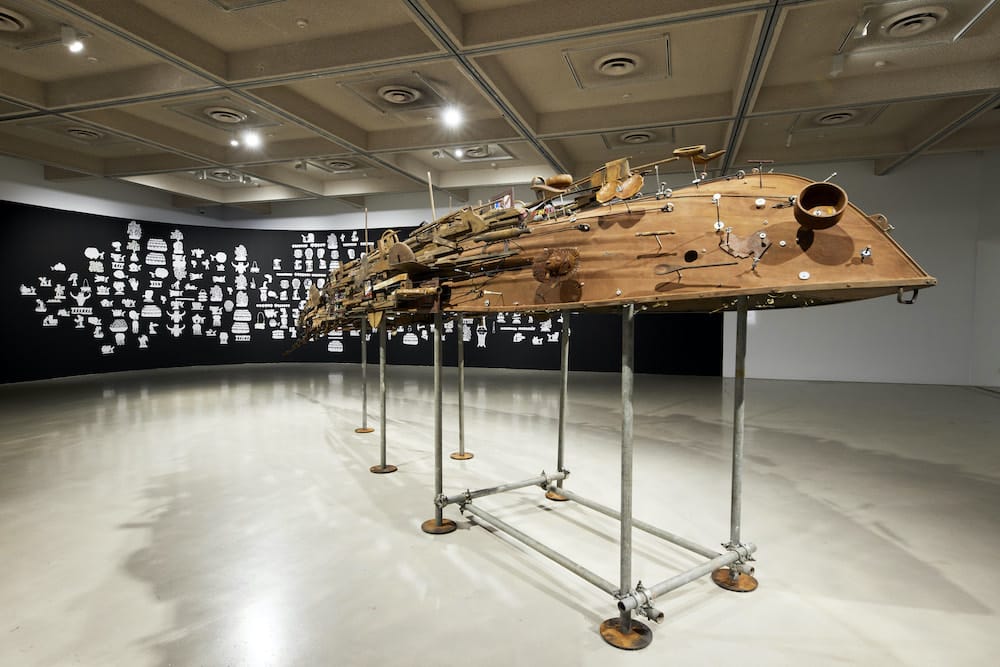 In a similar frenetic collecting of the found object, Erika Scott's four-metre high installation of domestic debris at Carriageworks, The Circadian Cul-de-sac, is another dramatic piece at this venue, along with a stunning collection (while polar opposites to Scott's work) of Celestial River barks by Naminapu Maymuru-White.
Parting thoughts…
For the inaugural edition of The National, I described it as 'discombobulated', adding that it was 'like a smorgasbord where the cheese selection sits next to the carvery, and the desserts amidst the soup. There are lots of tasty morsels, but the plate filled after doing the rounds looks more like a dog's breakfast'.
The discombobulation remains, but with time, we have come to understand better that The National is less about a curatorial moment – and more just about 'a moment'. Contemporary life is discombobulated, and this exhibition serves well to help audiences navigate some of the topics – the concerns and the traumas – that are often difficult to understand. Apart from the odd few works that fail in their delivery, the exhibition is a win – and easy viewing in chapters over the next three months.
The National 4: Australian Art Now is a free exhibition.
Art Gallery of New South Wales: Friday 24 March – Sunday 23 July 2023
Campbelltown Arts Centre: Thursday 30 March – Sunday 25 June 2023 
Carriageworks: Thursday 30 March – Sunday 25 June 2023 
Museum of Contemporary Art Australia: Friday 31 March – 9 July 2023 
Curated by: Beatrice Gralton at the Art Gallery of NSW, Emily Rolfe at C-A-C, Freja Carmichael (Quandamooka) and Aarna Fitzgerald Hanley at Carriageworks, and Jane Devery at the MCA Australia.