We are used to statistical introductions when we consider biennales: X artists showing from Y countries, across Z venues. It is a kind of gong-banging banter that really serves no-one's interest, except perhaps the next grant application.
With the Biennale of Sydney opening its 23rd edition over this past weekend, such thinking and discourse has been pushed even further into the rear-view mirror – an agenda that really got footing with Brook Andrew's last edition (often described as the biennale we had to have, forefronting First Nations voices).
Colombian curator José Roca has taken it further, stripping his biennale of hierarchy, delivered in creative tandem with a curatorium and choosing to drop the title 'artists', rather using 'participants' to capture the diverse cross-platform foundation that sits central to a lot of thinking in this exhibition.
In a first, Roca has placed himself here in Australia, on Country, largely for the past two years leading into the event, to genuinely pick up where Andrew left off, and in step with the kind of deep-thinking, slow-learning that shakes up the biennale model.
These kinds of shifts are tectonic when you are talking about the traditional biennale format, and leads one to question – walking away from this latest edition – whether indeed the format is no longer valid, and further still, whether it makes for a successful exhibition in its rejigged form?
So did the 23rd Biennale of Sydney deliver?
Read: Curatoriums are the new programming superpower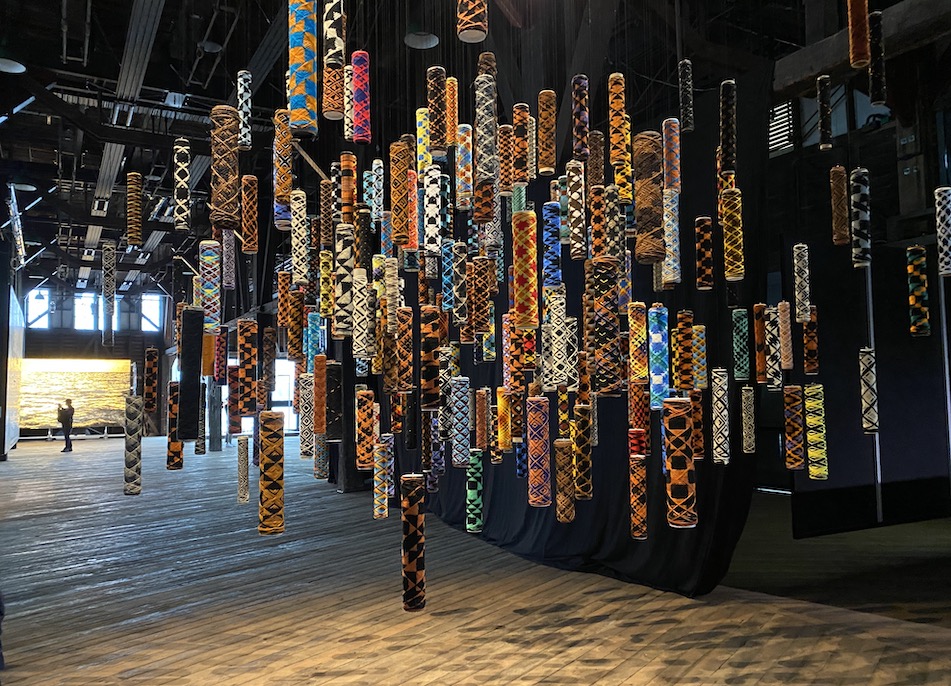 Talking first impressions
Such pondering precipitates the question then, what is it 'to deliver'? Is it a spectacular major exhibition splash that get viewers all bug-eyed and jaw-dropped? Is it new thinking globally surveyed through the latest art making? Is it sensitive cohesive exhibition making that puts theme over everything else?
The first impression is to feel torn over this biennale. While it is probably the most coherent, consistent, and thoughtful of biennales I have witnessed across the history of the Biennale of Sydney – and there is so much to love about its genuine core – at times it feels flat for the visitor with the work more ambitious and resolved in thought, than in delivery.
Each venue picks up the title, rīvus (meaning stream in Latin), and plays out a different route, tributary or theme. It is not lost, however, the timeliness of its theme. The week it opened NSW experienced the worst floods in several hundred years; its rivers bulging, and our nature pushing back against the human-made.
The curatorium calls them 'conceptual wetlands', and the narratives presented at each venue corral research, activisms, cultural knowledge, ecology and artworks. It is easy to follow as a viewer, and allows to either dip or dive in as much as they want.
Rivers are the sediment of culture.

Curatorium, Biennale of Sydney
Overall, there is a palpable call for collective action communicated through the artworks presented in this biennale, one perhaps less sledgehammer or sloganistic than is often felt with activist art. It is a narrative sensitively navigated by the curatorium.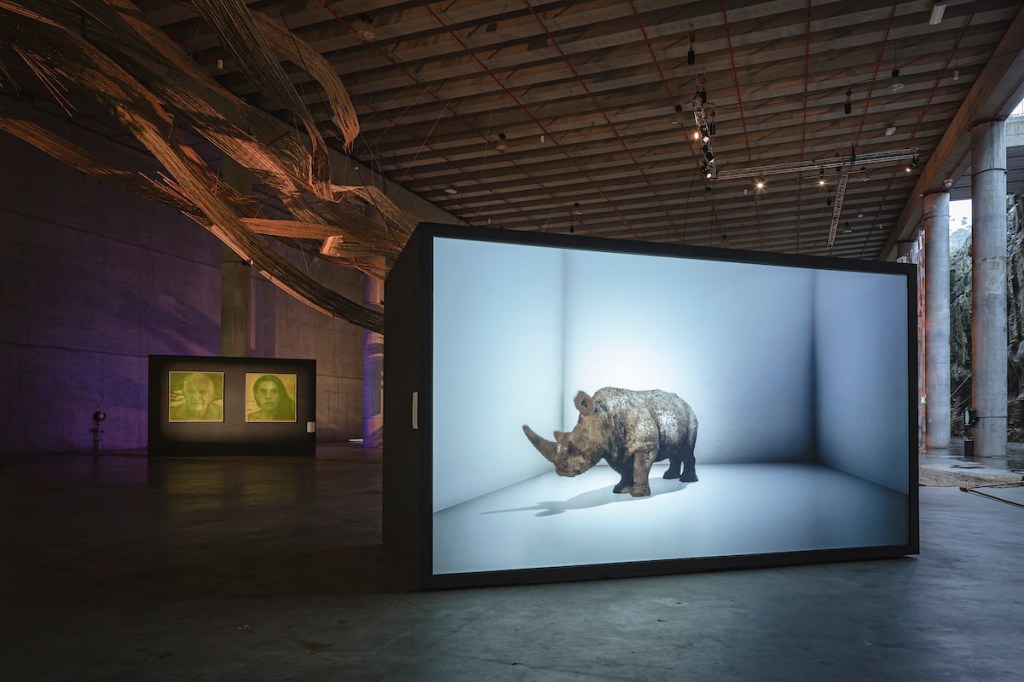 Understanding the artworks in this Biennale of Sydney
Any exhibition of scale is hard to pull off, especially when pitted across venues of very different energy and 'spectacular-factor'. Arguably the venues Pier 2/3 (last used as a Biennale venue a decade ago) and The Cutaway at Barangaroo (new this year) were stunning, but also deeply considered in their grouping of works chosen.
I am thinking of the flow of works at Pier 2/3 from Sopolemalama Filipe Tohi (Tonga), a clustered installation of wool lalava (sennit lashing), objects bridging ancestral knowledge and patterning with a contemporary approach, to another floating thread work by Sámi artist Outi Pieski (Finland), which also speaks to the handmade as vessels for cultural knowledge.
Then there is the cluster of works starting with Melissa Dubbin (Mexico) and Aaron Davidson's (USA) The Cloud in the Ocean, with its visibly permeable link to the harbour via windows. It explores the transfer of heat from a computer running a simulation of an ocean floor to a tank of saline solution holding a robotic manta ray. Similarly, Yuko Mohri's (Japan) More More (Leaky) Variations, is another closed system water installation using found objects to explore connections between human-designed and natural processes.
Between them is an expansive work by Cuban artist Yoan Capote, Requiem (Plegaria), an imposing gold leaf-coated depiction of a seascape. As one moves closer they realise the water's surface has been created by hundreds of fish hooks, snared and sinister in their commentary about our impact on the world's oceans.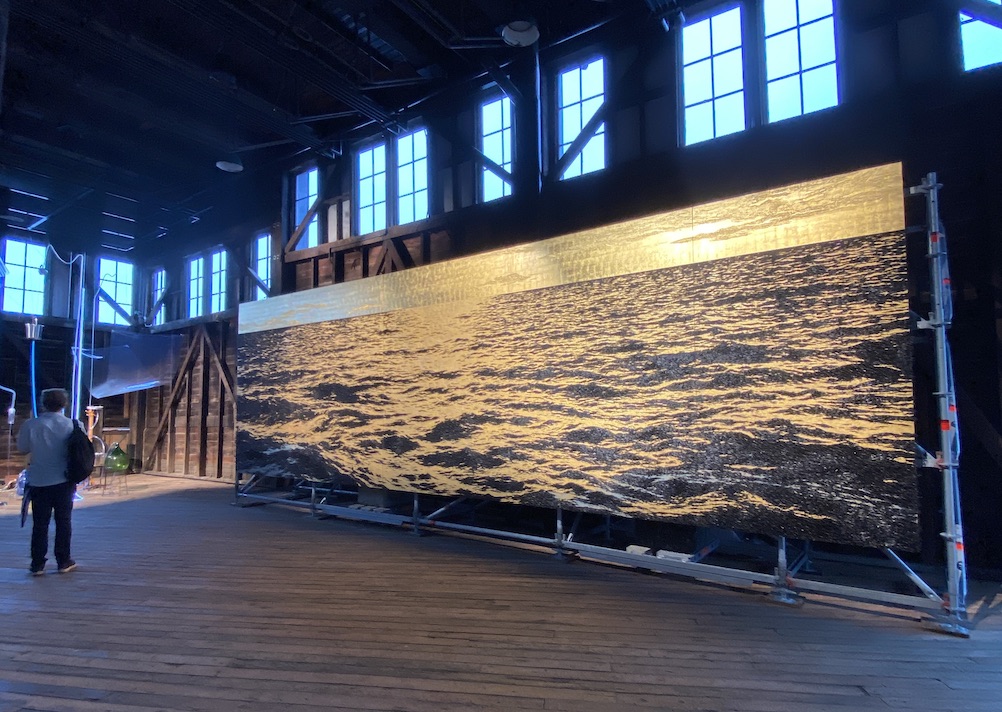 Within sight of this, is a collection of plastic vessels by Duke Riley (USA), which are painted in a scrimshaw style depicting some of the worst oil spills globally and the people in power responsible for them, and are presented fantastically at Pier 2/3 in Victorian styled museum cases as museological relics – not an entirely new idea but one that is totally considered and in sync with the setting, and in so amplifying discourse.
In this flow of works alone, you start to get the picture – this is not a biennale of unrelated 'plonk' art; and this is perhaps its greatest win.
This is not a biennale of unrelated 'plonk' art; and this is perhaps its greatest win.
The Cutaway, has a similar vibe to Pier 2/3, with a massive closed water ecosystem by Ana Barboza and Rafael Freyre (Peru) central to the cavernous space, carrying ideas across venues.
The tone is set, however, as visitors are greeted by Alexandra Daisy Ginsberg's video, The Substitute (2019), which uses data generated by cutting-edge AI research by DeepMind, to bring a digital male rhino, extremely pixelated, slowly into a fully formed animal that learns his way around the enclosed space, gaining intelligence. It questions future lifeforms (natural and artificial).
Cave Urban's bamboo installation Flow (2021), hovering over the space, is the work that brings that wow moment to this biennale. The work is described as, 'Like blood, the healthy flow of water is critical to the health of the larger body.' In many ways this work is signature to Roca's biennale.
Cave Urban is a Sydney-based multidisciplinary studio formed by artists, architects and designers – that de-siloing aimed at, and a synergy of community engagement, collaboration, and ecological design with the buzz of a resolved contemporary artwork.
Other highlights at The Cutaway include Zheng Bo (China) Pteridophilia series (2016-2021) of videos, where the artist seemingly makes love to ferns; Gal Weinstein (Israel) floor-based work Murray-Darling Basin made from coffee grounds, the grass sculptures by Diana Scherer (Germany) Entanglement, and Leeroy New's (Philippines) Flotilla, marine creatures made from PET bottles. He has also created a major façade work at Arts and Cultural Exchange, a satellite venue in Parramatta.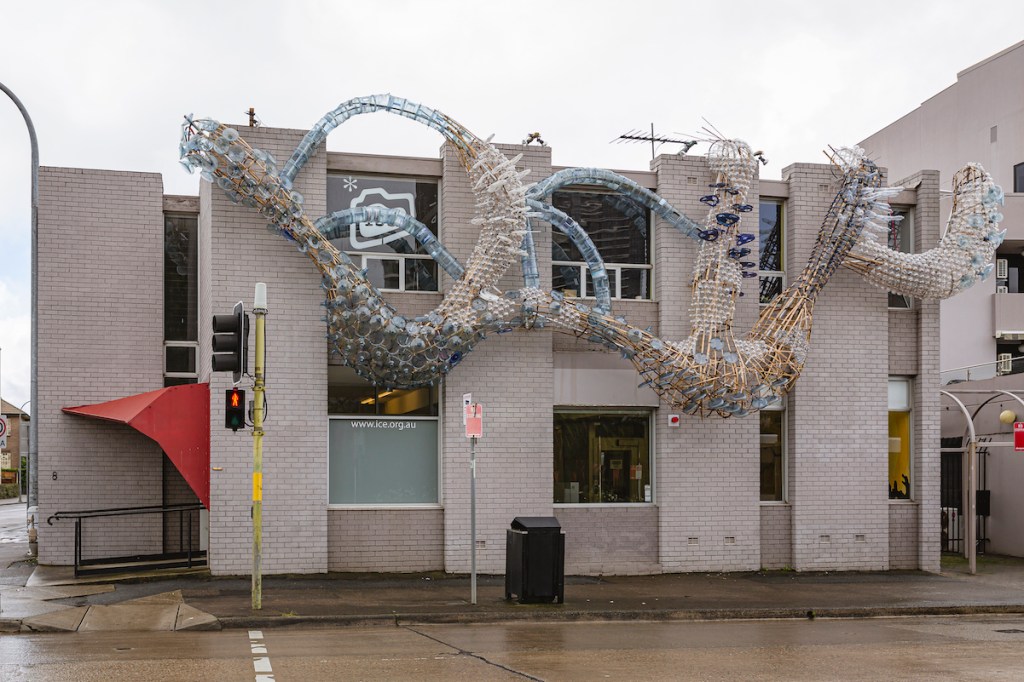 Pier 2/3 and The Cutaway achieve the spectacular and the non-gallery venue that visitors have come to love across biennales globally – and in Sydney with the use of Cockatoo Island – but are a smart alternative in terms of the nightmarish logistics of freight, invigilation, and simply moving people around, and yet, have not compromised on the wow.
The Museum of Contemporary Art Australia (MCA) felt pretty much like any exhibition in its regular program, and for that reason, had an overall flatline impression, with only a small handful of works really jumping out with a sensual visual bang.
Among them, were pieces by Paula de Solminihac (Chile), incredible cloths from planted cherry trees that speak to an ecological journey; and Matias Duville's (Argentina) large charcoal drawings of devastated landscape; Julia Lohmann's (Germany) rattan and seaweed wall-based sculpture, and a suite of Kiki Smith (Germany) tapestries, which explore themes of climate change and climate justice, and vulnerability of certain species.
The Art Gallery of NSW (AGNSW) and the National Art School (working with Artspace, which is a long-time Biennale venue) felt patchy, and at worst thin on the ground, but one has to bear in mind all three of these organisations are undergoing major building works.
Walking into AGNSW English duo Ackroyd and Harvey used native Australian grasses to create large-scale photographic prints on grass of Australian environmental activist, Lille Madden and her grandfather, Gadigal Elder, Uncle Charles (Chicka) Madden. These portraits will eventually fade, in a poignant call-to-action addressing the climate crisis.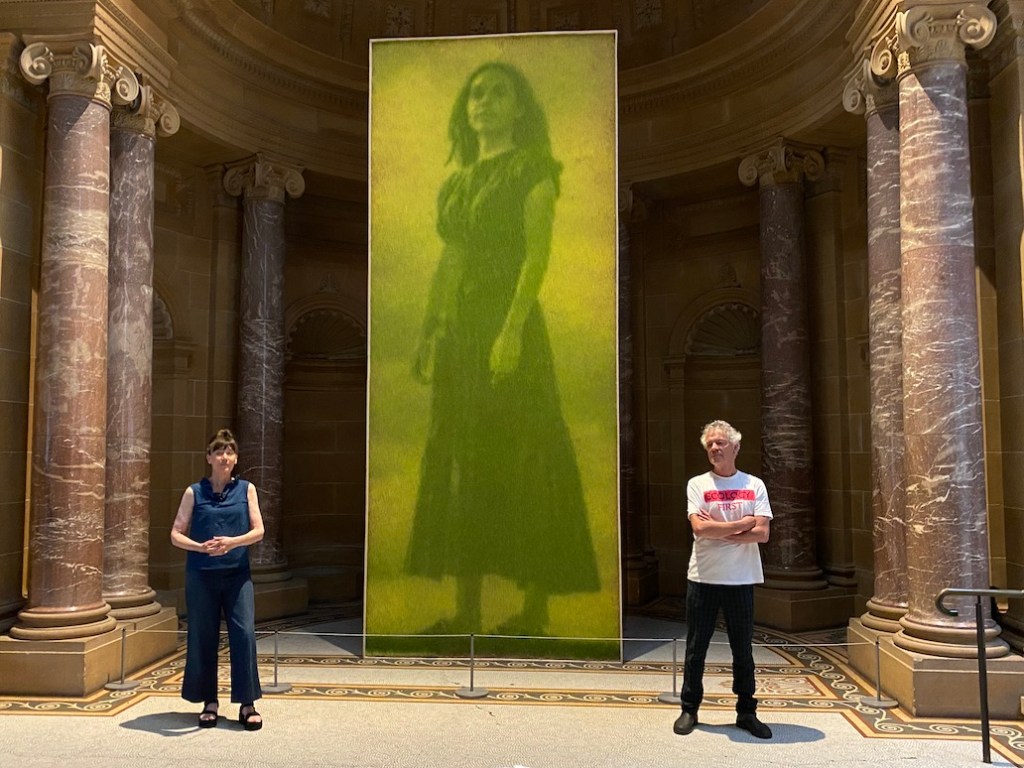 In the main entrance courts, is another First Nations trigger, in the form of a wallpaper work by Barkandji elder Badger Bates, which is based a linocut of Lake Menindee, depicting the fish kills of the drying lake. In tandem they remind us of a shared responsibility for Country, making for a subtle call to action.
This is perhaps best played out at AGNSW by the late Naziha Mestaoui's interactive video, One Beat, One Tree, which debuted during the United Nations Climate Conference in 2015. Visitors can plant a virtual tree and are encourage to also do so IRL (in real life).
Continuing that thread of past to present, Mike Parr will re-perform Petr Stembera's 1975 work, Asleep in the tree, in the Blue Mountains (this weekend), a documentation of which will hang in sight of Mestaoui's work.
Parr's work responds to a tree planted outside the gallery during René Block's fifth Biennale of Sydney in 1984, on behalf of German artist Joseph Beuys, and as part of his seminal work 7000 Oaks (1982). Beuys' planting of trees – each accompanied by a basalt column – is a project that spread to cities globally. It is unclear why the stone outside AGNSW was removed four years after it was placed – effectively 'de-Beuysing' the tree – but has recently been reinstated.
Read: Arts, activism and the anthropocene
This form of activism or environmentally concerned art also finds anchor points at NAS with the works of Colombian artist Carolina Caycedo, who presents a large-scale mural of satellite photographs depicting the progressive devastation on the Magdalena River caused by the El Quimbo Dam, while Filipino artist Cian Dayrit presents a new embroidered textile piece created in collaboration with local practitioners, speaking out against dam projects and the impacts of privatisation of common natural resources.
Other stand out works at NAS include Teho Ropeyarn's massive prints, that literally were hand-carried out of Lismore's floods to make it to Sydney, and English artist Joey Holder's transformation of the chapel space with a mystical aquatic undersea journey. The works consistently address the theme across a wide berth of mediums.
Closing thoughts on the 23rd Biennale of Sydney
Each venue has a video welcome, which seems to carry on what Brook Andrew set in place, reminding visitors of the First Nations footprint that underscores Roca's biennale.
This piece began by positing the idea whether the biennale model has been exhausted, and whether our expectations for viewing within that format, are only serving to suffocate the subtle nuances that this edition so eloquently plays out?
This kind of theme and its interdisciplinary reach, are perhaps better suited for smaller independent spaces. This is where this edition of the biennale falls down at venues like the MCA and AGNSW.
Roca is constructively shaking up that model and footprint. Aside from the formal venues, the public programs and pre- and post embeddedness with community interaction, has pushed this exhibition well beyond its white cube parameters and formal dates. In some ways, it is stepping into this new programming idea of a 'season'.
Moving forward, big questions need to be asked what the future is for the Biennale of Sydney – consolidating the lessons that have come out of both Andrew's and Roca's editions. The organisation is arguably at a crossroad, especially with future funding expected to be even tighter for staging such events. How do you wind something up or how do you grow it forward? We can only use this momentum of both Andrew and Roca's editions as a launching pad for these deeper questions, and perhaps look to the success of those small independent venues.
Oh, and in case you want those statistics? Over 330 artworks by over 80 participants, from over 30 countries around the world, and 400 events will be presented across the city from 12 March to 13 June 2022.
23rd Biennale of Sydney
13 March – 13 June 2022
Artistic Director José Roca with co-curators Paschal Daantos Berry, Anna Davis, Hannah Donnelly and Talia Linz.
Venues: Art Gallery of New South Wales, Barangaroo including The Cutaway, Circular Quay, Arts and Cultural Exchange (Parramatta), Museum of Contemporary Art Australia, National Art School in partnership with Artspace and Pier 2/3 at Walsh Bay Arts Precinct.
The 23rd Biennale of Sydney is a free exhibition.