Uti Kulinjatku Initiative – new virtual reality works. © NPY Women's Council, Photograph Rhett Hammerton.
This is the second edition of The Big Anxiety Festival, a biennial event that brings together art, science and technology to unshackle the stigma surrounding mental health.
Over 140,000 visitors participated in the inaugural Festival. That interest has escalated, with 25 program partners coming on board this year to deliver six weeks of conversations, films, performances, immersive visual arts and virtual reality projects to help us better connect and communicate when it comes to mental health.
'It is a very different kind of festival', said Professor Jill Bennett, Big Anxiety's Artistic Director. 'While some elements of an artwork might be challenging and the conversations tough, it's just like watching a great film, in the way that art can open up to a whole range of ideas.'
Focusing on mental health month (October), most events at The Big Anxiety Festival are free.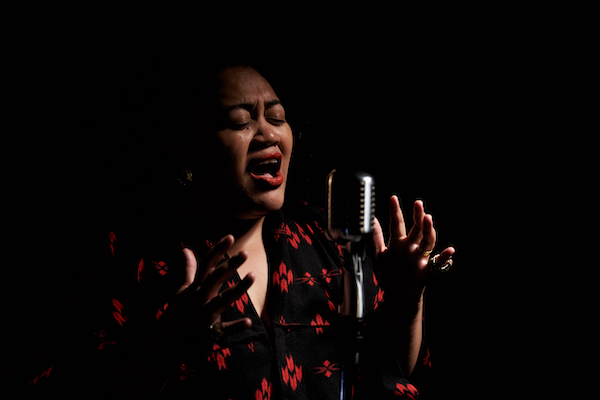 Availe Cole, Daughters. Photograph Meg Lavender
Mental health has no geography
One of the highlights is Uti Kulinjatku, which brings together artists and Ngangkari traditional healers from central Australia. Bennett said they were, 'really interested in using VR (Virtual Reality) to develop better literacy around mental health.
Run by the NPY (Ngaanyatjarra Pitjantatjara Yankunytjatjara) Women's Council, it works at the interface of knowledge systems and languages to better understand mental health.
'It is brilliant working with senior elders in communities where people go to a Ngangkari rather than medical professionals. But this is not about tradition versus contemporary practice. They want to use a blend of things and the most experimental art practices,' continued Bennett.
Uti Kulintjaku means 'to think and understand clearly'. It encapsulates exactly what The Big Anxiety is all about.
'The point is really to get people to pause. Often we make choices when we see something on the Internet or in a gallery and identify instantly, "this is not for me." We are trying to show that we're actually making judgments about people. But if you sit with these projects, you start to reflect on that judgment. It's not about teaching you a lesson; it's about listening and being open,' she told ArtsHub.
This is perhaps best played out in the multi-user, mixed reality environment, The Edge of The Present, which also uses VR and was developed with suicide survivors.
The project encourages curiosity and is informed by cognitive neuropsychology as well as lived experience. It asks the question, 'How do you imagine the future when you can't see it?'
Visitors are able to transform the environment through their decisions, movements and interactions. Bennett said that VR is proving to be a fantastic creative tool for mental health.
'Whenever VR is used within mental health and social justice, it is not in a didactic way. People can learn a huge amount in one hit, getting a sense of the experience of another, and that can completely change someone's world view,' she explained.
'To do that with art is very different than putting out a mental health message. Those traditional anti-stigma campaigns work at a glacial pace. We are really making advances through art,' Bennett told ArtsHub.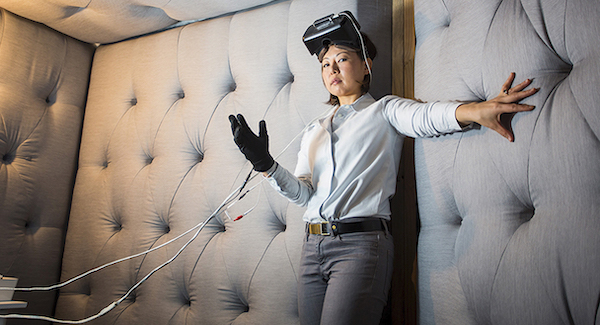 Eugenie Lee, Empathy Clinic. Photograph TBA
Bring on those awkward conversations
65% of Australians with a mental health problem fail to seek help. 'That 65% is interesting because of what they tells us, and that is people are not accessing the services available,' said Bennett.
'We need to do things differently, and the culture sector can help address this problem.'
Bennett said that the two most pressing areas that came out of the inaugural festival was the need for greater empathy and reducing stigma when talking about suicide.
To add a real-life spin on the "talk fest", The Big Anxiety presents Awkward Conversations – one-to-one conversations tackling anxieties, habits and hard-to-talk-about subjects partners – and a special event with Lifeline, called The S-Word, appropriately held on World Mental Health Day (10 October).
'The S-Word is everything about anything that people are too afraid to ask about suicide,' said Bennett.
She said that it's also about connecting with a broader audience. 'These chats aren't only for people diagnosis with an illness. Increasingly people are thinking about mental health in their own environments that they have to manage.'
Without empathy we lose our humanity
The main exhibition for The Big Anxiety is The Empathy Clinic. Bennett said has been themed like a clinic and uses a set of installations to shift perspective.
'It is about flipping around the focus on stigma; if we don't have the skills to be empathic, then the question is how can we cultivate those skills?,' Bennett asked.
Neuroscientific evidence suggests that we direct empathy to people we perceive to be 'like us'. Unless we can imaginatively 'step into someone else's shoes' we cannot empathise.
This exhibition creates a lab for 'empathy training' with a purpose-built, app-based Course on Empathy, developed by a research team of psychologists and artists from the Felt Experience & Empathy Lab [fEEL].
And, for those who want to dive a bit deeper, The Anxiety, Culture And The Future Conference will be held from Thursday 18 – Saturday 19 October, across UNSW Art & Design, Art Gallery of New South Wales and the Museum of Applied Arts and Sciences, Sydney. The conference is open to everyone.
The Big Anxiety Festival will be held from 27 September to 9 November 2019 across multiple venues. The program includes over 60 events open to all.
It is an initiative of UNSW Sydney in association with the Black Dog Institute.