Minister Don Harwin with staff and community supporters of the Jervis Bay Maritime Museum, which received funding through the $100 million Regional Cultural Fund. Image supplied.
It's been a tremendous privilege to be the NSW Arts Minister. For the last two years, I have set out ten key priorities. Because we have a strong economy and a solid budget position, the State Government is already making significant progress towards achieving these priorities and if re-elected, we will get them done.
Renewal for Australia's icon: the Sydney Opera House
We've already completed a major upgrade of the Joan Sutherland Theatre: rebuilding the orchestra pit, replacing stage machinery, improving accessibility for the disabled and improving the acoustics.
In 2020, we'll commence a two year project to transform the Concert Hall with dramatic improvements to the acoustics and a major reconfiguration and extension of the stage. The total cost is $228 million.
The largest single injection of funds into public libraries since the Library Act was introduced in 1939.
From next year, the NSW Government will allocate an additional $60 million over four years for public libraries. All councils will receive an increase in annual library funding between 40 and 50 per cent by 2022-23. Funding will be highest in disadvantaged and remote communities.
Making sure every regional community gets its fair share of spending on arts and culture
Our $100 million Regional Cultural Fund has been a game-changer in regional communities, with 127 projects funded across regional NSW.
We've also increased Regional Touring program spending by 50 percent to ensure regional communities have access to the best concerts and performances.
Building Australia's greatest art gallery
The Sydney Modern project will double the exhibition space at the Art Gallery of NSW making a great gallery even greater. By the way, regional galleries are also benefitting with the support of the Regional Cultural Fund, including:
A new regional art gallery in the Southern Highlands
Major upgrades to regional galleries in Grafton, Orange, Lake Macquarie, Mudgee, Singleton and Nowra
Other improvements to galleries in Taree, Muswellbrook, Grenfell and Forster, and
A significant new gallery and collection storage at Bundanon on the Shoalhaven River, costing almost $9 million, to house the collection given to the nation by Arthur and Yvonne Boyd.
More theatres and performances spaces in Sydney and across NSW
Past governments have let too many of our theatres disappear. We've turned that around in Sydney and in regional NSW.
Our $207 million re-development doubles the size of the Walsh Bay Arts precinct, providing seven new or upgraded performance spaces.
We've saved the Theatre Royal, leasing it for 45 years from its owner, so we have a third venue for Broadway-style musicals in Sydney and ensuring there is significantly more work for performers and off-stage technicians in our theatres. And we're not stopping there. Planning is underway for a fourth theatre in the Ultimo creative industries precinct and a fifth in the redeveloped Riverside Theatres complex at Parramatta.
There's good news for regional communities as well. From the Regional Cultural Fund, we are supporting:
A new Performing Arts Centre for Goulburn, a new multi-purpose arts and cultural centre for Batemans Bay and a new studio performance space for Taree
Major upgrades to theatres and performance spaces in Leeton, Lithgow, Griffith, Lismore, Bellingen and Lennox Head, and
Improvements to theatres and smaller multi-use spaces used for performances at Brunswick Heads, Tenterfield, Robertson, Bowraville, Junee, Murrah (near Bermagui), Batlow and Casino
Revitalising our State's museums
All three of our State Museum trusts have funding for very significant projects that will make sure they remain number one in Australia. The Australian Museum has just commenced a $57 million expansion of its touring exhibition halls and will open with the largest and most impressive Tutankhamun exhibition to ever leave Egypt.
Sydney Living Museums has a major renewal project for the Hyde Park Barracks Museum and last year, the State Library of NSW completed a significant expansion of its exhibition spaces for its incredible Australian history collection and literary holdings.
The Museum of Applied Arts and Science is also being transformed, with $645 million for the new Museum at Parramatta, an expansion of the Museum Discovery Centre at Castle Hill and planning is underway for a Museum of Design and Fashion in the Ultimo creative industries precinct.
For the first time, there is very significant funding for smaller, regional museums primarily supported by volunteers, from the Regional Cultural Fund. Recipients include museums at Binnaway, Barraba, Gulgong, Berrima, Kyogle, Guyra, Comboyne, Lockhart, Condobolin and Wingham. Larger projects at the Old Dubbo Gaol, the Jervis Bay Maritime Museum and the Museum of the Riverina in Wagga Wagga have also received significant funding.
The State Government is working with Museums and Galleries NSW on a study into a 'whole-of-state' approach to digitising the collections of museums across the state, ensuring our stories are not lost.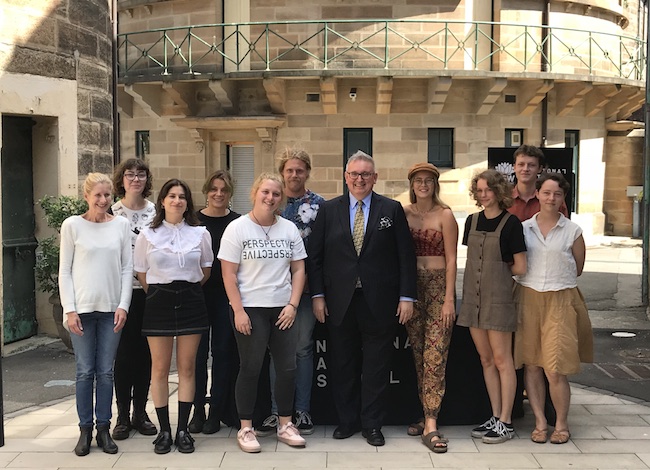 Minister Don Harwin with a group of students at the National Art School following the announcement of the 45-year lease agreement securing the school's future. Image supplied.
A bright future for the National Art School (NAS)
The threat to the National Art School's future from political and bureaucratic indifference is gone, with the school receiving the secure tenure of a 45-year lease over the historic Darlinghurst gaol, its home for almost 100 years.
We've also guaranteed their funding, designating NAS a "state significant organisation" like Carriageworks and the Museum of Contemporary Art.
Producing film across the state
Over the last two years our $30 million Made in NSW and Regional Film incentives have leveraged 5,000 film jobs to boost the State's economy. These funds have supported the production of films in the last two years such as: Peter Rabbit, Peter Rabbit 2, Pacific Rim – Uprising and a new Marvel Studios film.
It's important that NSW continues to lead the nation in screen and TV production. Our NSW Liberal and Nationals Government has driven over $1.2 billion in film production expenditure. We will ensure that NSW remains the number one place for film and TV in the nation.
Music matters
Following on from the huge success of our Live and Local program, we have established the Music Now: Contemporary Live Music program. This will provide annual funding of $1 million to support the presentation of live contemporary music by NSW-based musicians state-wide.
A cultural and creative industries precinct in Parramatta and dramatically increased support for the arts in Western Sydney
In the last four years, we have increased funding to Western Sydney arts organisations by 40 percent to develop new arts practitioners and new audiences, and make the arts more accessible in the city's west.
Parramatta, our second CBD in the geographic heart of Sydney, is being transformed with a cultural and creative industries precinct based around the new museum and the planned re-development of the Riverside Theatres.
We are also working towards the establishment of a cultural and creative industries hub based around the North Parramatta/Female Factory heritage precinct. This precinct will offer the chance to co-locate a range of Western Sydney arts organisations with spaces to create, rehearse, perform and exhibit.
This is a record I'm proud of and I'm looking forward to building on it with your support.
---
Read: The NSW Greens' vision for the arts
Read: NSW Shadow Arts Minister presents Labor's future plan
The Arts Party have also been approached for comment.