Production photo of Which Way Home via Ilbijerri Theatre Company.
Katie Beckett, writer of Which Way Home, an Ilbijerri Theatre Company production which is currently touring nation-wide, was inspired by her deep love for her father when she sat down to write her play. In Which Way Home a daughter takes her father on a road trip to his birthplace – a return home to Country.
Beckett said, 'I wrote the story for my dad because at the time he'd had five heart attacks – well he's had six now – and I'd just had my baby. I think that's when I started to realise everything he has done for me. So that's where the story came from, to show appreciation for him and all the sacrifices that he made.'
At the age of five Beckett sadly lost her mother in a car accident, leaving her father to care for their family alone – all this while mourning two other deaths in the family.
'I was just really proud of my dad not letting his demons get to him, or his addictions. He had given up everything before my mum passed away, and he didn't let all that affect him. He was just so strong.'
Which Way Home is one of many incredibly personal stories, shaped by lived experience, that are finding a place on Australian stages. And they are increasingly being written, directed and performed in by First Nations women.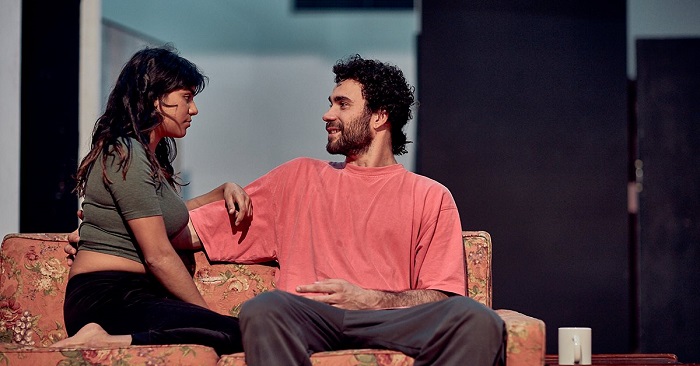 Brothers Wreck image via Malthouse Theatre and State Theatre Company of South Australia.
'I do feel there is a shift, and I also feel a great responsibility with that shift,' writer, director and theatre-maker Jada Alberts told ArtsHub.
Alberts is the writer and director of Brothers Wreck, a Malthouse Theatre and State Theatre Company of South Australia co-production, currently playing in Melbourne.
'I am grateful for the doors that have opened for me and for others like me because people in power have seen our work and believed in our work and have allowed us to come through. But we still have such a long way to go,' Alberts said.
Alberts' Brothers Wreck was also shaped by events in her personal life. As the eldest of five siblings and 14 cousins, Alberts was comforting her cousin when a fear struck her.
She told ArtsHub: 'Something happened to one of my cousins which really terrified me – she lost somebody, a dear friend to suicide and she was there in the house at the time.'
This incident reminded Alberts of a similar situation in her own youth. 'When I was young, 15, I had lost someone close to me. She was 15, and we all went to church together. What I remember most about losing that person was the difficulty in my community at the time to process that information – especially the young people.'
These events led Alberts to her computer to write Brothers Wreck, which explores one family's journey through grief as they deal with the suicide of a close family member.
'I was just really compelled to talk about what was happening to our communities and how we deal with this trauma and this loss and this grief,' she said.
'It's quite a normal thing for an Indigenous family – you know we attend more funerals and we deal with a lot of destructive forms – whether it's come down from the generations, or it's coming from the Western institutions that we are told that we must attend to work, live and be educated in.'
Read: Budgeting for sorry business
On self-representation
The shifting stage landscape in Australia is also creating new roles for First Nations actors in the industry. 'Being an Aboriginal woman and being an actor, all the roles they are giving us are all victims. They are always being bashed and raped, and our men were always the perpetrators,' said Beckett.
'I didn't like that. I would find myself always getting those roles and thinking, "Our people aren't victims." We are strong people even through all the things that have happened to us since colonisation.
'We are quite funny people, we are quite resilient people. That was another thing I wanted to change. The things that I do try to write about are how I have grown up, it's how I see our people and all the strength that we have,' she said.
For renowned performance maker and director Vicki Van Hout, self-representation and self-authorship is incredibly important and has led her to direct Stolen, a National Theatre of Parramatta production currently touring NSW.
'It's really important that things are self-authored. That Aboriginal people get to author Aboriginal stories. That people of colour get to author their own stories. The stories of our own history,' Van Hout said.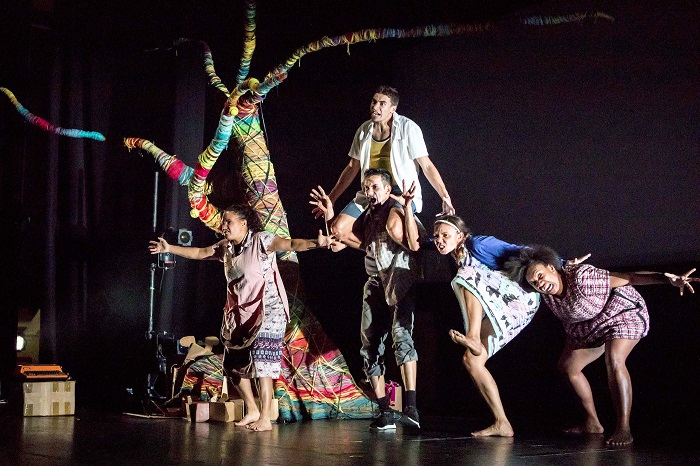 The cast of Stolen performing at Riverside Theatre. Photo by Noni Carroll Photography.
A groundbreaking production, Stolen tells the story of five members of the Stolen Generations. The work was first mounted in 1998 and toured extensively across Australia. Now, 20 years later, the play is on the Victorian Certificate of Education English syllabus, and the New South Wales Higher School Certificate syllabus.
Van Hout acknowledged the importance of remounting such a story. 'These are Jane Harrison's words – she was the pioneer for this one and I do feel very honoured to be directing this piece. I'm in great company.'
Van Hout said that remounting Stolen allowed her to re-focus First Nation's issues for the audience. 'Every other day there is another cause and I think we get really fatigued. And so I try to counteract that because I think we can become so blasé about some very outrageous things.
'So that's one of the reasons why I chose to do this again. And what's really interesting is it's the young audiences who really embrace it,' she said.
The youthful audiences attending such productions are responding strongly to the work. Beckett recounts the experience of being approached by a young student after a recent showing of Which Way Home in Melbourne.
'There was this one girl. She had moved to Australia only a couple of years ago and she couldn't speak fluent English. She asked me if that was going to be a problem for her in theatre,' Beckett recalled.
'I said to her, "No because you can write your own stories, you've got power, you've got a voice. You have so many more stories than what any of us have. You can speak two languages, and you have places to go for funding – there are opportunities for you, so don't worry." She was comparing herself to what she saw on Home and Away,' Becket recalled.
Kamahi Djordon King and Katie Beckett in Which Way Home; Photo Snehargho Ghosh, via Ilbijerri Theatre Company.
Theatre as cultural practice
Increasingly, it seems more Australians are looking to the stage to be educated, not just entertained.
Van Hout said: 'The theatre has proved a good vehicle for strengthening culture. It's not just about us entertaining people – it's about us using the theatre to get the opportunity to continue cultural practice, which I think is really exciting.'
Alberts added: 'Theatre companies and beyond are listening to the statistics. People are now starting to realise that yes, the audience wants to see stories of colour. Invisibility is such a horrible thing to have to deal with – not to be able to see yourself in the things you're surrounded by.'
In terms of representation on Australian stages Van Hout reflected that work still needed to be done. 'I think there is still a long way to go – it's not so long ago that we had people like Bob Maza and Brian Syron who really paved the way. The Justine Saunders, the Ernie Dingos who made their mark.
'We are very lucky in that we have had those pioneers but we still have a long way to go – that sounds harsh but there are so many possibilities open in terms of how we get to author our own stories. I think it's really important that young people like Katie Beckett get the opportunity to create Aboriginal works with Aboriginal aesthetics – so we strengthen the canon,' Van Hout said.
Beckett herself is thankful of the support she has had in developing Which Way Home. 'With Ilbijerri, they're very passionate about Aboriginal and Torres Strait Islander people telling our own stories. I've got Rachael Maza as our director – there's power in that. We need our power back to tell our stories, we don't need our stories being told by people who have their own biased opinion on what it is to be another culture,' she said.
'I think it's important that we do have that power. And we get to share our insight of us, our culture. And with this story I wanted to make sure it was hitting people on a human level. I wanted to make sure people were listening and really took in our culture. I thought the only way you can achieve this is by love,' she concluded.
National Theatre of Parramatta's Stolen is touring NSW from 29 May – 27 June 2018.
The Malthouse/STCSA co-production Brothers Wreck is showing at the Malthouse Theatre, Southbank from 8-23 June and the Odeon Theatre, Norwood from 27 June – 14 July 2018.
The national tour of ILBIJERRI's Which Way Home runs 25 May – 18 August 2018.