Sculptureum offers a mixed experience; Photo Artshub
One of the first large-scale private parks cum art museums to showcase contemporary sculpture was Storm King in upstate New York, which opened in 1960. A decade later, Australia got its own; the McClelland Sculpture Park in Victoria.
Today, these parks are a phenomenon that deliver unique art experiences to audiences all over the world – and they are growing in numbers. The latest is Sculptureum in New Zealand. But it is not your usual take on the existing model, adopting a different approach than convention dictates.
Owner and founder, Auckland barrister and legal commentator Anthony Grant, explained his passion for a more popular twist.
'No one has done anything like I have done here. You can't really use the term art gallery as we only have six little gallery spaces, and if you describe us as a sculpture park – well, unlike a conventional sculpture park where you have to walk 200 meters across grass to see a Mark di Suvero, for example, my works are at just two to three meter intervals, and I display works that many people would not describe as art at all,' he told ArtsHub.
'I want to show people how they can make their own places more interesting,' Grant continued.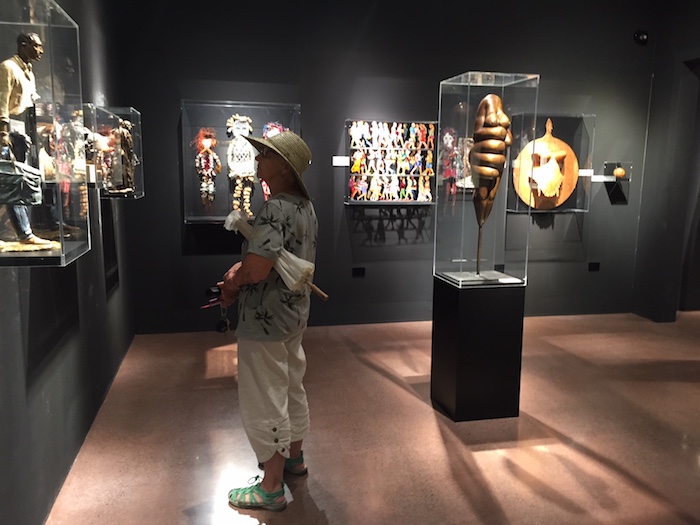 Installation view of Sculptureum's figurative gallery
Capturing a new tourism market
A combination of the words 'sculpture' and 'museum', Sculptureum is located just outside the cute tourist town of Matakana, about an hour north of Auckland. It is day-tripper distance and targets the contemporary desire for "experiences" within the tourism market.
However, it is not the first sculpture park in New Zealand. It sits on the opposite coast to the internationally celebrated Gibbs Farm, established in 1991 and home to sculptures by some of the most iconic artists in the world.
But there is a vast difference between these two art parks. For a start, Gibbs Farm is largely open only by appointment, with its rare open days booked out as soon as they are listed.
Sculptureum is its antithesis. It's pitched as a more popularist, hybrid model that aims to break down the elite silos of art world tastes.
Grant explained: 'I want to people find art interesting and try to invigorate in those people an interest in it. Too often people get put off by curators, and the people in the art world, who dominate thought in the museums. I want people to find what they like and go for it; that is what I want to do here – to show all sorts of different art forms that municipal galleries don't show.'
Grant said Sculptureum is ranking higher on Tripadviser than the Auckland Art Gallery, and second only to the Auckland Museum for cultural activities.
'This place is intended to be a major attraction to the Auckland area, not just a little Matakana place,' Grant continued. 'I want hundreds of people.'
Sculptureum opened in April last year after more than a decade in the planning, and sits across 25 acres of vineyards, sculpture-filled gardens and gallery spaces, as well as the mandatory destination restaurant – Rothko – which is well on the way to collecting culinary hats.
Grant added: 'The gallery building is 50 meters long and it is only 15 meters [that's occupied by] the art gallery, so I can expand into it.'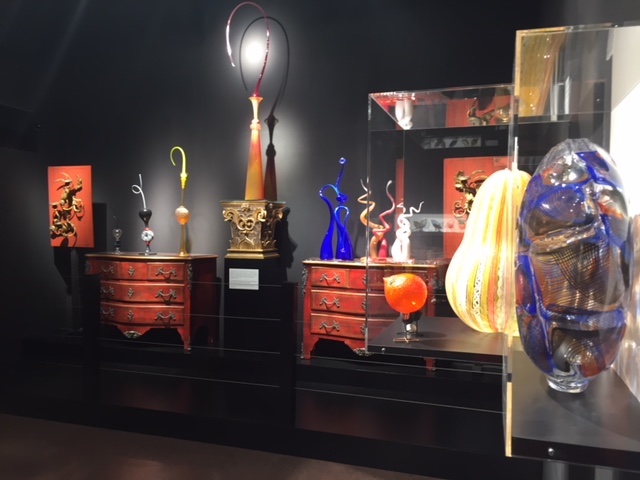 Collection of glass is the best in Australasia; installation view 2018
High art and low art arm-in-arm
Grant started aggressively buying art in 2005 for the park, first turning to glass art and then moving to artworks that have a strong materiality. He was very clear in his objective. 'I am going to buy art and make a commercial venture of it.'
More than 400 art works fill the galleries and gardens, which Grant has personally curated into zones, such as The Garden of Creative Diversity, The Palm Garden and The Pink Snail Garden.
Among the collection are art works made from old motorbike parts, mop heads, silverware, metal, plastic, resin, newspaper and corrugated iron sheeting.
It is rare to walk into any gallery or art museum in the world and see artist merchandising and multiples presented alongside an artwork that was purchased in excess of $100,000. That is what viewers encounter at Sculptureum, where commercial dinner plates by Jeff Koons, Damien Hirst and the estates of Basquiat, Keith Haring and Andy Warhol sit within eye-shot of commercial landscape photograph Peter Lipman, a South African artist who has not shown in a gallery before and a Pacific Island artist making work from silk flowers.
In an adjacent room a vase multiple of Jeff Koons' Puppy with an edition of 2500 sits next to work by local New Zealand artists Hannah Kidd and Marti Wong, among other artists.
Grant said of the Puppy multiple: 'The National Gallery of Victoria has one, and we have one in the Auckland Art Gallery, but they not given it the attention we have. You wont see this in a gallery show, commercial stuff alongside art works, but I think it makes it more fun.'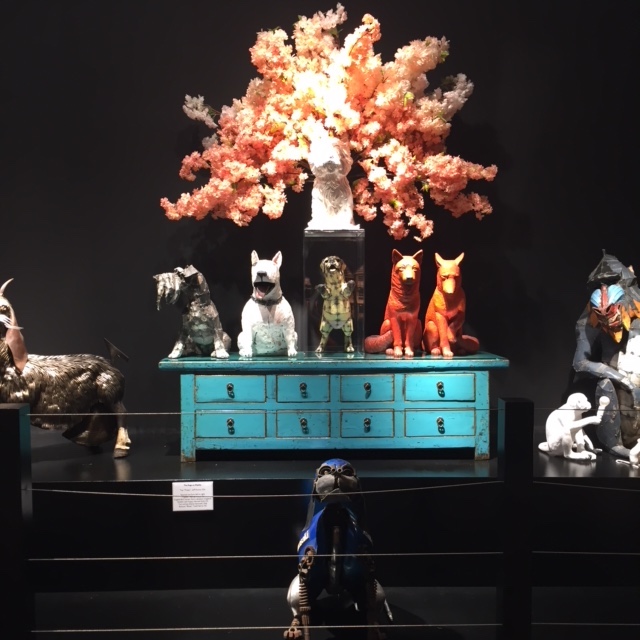 Dogs on display include Jeff Koons' Puppy top (USA), and (l-r) Hannah Kidd (NZ), Kerry Jameson (UK), Hannah Kidd, Elaine Hanowell (USA) and Todd Harris (NZ)
To say it is an eclectic collection would be an understatement. Ideas such as provenance and authorship, museology traditions and commercialism are not given preference in Grant's quest to bring art to the masses.
There is something incredibly laudable in his mission, and any art professional operating in today's climate of cultural tourism and the experience economy would have to acknowledge that his aspirations are totally "on point".
There are also some substantial works across the collection that offer those weighty moments. The jewel in the collection is a large chandelier by the American glass artist Dale Chihuly. It is a spectacular work presented in its own gallery. There are also significant glass works by Italian master Lino Tagliapietra, Dante Marioni, Australians Nick Mount, David Hay, Mark Elliot, among others.
Grant confidently added: 'It's the most substantial work of glass art on public display in Australasia.' It is hard to rebuff this claim, especially given the volume of work on display and its international reach.
Installation view of Dale Chihuly's Orange Hornet and eelgrass. Chandelier II (2005); courtesy the artist and Sculptureum; photo ArtsHub
A second gallery with a figurative theme presents estate-produced lithographs and etchings by internationally recognised art icons Chagal, Cezanne, Monet, Picasso and Rodin, shown alongside a mix of artists both emerging and established.
Grant freely admits the works were purchase at a commercial gallery in Circular Quay, Sydney.
Likewise in the gardens, a large array of European garden sculptures have been sourced from a Noosa-based importer, another is a replica of work in the Metropolitan Museum of Art's Collection, and several of the sculptures are what Grant himself describes as "knock off" works.
He explained: 'There is a sign saying "these are works from not identified artists". They are cheap; they are actually copyright infringements, but for many people they cannot afford a ticketed art work. So this is to show them that they can actually go out and buy one of those sculptures and put in their garden and have some fun.'
There are many generic sculptures by unknown artists that have been included to encourage people to give it a go and add art to their own gardens; photo Artshub
There is no hierarchy at the hands of Grant. Rather the collection is very driven by that sense of popular engagement. Grant told ArtsHub: 'One of the things I want to do with this place is to show people a much greater variety of art forms than you generally find in art galleries.'
It is perhaps best captured in The Palm Garden, which visitors are funneled through upon exiting the gallery. Here they encounter large holdings from Glasstudio Borowski and a vast number of works by the Italian collective The Cracking Art Group, which specialises in brightly coloured sculptures made from recyclable plastics – everything from Meerkats to polar bears and giant pink snails.
The plaque reads: 'The pink snails were made by The Cracking Art Group from Milan. The snails are famous and have been displayed all round the world'
Gardens are art too
Grant subscribes to the following quote by Isamu Noguchi: 'Everything is sculpture. Any material, any idea without hindrance borne into space, I consider sculpture.'
Actually, Grant is very fond of a quote; his own are paired with most artworks and he has even designed a garden of contemplation – The Inspirational Garden – with 23 quotes by the late tech entrepreneur Steve Jobs concerning motivation, commitment and personal achievement. There are also panels that reflect on gardens, inspiration, wisdom, art and music.
Grant said: 'I go to Australia Zoo a lot, and Steve Irwin's personalisation is quiet important, so I thought I would adopt that.'
'What I put on those descriptors is quiet modest in length. When I go to art galleries I look at how works are hung, what is the audience reaction, where are the staff, what are the descriptors like, are they at eye height? I have had to study museology and deconstruct the model to work out why it is that galleries loose money, and how it is that I might make money. I have spent a long time studying this process – and the black walls (in the galleries) are part of it,' he told ArtsHub.
However, the map to navigate the park fails to credit a single artist with their work, and most labels are more of a poetic descriptor by Grant than your traditional supply of information on the art work.
For hard core museum professionals – and I'm sure the artists would agree – this is not good enough, even if the pitch of the project is to break down that very museum system with popular appeal.
It seems a curious oversight given that there is little room to flaw Grant's fastidious presentation – not a stone or leaf is out of place and everything is immaculately painted and paved. It meets the highest standards. The garden paths – also designed by Grant himself – even consider traffic flow and "step back" moments for taking photos.
He added: 'You spend far far more on infrastructure than you would ever spend on art.' And with 40 staff to help shepherd Grant's dream into that cultural tourism magnet, the commitment to this venture is enormous.
Animals are a big theme across the park; photo Artshub
It is easy to pick up the tone of Sculptureum – and arguably Grant is a purist in his delivery of it to an uninitiated art audience, ready to welcome them to a new found passion. The only flaw is that the entry fee at $49.00 is not such a family friendly ticket or suited to a broad tourist wallet.
In summary, the word that comes to mind to describe this venture is folly, and Grant does not shy away from the description. Most great collectors would admit that folly, sits equally alongside passion and knowledge in building a collection. And as a visitor to Sculptureum one can't help get caught up in its adventure.
Sculptureum is located at 40 Omaha Flats Road, Matakana and is open from Thursday through Monday. Visit www.sculptureum.nz for details.