Being a well-rounded arts and photography professional was already a trend before COVID struck, but the pandemic has now accelerated the need for practitioners to be multi-skilled and multi-talented.
While specialisations continue to be important, the ability to think beyond just the creation or curation of arts and photography is imperative in our 'new normal' world.
This was the impetus for the School of Art at RMIT University to restructure its four Masters degrees to offer elective subjects from across each program. Dubbed the Masters Suite Project, students enrolled in the 2021 intake of the Master of Arts (Arts Management), Master of Arts (Art in Public Space), Master of Fine Art and Master of Photography can now pick up electives from all four disciplines whereas previously the programs were structured around specific core subjects.
Electives include Digital Imaging Strategies; Introduction to Curating Contemporary Art; Speaking Critically; Global Study Intensives; and Fieldwork where students can explore their creative practice in response to a site and its cultural, environmental and political context.
The 14 electives were selected for their diversity and to allow students the ability to effectively add in subject specialisations whilst retaining the core curriculum of their chosen degree, said Kristen Sharp, Associate Dean, Art at RMIT's School of Art.
'It enables a studio-based practitioner in fine art or photography to be able to develop skills and knowledge in arts curation, arts management, or to develop projects for public space and to learn from industry professionals,' she said.
'Alternatively, it enables arts management students to work in studio subjects on live projects with artists, photographers or public space practitioners.'
The options now allow students to determine their own pathways within their degree. All four degrees will have the same duration of 24 months to easily allow synergies and movement between the elective subjects. 
KEEPING UP WITH 'COVID NORMAL'
The shift was in motion before COVID struck in response to changes in the professions and to respond to future needs of the arts and photography industries. Valuable feedback from graduates has also helped shape the changes.
'Students were graduating and they were multitasking in terms of professional opportunities – they were doing a bit of curating and a bit of their own studio practice,' Sharp said.
'And the industry experts that we were working with in public space, arts management, fine art and photography were using a diverse range of skills in their professions. So, it's about meeting those demands and enabling the graduates to be competitive in their chosen field.'
COVID has been tough on the arts sector with the mass cancellation of events and problematic access to government financial support through lockdown, as well as issues with limited audiences as the country opens up.
Sharp said fostering arts and photography students' entrepreneurial skills has never been more of an imperative.
'At the moment, with COVID of course but also prior to this, we're experiencing a significant transformation of the arts and creative industries across Australia and internationally,' she said.
'Offering flexible course options gives students diverse skills and opportunities to maximise their impact in these fields.'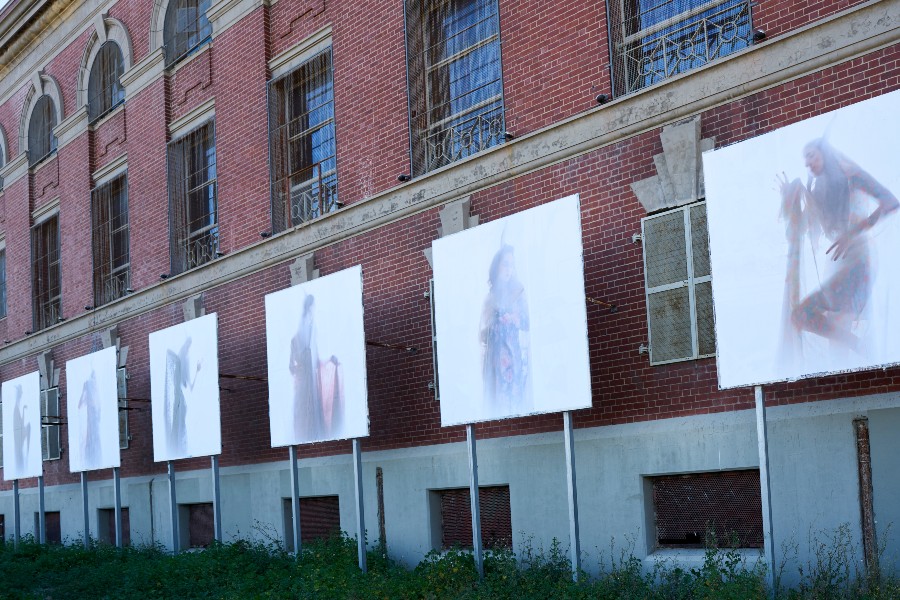 Master of Arts (Arts Management): Ethereal Barriers, Sofi Basseghi from Hyphenated: Navigating the Spaces between cultures. An exhibition of contemporary art presented by The Substation, Newport. Curated by Dr Tammy Wong Hulbert & Phuong Ngo.
As with most aspects of life amid the pandemic, the acceleration of virtual learning, working and art creation is gathering pace. When coupled with a global reimagining of what life looks like offline, and how we can now use public spaces for art while maintaining social distancing, the challenge for contemporary creative practitioners is multifaceted – and exciting.
'The great thing about creativity is that it thrives even under constraint,' said Sharp. 'Artists have always worked with limitations … and these are quite fierce ones in 2020, but I think we've seen a new kind of bursting forth of creativity within that.
'I am excited about the future of arts and photography. I think there will be many new opportunities going forward, but it might not be in the ways that we're used to.'
Another elective in the suite of offerings is Creative Care which looks at how arts and photography respond to health, care and wellbeing. In this course, students work with key industry partners including artists, photographers, creative, design, health, social and aged care practitioners to learn about varied responses to public health concerns including the COVID-19 and climate crises and develop art projects accordingly.
UPSKILLING ACROSS THE BOARD
Most students who undertake a Masters degree with RMIT's School of Art have a healthy smattering of real-world experience following their undergraduate degree and are committed to furthering their professional skillsets and broadening their expertise.
Sharp said many come from arts and photography backgrounds and are looking for practical skills and industry-connected course projects to expand their experience.
For example, Ilana Russell, who was a public art producer, came to the Master of Arts (Art in Public Space) program to gain a professional qualification in public art. Russell recently secured a grant from the City of Greater Geelong to continue to develop her research project.  
Max Wang_2
from
RMIT School of Art
on
Vimeo
.
Max Wang, a recent graduate from the Master of Photography program, incorporated computer generated imaging and gaming engine technology into their existing commercial photographic practice to more creatively interrogate their experience as a migrant Australian in the 21st Century.
The programs are also designed to attract students who come from different fields.
'Graduates from landscape architecture or business might want to work on urban public space projects or to gain arts management or curatorial experience, and they can build on the skills that they already have through undertaking one of our postgraduate programs,' she said.
She said graduates from these programs at RMIT also have a high employability rate with most working in the industry post-degree or as self-employed creative entrepreneurs.
KEEPING UP WITH TRENDS THROUGH NETWORKING IRL
Networking is a major benefit of undertaking a Masters degree, said Sharp. In addition to the exposure students receive from lecturers and staff, the new electives will allow greater collaboration with students across different specialities.
'By bringing together the four programs, what we've been able to do is activate and expand the students' professional networks and community focus, by bringing them together with other groups of students as part of their learning experience,' she said. 'We have relatively small classes, and that enables students to really connect with each other.'
The opportunities for students to gain international recognition and to learn from peers overseas is also growing as the world becomes more comfortable – indeed, heavily reliant – on virtual learning, networking and arts and photography practices.
'We're rethinking the study intensives overseas,' Sharp said. 'Some of our most popular courses normally offer learning experiences in New York, Tokyo, Arles and Bologna but now we are developing collaborative projects with our international partners which can work online.'
'I think there are key things that we're changing and adapting to, that are going to really prepare graduates to step out into this new world.'
Enrolments for RMIT's Master of Arts (Arts Management), Master of Arts (Art in Public Space), Master of Fine Art and Master of Photography for 2021 are now open. Visit the website for more information.