When asked why Parrtjima is so different to the many other light festivals that have swept the globe, Paul Ah Chee (Ngala) told ArtsHub: 'Because it is life changing; it is meaningful, and it comes from something far deeper. It is much more than a light show! We are living it.'
Ah Chee is the Director Engagement and Culture Major Events for Northern Territory Major Events Company (NTMEC), which has contracted AGB Events to creatively direct and produce the festival in Alice Springs.
Presented over ten days, and now with new dates from 11-20 September 2020, Parrtjima 2020 (pronounced Parr-chee-ma) is unique in that it activates the desert landscape of Central Australia – that is, a two kilometre sound and light show onto the ancient MacDonnell Ranges, illuminated sculptures upon the red sands of the Desert Park, plus an entertainment stage and beautiful lighting installations within Todd Mall.
In the wake of the COVID-19 virus, the Parrtjima Festival Reference Group along with Aboriginal Elders said of the new dates: 'We are mindful and are being careful of protecting our knowledge keepers and future generation. It is with hope we will, in September, bring this phenomenal cultural event back to share with all that come to visit Mparntwe.'
'Come September, when our visitors, artists and staff are hosted by the Arrernte once again, their ancient lands will Lift Our Spirits – Parrtjima is the healing we will all need,' they added.
Described as a meeting place of old and new, the festival turns to the latest technologies to showcase the oldest continuous culture on earth.
Experiencing this festival has been described as palpable, as those ancient living stories are openly shared.
'You feel connected to it; you are not so far removed,' said Ah Chee. 'The Aboriginal people taking part in this festival know that, and are willing to share their stories and let people to come into our culture through them.'
This year's theme is Lifting our Spirits, with a particular focus on water, kwatye, the six seasons of Country, and the cosmos. They offer lessons that Ah Chee acknowledges are very topical at the moment.
'Aboriginal people have been land managers for eons. They have understood that if you don't look after the land, you don't have a life. You have to treat it as you want to be treated. That is how we connect with our ancestors,' he said.
'I think what Rhoda (Roberts) has in mind this year, are the cycles of the moon and their connection to the seasons. There are so many stories up there in the skies, and it is global, it connects us – no-one owns the sky,' said Ah Chee.
Rhoda Roberts AO returns to the festival for a third year as AGB Events' First Nations Adviser, working alongside respected Arrernte people as part of the Parrtjima Festival Reference Group (PFRG).
In other words, Parrtjima at every level is Aboriginal led, setting a benchmark in the festival market.
'Someone of the ilk of Rhoda understands that significance – the spirituality of the landscape – and she has been able to visualise that, and put it into a form that creative people can deliver an experience which takes that connectivity into installations and light displays,' Ah Chee told ArtsHub.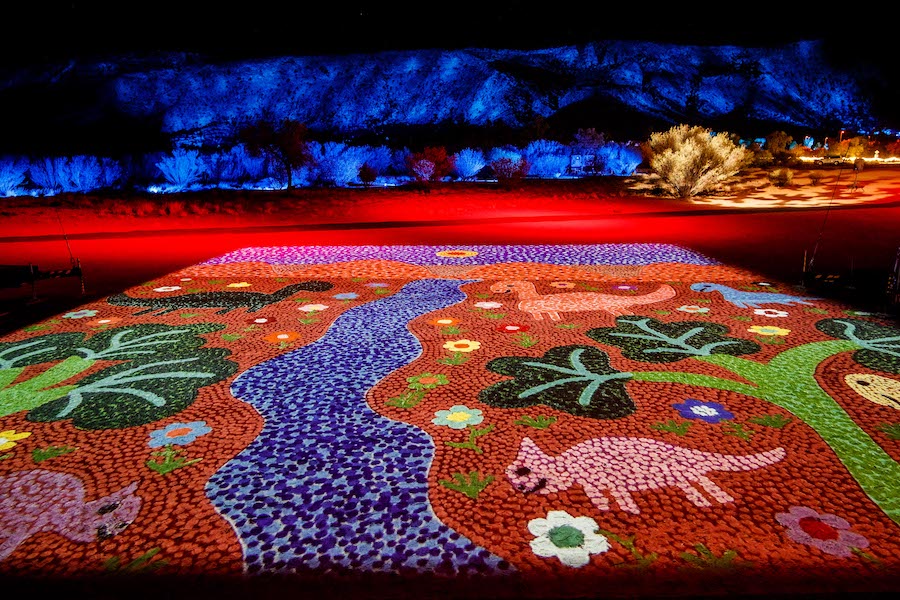 Annette Nungala – Barkly Regional Arts, Grounded, 2019 Parrtjima. Image supplied.
WHAT YOU CAN EXPECT TO SEE AT PARRTJIMA 2020
Festival organisers have shaken things up for Desert Park in 2020.
Rather than standalone installations, the site has been inspired by an artwork by Kumalie Kngwarraye Riley, which takes as its central motif, Werte (pronounced Woord-da), the concentric lineal work that speak of meeting places, and is so relevant to the Central Desert art styles. 
Among the highlights will be artist Greg McAdam's enormous glowing sphere, Grass Seed, measuring seven metres in diameter and suspended three metres in the air.
Curated as a central axis to the artworks at Desert Park, people can then branch off in different directions, where they will encounter Rachel Wallace's Alatye (Bush Yam), reinterpreted into a four metre-high flower, and Lachlan Dodds-Watson, representing the next generation of artists, painting Emu Laying Eggs at Night transformed into a towering eight metre-high emu.
'They all work in different fields and have their own connectivity with the land and describe that through their family line in their art,' said Ah Chee.
A further key element of this festival is the concept of deep listening. Ah Chee explained: 'The light stuff really is all surface in a way. We need to get a true, and better, understanding of how those lightworks are seen and how they connect with the core of it all – to allow people to find the steams of knowledge.'
Listening is extended across a program of talks and workshops with writers, academics and storytellers.
At another level it is through song. Parrtjima 2020 will capture the sounds and rhythms of Central Australia through live music performances by internationally-renowned singer-songwriter Dan Sultan with his soulful blues under the vast desert skies, and earth sound band OKA, among others.
Ah Chee said this holistic approach is important. 'It is really critical. Parrtjima is about that whole expression of Aboriginal culture – both in a contemporary sense and a traditional sense – which shows it is always evolving and carried through our people. It is very emotional – a very spiritual expression – that we are proud to share,' he said.
Parrtjima 2020 is an Aboriginal-led festival that is held in Alice Springs, Mparntwe, home of Arrernte people.
To plan your trip to Parrtjima 2020 – A Festival in Light, including the full program details.