Design is one of the fastest growing careers for the 21st century, due to its agility and capacity to evolve with our times. It is also unique for its ability to engage and collaborate with other professions on interdisciplinary projects from engineering to business, medicine to the built environment.
'We teach our students to collaborate with people from other domains, and to realise a design as part of a team,' Carly Vickers, Associate Lecturer at UNSW Art & Design said.
UNSW Art & Design recently rethought its design degree, emphasising the multi-disciplinary approach for which it is recognised.
The Bachelor of Design is a three-year full-time degree that prepares students to be confident and creative in a changing world of work.
The degree emphasises that design can change our society, and is grounded in a deep reflection on diverse historical, social and cultural values. Through studying design history and theory, students learn how the futures they design can be diverse and sustainable for all people.
Students specialise in two of six design disciplines, that are then brought together through multi-disciplinary design studio projects. These six disciplines are: Graphics, Object (ceramics, furniture, jewellery), Experience (how people interact with space), 3D Visualisation, Interaction, and Textiles.
'It's important that our students learn how to be makers, even if they don't choose that path,' said Vickers. 'A good designer needs to be able to collaborate with makers, and to have a strong understanding of materiality'
Graduating student, Sunny Lei was mentored by Vickers during her Honours year. Lei said: 'Looking back, and speaking to other students, I feel like UNSW prepares graduates to be both designers and makers"
Lei is a great example of this hybrid thinking. 'I was torn between architecture and graphic design, but here one can inform the other,' she explained.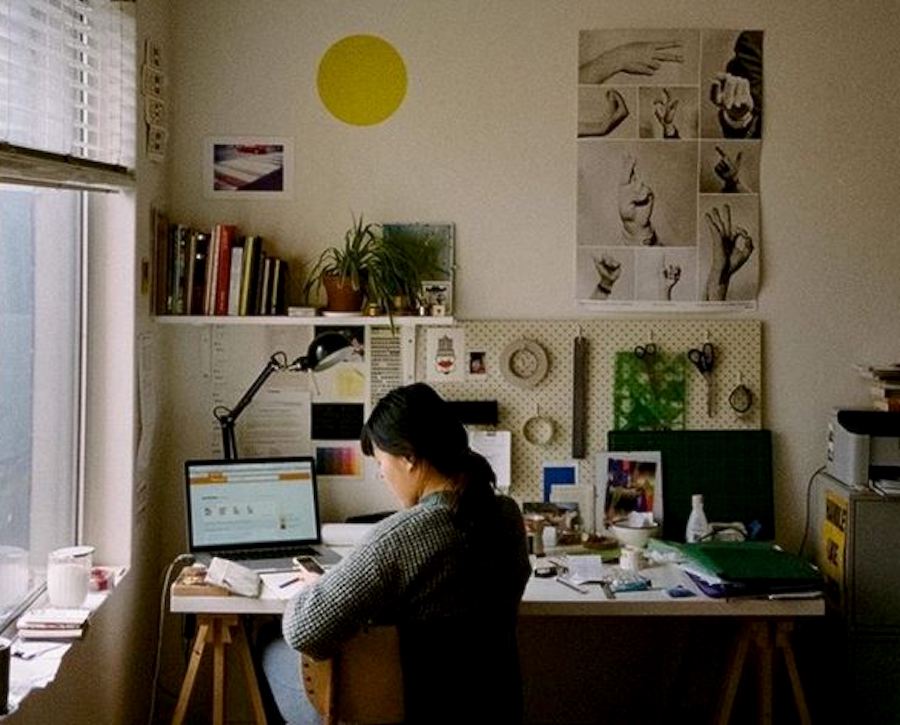 Sunny Lei in her studio. Photo: Sunny Lei
Taking her degree into an Honours year was more fulfilling than Lei thought it would be. 'It has allowed me to come into my own practice.'
She travelled to Utrecht (The Netherlands) in an exchange program through the degree. 'It really opened my eyes to graphic design in Europe…and that gave me inspiration to focus on my autonomous practice.'
Encouraging entrepreneurship
'A challenge that students face is a need to be entrepreneurial in their thinking, to develop relevant skill sets, to frame what they can offer, and to know how to pitch their ideas" says Vickers
To support students, the University offers the Founders Program, a start-up accelerator that provides design students opportunities to incubate new business ideas. In addition, a Professional Experience Programme, International Exchange Opportunities, and Work Integrated Learning are all available.
Is the fit right for you?
Vickers said the best way to determine if design is the career for you is to come along to Faculty Open Days and Information Nights.
She added that a design career today is suited to 'someone who thinks outside the box; someone who wants to reframe problems, to research them, and who can step back and look at the big picture – they are lateral thinkers.'
At UNSW the Bachelor of Design degree can be combined with Commerce, Education and Media, PR and Advertising degrees. Students can also tap into the University's network of opportunities, with the full weight of a top-ranking G08 University behind them.