The Australian National Academy of Music (ANAM) offers the only professional performance training program for classical musicians in Australia.
Established in 1995 and based in Melbourne (currently at the historic Abbotsford Convent), ANAM is one of eight federally funded national elite training organisations in the performing arts. It was established to train exceptional classical musicians aged 17 to 27, from around Australia and New Zealand. There are currently 67 musicians in training, with an annual intake of around 25, which makes for an intimate and concentrated learning experience.
Free of a traditional syllabus, ANAM's bespoke 12-month Performance Program is non accredited; it's less like doing a traditional music degree, and more like spending an intense studio-based year as a professional musician.
Musicians participate in performances throughout the year alongside renowned conductors, composers and fellow professional musicians, but as well as rehearsals, there are classes, one-on-one coaching, and seminars on everything from aural skills to specific instrumental health issues and community outreach. In short, it's everything a young classical musician needs to have a successful, healthy and connected career making beautiful music.
An individualised approach for every musician
David Thomas, who has been Head of Woodwind at ANAM since 2008, and also holds the position of Principal Clarinet with the Melbourne Symphony Orchestra (MSO), says: 'The thing that sets ANAM apart is that, because we don't work to a set syllabus, we are able to tailor the training to individuals, and to really bring out everything in their musical personality and in their musical imagination.'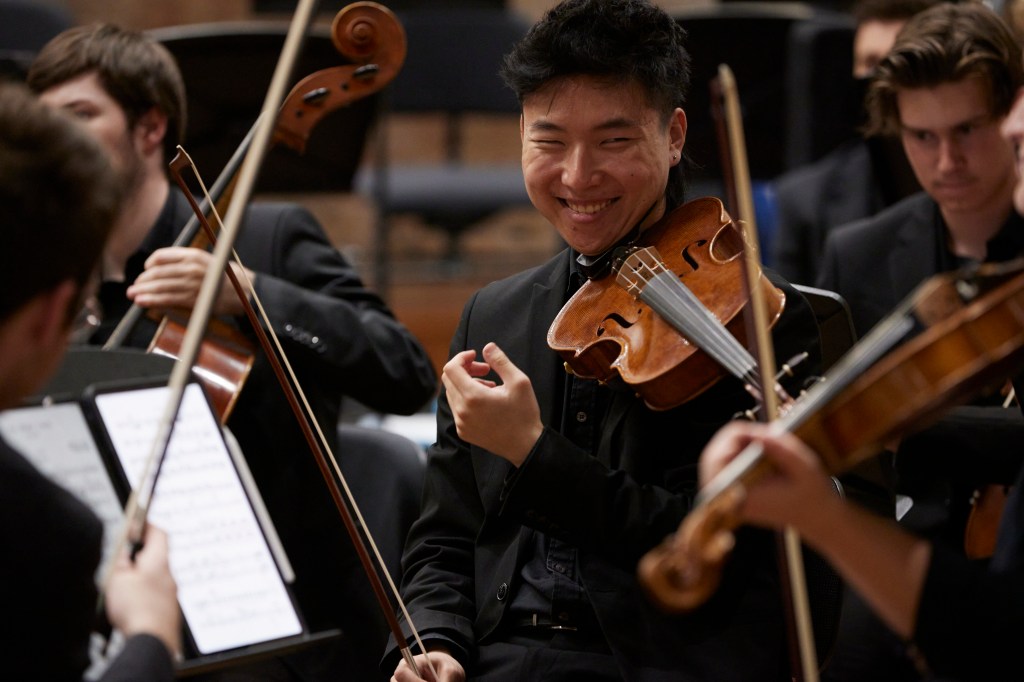 ANAM's Artistic Director, Paavali Jumppanen, says: 'Today's world is in need of musicians who are creative, independent and ready to be the torchbearers for the art we all love. At ANAM we take every young musician's aspirations to heart. We pledge to guide them wisely during what is possibly the most exciting chapter in their artistic lives so far, namely the time when talented students transform into young professional artists.
'We invite young musicians onto a journey leading to instrumental excellence and artistic discovery. Along the way we explore the music of yesterday, today and tomorrow. Our faculty are expert pedagogues and their commitment and integrity ensures that every aspiring musician joining the ANAM community gets a chance to reach their maximum.'
ANAM's Performance Program
The Performance Program is intimate and ever-changing, but always delivered by an experienced faculty of professional musicians. It is structured around five core areas:
Studio Training and Solo Performance
Chamber Music
Ensemble and Orchestral Performance
Musician Enhancement, and
International Academy Partnerships.
Thomas says that ANAM's holistic approach to nurturing performers gives them individualised musical training, as well as teaching them how to take care of themselves physically, financially and professionally.
'We offer modules about health and well-being, about making [funding] submissions and even how to do your taxes – everything they're going to need as working musicians,' he says.
'Chamber music and ensemble skills are the absolute basis of being a working musician. Apart from being great on your instrument, being able to fit in – to lead where necessary and to have good people skills – all those things are absolutely crucial… That's what we practise a lot at ANAM.'
Nurturing careers
Thomas says the kinds of careers ANAM alumni can expect range from permanent jobs in orchestras, to a more varied life freelancing, with some orchestral work as a casual and 'as much chamber music as they can squeeze into their life'.
'We have ANAM alumni who are in orchestras all over the world and Australia. Most of our musicians will also have some type of teaching involved in their career, and we have alumni in leading teaching positions in universities.'
Acceptance into the Performance Program is highly competitive and is based entirely on audition and interview rather than any prerequisite.
'We're always looking for people who are outstanding instrumentalists,' explains Thomas, 'but ANAM accepts musicians who, without fail, have curiosity and are inquisitive about the musical world. They're interested in broadening their horizons and learning about things that are new to them. That's certainly the type of person who thrives at ANAM.'
ANAM applications for the 2024 intake are open from Monday 5 June to Sunday 25 June 2023. Find out more at anam.com.au/training