When you ask someone to describe Elvis, it's often studded jumpsuits and sideburns or gyrating hips and movie star glam. But as mapped out in the exhibition Elvis: Direct from Graceland, Elvis Presley was a much more complex figure than such stereotypes suggest.
The exhibition is an international exclusive, staged by Bendigo Art Gallery. 'We curated it from scratch, and it's all going back to Memphis after Bendigo,' said Curatorial Manager Lauren Ellis.
'[Graceland] doesn't have a touring program, so it was an amazing, visionary and confident ask by our Director Jessica Bridgfoot, and also thanks to them knowing what we are capable of delivering.'
Priscilla Presley made the trip to Bendigo for the exhibition's recent launch, which Ellis said was 'such a show of her faith in us. She is cautious with what she puts her name to, and is strategic in upholding Elvis' legacy and sensitive not to exploit his memory.'
That memory is a lot more complex than mere melodies, movies and fashion, as the exhibition show. Ellis said she has 'loved discovering that complex figure, who is so entangled with the whole 20th century media landscape of patriotic dreams, social rebellion, and burnout.'
Mapping the persona of such an iconic figure was 'scary,' she said, but also allowed Ellis and the Bendigo team to unearth new and nuanced stories that extend the Presley narrative and have an uncanny resonance for our times.
'I came to understand that the whole culture of Graceland is a family business,' Ellis told ArtsHub. 'And as I came to be increasingly immersed in this "Elvis universe", I became curious about this chemistry he had, and how it shaped the kind of familiarity we have for Elvis.'
The original influencer
Elvis came of age against a backdrop of political and social change: the Civil Rights movement, Baby Boomers, the birth of teenage consumers and television. Put simply, it was a golden age of mass media and Elvis was its cover boy.
He made history as the first solo entertainer to hold a live concert broadcast internationally via satellite. The Elvis – Aloha from Hawaii TV special was seen in 40 countries by more than a billion people, more than the number of viewers who watched man's first walk on the moon.
Elvis didn't really have a blueprint for the celebrity he was. It was a time before social media, and stylists.

Lauren Ellis, Curatorial Manager
As a result, Ellis said that Elvis straddles 'a strangely familiar continuum – like a family member – but also otherworldly.
'He was so photographed; I had about 90,000 images from the Graceland Archive to work with. I have tried to infuse an idea of the rise of mass media in tandem with the rise of his stardom. For example, he was on television 11 times in 1956, the same time that television was making its way into people's homes. His infiltration of visual media and the move away from radio as the centrepoint in the house happened in sync,' she said.
Continuing Bendigo Art Gallery's interest in iconic fashion exhibitions and popular history – previous exhibitions have focused on Marilyn Monroe, Grace Kelly, Balenciaga and Mary Quant – Elvis is a natural fit for the regional gallery.
As Director Jessica Bridgfoot explained: 'What they each have in common is a focus on fashion and design, and this exhibition highlights Elvis' trailblazing sense of style, the close working relationships he forged with designers such as Lansky Brothers and Bill Belew, and his impact on 20th century visual culture.'
Elvis was the master of radical reinvention.

Jessica Bridgfoot, Bendigo Gallery Director
The ways that fashion and photography shaped the icon who was Elvis carries across the exhibition, from that cool Marlon Brando look with slim rollneck jumpers and motorcycle caps, to experiments with hair dye and eye make-up.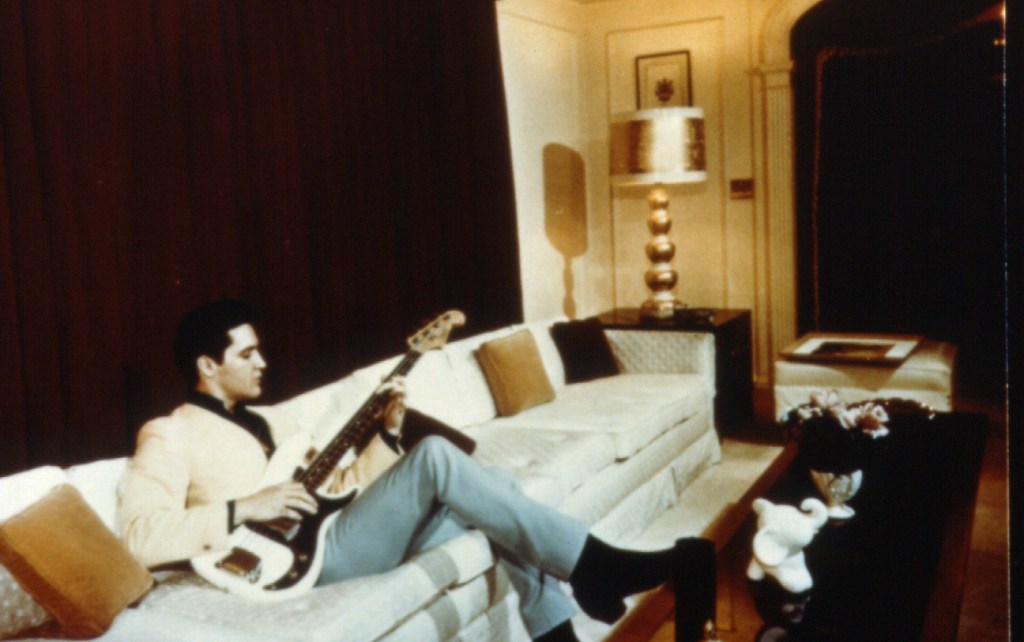 Elvis' manager Tom Parker, known as the Colonel, put Elvis' likeness on everything from lipsticks to picture frames, effectively inventing the concept of celebrity as commodity – an idea that was taken further by Andy Warhol in the 1960s.
Ellis said that when she eventually got to Graceland in January, everyone was taking a selfie with the quote, "Ambition is a dream with a V8 engine. Ain't nowhere else in the world where you can go from driving a truck to cadillac overnight."
'It feels like it's the original confidence tale,' said Ellis. 'But there is also a bit of a sense of "don't do it the Insta way," with this show. Elvis had long hair and pink pants in the 1950s. He just believed in it and did it, without curating it all or an Insta following in mind,' she added.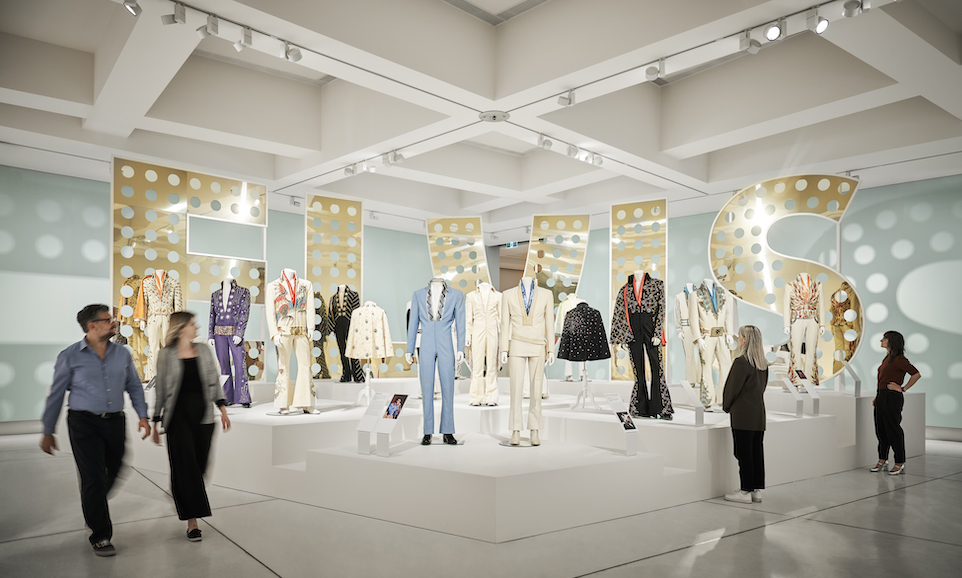 Behind the images
Ellis said that Elvis' time in the army was really important in terms of the trajectory of his life. 'The US Army press office used that image of this beautiful young man doing his patriotic duty. It was a moment of rebranding Elvis from rebel, to patriot,' she explained.
But while Elvis was doing his basic training his mother died. 'That sudden loss of the person who was centre of his universe was huge for Elvis. When he got to Germany he was this lonely soul putting on a brave face for the cameras. It was a camera persona that he would carry forward for the rest of his life.'
It is this frank side of the Elvis story that Ellis has enjoyed fleshing out for the Bendigo exhibition, using the rich archive of material to allude to very complex stories, for example, why Elvis never toured internationally.
'The archive has allowed us to triangulate all sorts of stories, so we have a photo of Elvis, and then the outfit he wore in that photograph, and then the drycleaners receipt from the next day, for example. We have an exchange of letter between an Australian promoter with a $1 million dollar offer, and the Colonel's curt one-liner response, "Sorry no dates available." They are little ways to give meaningful nods,' said Ellis.
The exhibition also touches on the impact of fame – something experienced across the arts today.
'Elvis understood better than anyone around him that maintaining a superhuman image and a relentless schedule of performing and recording was impossible,' the Gallery explained. Presley passed away alone in his Graceland home in 1977, aged 42.
'Graceland has their own ways of talking about this delicate territory. But being here in Bendigo, I could talk frankly about how an unrealistic schedule of touring, up all night, existing in the public eye – it was an unsustainable way to live,' Ellis said.
'There are so many surprising and endearing things about Elvis. Did you know he had a still-born twin, Jessie? That is an interesting fact; it informs so much of his life, and how his parents fiercely protected him, but also his exuberance and gusto to live life with zero moderation.'
Elvis: Direct from Graceland is showing at Bendigo Art Gallery until 17 July 2022. It is a ticketed exhibition.