Screenside at Byron Bay Film Festival full moon cinema. Photography by Sarah Lee
Lovers of independent cinema can look forward to an exciting collection of screen stories at the 2014 Byron Bay International Film Festival (BBFF), opening Friday 28 February in the sub-tropical, northern NSW coastal town.
Now entering its eighth year, BBFF brings together an avid community of Byron Bay filmmakers and is also home to the greatest concentration of Australian filmmakers outside metropolitan cities.
Festival Director J'aimee Skippon-Volke has spent twelve months selecting the final 200 films from entries across the globe. 'Being Australia's largest regional film festival, we have hundreds of phenomenal films to look forward to spanning topics such as social justice, women's issues, sexuality and relationships, spirituality, surfing and the changing environment, many of which you will only be likely to catch at BBFF,' she said.
Skippon-Volke hopes these projects will allow audiences to expand their world view, saying that one of the leading benefits of running BFFF as an independent grassroots festival has been the high level of artistic freedom. 'We're marching to the beat of our own drum [with] a very unique sense of identity and of what we wish to achieve. We are free to make our own decisions about what we are doing.'
This freedom, coupled with the location of Byron Bay itself, has created an immersive and inclusive event that will see audience and industry mingle side-by-side at red carpet opening and closing night gala parties, industry panels and workshops and, of course, the screenings themselves.
'Opening weekend has workshops and events designed very much for practicising filmmakers [while] the closing weekend has a strong youth focus, with workshops designed for people breaking into the industry. We split that up to provide a clear focus and allow people to decide which workshop is appropriate for their experience level so they can really get the most out of it,' she said.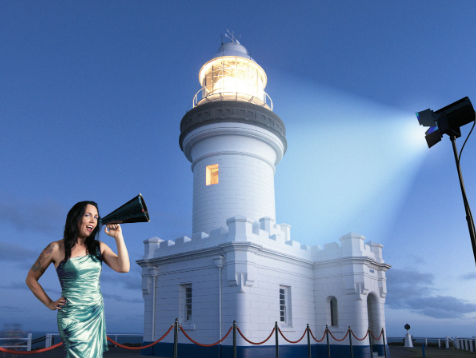 Festival Director J'aimee Skippon-Volke. Image by Dean Miscamble Spiral Photography
The ten day program features a selection of projects providing a window into progressive ways of approaching creativity and a broader philosophy around contemporary society. Feature documentary Upaj: Improvise is a heartwarming East-meets-West journey between Indian kathak master Chitresh Das and American tap star Jason Samuels Smith. The creative team, including American Director Hoku Uchiyama followed the two performers across their rural Indian tour, documenting an unlikely creative exchange between two very different cultures.
Uchiyama, who won Best Film at the 2007 BBFF prize with his short Rose, said the most amazing thing he discovered during production was that travel outside the West challenged all his assumptions. 'India is profoundly different in many ways and so you kind of start from zero in your understanding of how to move around and communicate. Making a film under those circumstances was magical.'
Producer Antara Bhardwaj hopes that BBFF audiences will respond emotionally to the film. 'I hope they can relate sentiments to their own lives, whether it be traditional art of things or something within their own tradition to which they have neglected up to now. The film is a great tool to reach audiences who might otherwise not attend a live performance event,' she said.
Second Unit Director, Editor and Consulting Producer Shaun Jefford, an Australian expat now based in Los Angeles, remembers documenting a completely immersive, captivating experience. 'What was stunning was the reaction we got from the crowds, it was always quite electrified because of this interplay between the two performers. On one hand, there's Jason who does American tap dance – he's an Emmy award tap dancer and a stunning performer.'
'On the other side, there's Chitresh, who is this regal, Indian dance guru. They come together and do this amazing interplay and energy transfer on stage. Audiences reacted to it, and as we were making the movie, we reacted to it'.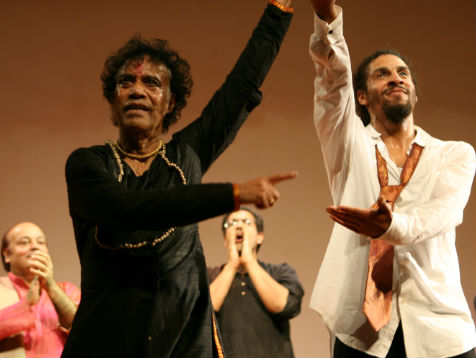 Indian kathak master Chitresh Das and American tap star Jason Samuels Smith in Upaj:Improvise.
Jefford plans to attend the 2014 BBFF and looks forward to reconnecting with the tight knit filmmaking community. 'I went there three years ago with my documentary Beijing Punk. They have fantastic taste at BBFF. It's beautiful in Byron Bay [and] for me, I'm looking forward to watching some great movies and meeting some kindred spirits,' he said.
'When I went there [to BBFF] with Bejing Punk, I had no expectations. In my head it was a small Australian town. I realised they've got great taste, it's a very friendly festival [and] the filmmakers attending were having a great time.'
Skippon-Volke agrees with Jefford that BBFF is fast establishing itself as a filmmaker friendly festival. 'The filmmakers love the audience at BBFF; they really think the Byron audience is completely unique to other places. I've had a lot of feedback from filmmakers that the Byron audiences are very warm and engaging. Even if somebody doesn't like something they're really ready to express themselves. That's a really fresh thing.'
'Filmmakers end up getting hugs at their screenings. From an audience perspective, it's very much around providing a platform or space for the sharing of ideas, taking in new experiences, we have a high attendance of filmmakers and we make them very available to the audience. That is quite unique to a lot of people, they really enjoy the ability to talk to the creative after the screening.'
The 2014 Byron Bay International Film Festival runs from 28 February to 9 March in Byron Bay.
For more information including a complete festival program visit the Byron Bay Film Festival website.