***This prize is now going ahead in 2021, please follow this link to find out more***
Function, beauty, craftsmanship, and intelligent thinking are some of the qualities that Claire Beale looks for as one of the judges for the Clarence Prize. Another important criterion is originality and innovation.
'Everybody in furniture design always wants to design a chair,' said Beale, who is also the executive director of Design Tasmania. 'It's the thing you need to have in your portfolio to prove your chops as a designer. There's a lot of them out there, so you, as a practitioner, need to understand what is already in the marketplace and what has come before.'
The Clarence Prize has been championing excellence in craft and design since 2007. Being a well-established prize, it not only offers a lucrative acquisitive award, but also boasts a star-studded history that looks a bit like a hall of fame for Australian furniture design.
In 2020, the winner will receive $20,000, with their work acquired by the Clarence Collection, Clarence City Council's outstanding collection of craft and furniture design. There are also two non-acquisitive prizes of $1,500 each for a highly commended designer and an emerging designer. Entries close on 14 February.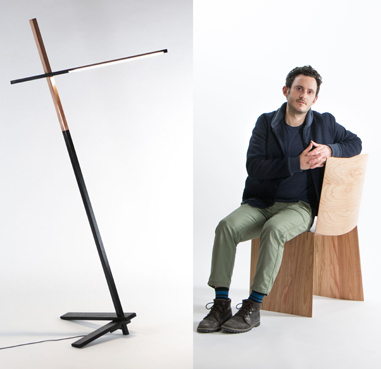 Liam Mugavin, Koto Light. Winner, Clarence Prize 2015. Photo: Samuel Shelley.
'This prize gives designers the freedom for studio time and product development, as the work is selected and then presented for exhibition,' Beale explained. Shortlisted applicants will have four months to complete their final piece for the exhibition in October. The prizes will be announced at the opening.
'The other thing that's great about the Clarence Prize is that it's presenting a really high quality exhibition to the broader community,' Beale said. 'Part of what they're looking for is works that will be brought into their permanent collection, but also showing how designers can create works that are accessible for community.'
'Good design understands the world and its problems, and proposes a solution.'
Claire Beale, Clarence Prize judge
As well as aesthetic, ergonomic, and material considerations, Beale said, 'good design understands the world and its problems, and proposes a solution.'
'As a designer, what makes you different from a purely arts-based practice is that you're being presented with a brief that is about solving a need,' Beale told ArtsHub. Whether it's an issue on a global scale like reducing our impact on the environment, or on a personal scale like making utensils for people with arthritis, designers have to ask themselves what problem they are addressing.

Bernard Chandley, Lowbow Diner Chair, 2016. Highly commended, Clarence Prize 2017. Image courtesy of the artist.
Australian designers have proven they are more than up to the task. 'We have designers coming out of our design schools and colleges and practice who are brave, enthusiastic, creative and not afraid to get out there and present their work on a global stage, and are being recognised for it,' Beale said.
'In my experience, Australian furniture design is leading the world.'
Offered by Clarence City Council, the 2020 Clarence Prize nurtures Australia's exceptional design talent. Entries close 14 February. View the full entry requirements here.