For many Greeks, the word κέφι (kefi) is untranslatable, a word of a mere four letters that encompasses jouissance, carelessness, passion, the thrill of song and dance, an overflow of enthusiasm for life and a desire to prolong it.
For Ari (Danny Ball), the sole character in the current stage adaptation of Loaded, kefi does indeed have a translation: doing speed. This is the jumping-off point for a frenetic 90-minute monologue that winds and turns like a double-helix, coiling tighter and tighter as it plunges deeper and deeper into the pits of drug-f**kedness.
Loaded, the debut novel by Christos Tsiolkas, was published in 1995, but the brilliant decision by Tsiolkas and co-adaptor Dan Giovannoni to pull the story into contemporary Melbourne gives the play a startling new perspective.
If the show can at times feel a little anachronistic, it stems only from the fact that the ragged, scummy, morally ambiguous club scene of the early 1990s no longer exists in Melbourne, a town rampaged by relentless urban renewal and moral absolutes.
Lucky then that we have Tsiolkas who, like his US counterpart Bret Easton Ellis, cares little for rigidities and ministers of the peace. Rather his focus is drawn squarely to those darker spaces where desire and destruction linger hand in hand. Ari's description of a surreptitious sexual encounter with an older Greek man in a Preston alleyway is dripping with abjection, riveting and real.
This is what makes the play somewhat irresistible, in spite of its subtle dashes of pretension. The freewheeling, disparate, feverish, caustic style of the monologue, though at times hard to track, is mostly spellbinding, and requires such a high-wire feat of performance to hold together that, by the play's end, you can hardly remember where you started – or believe Danny Ball is still standing.
The bouquets will come flying out of the crowd for Ball, who is indeed magnificent in all aspects. The sheer control is astounding. But let it not be forgotten that his most important quality, the piece of his performance that brings Loaded to life, is nothing more than brute sex appeal.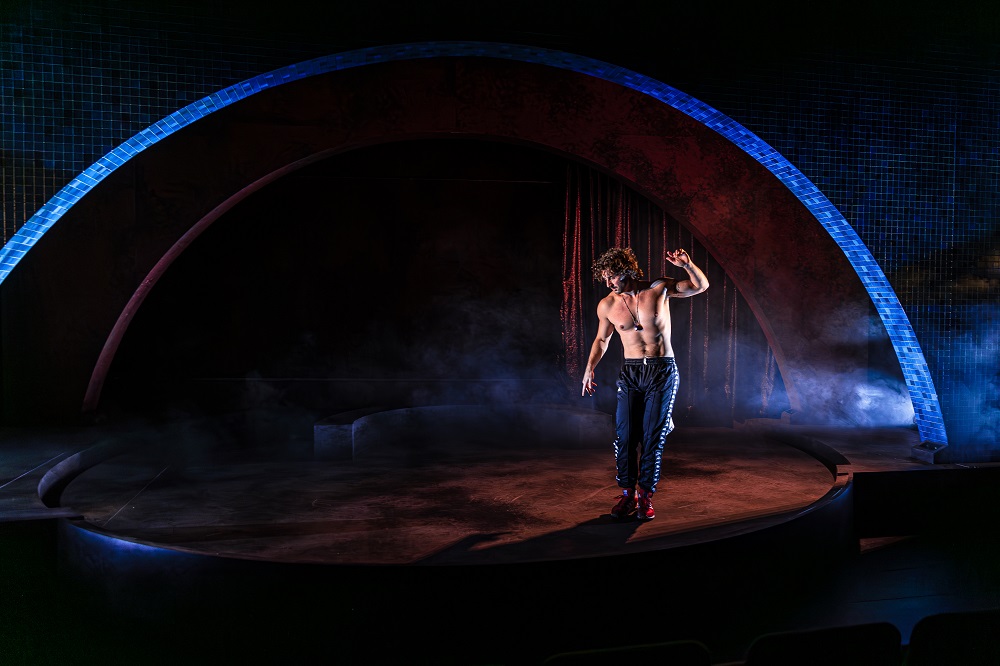 Ari is a liminal-space protagonist, desiring self-assurance while being doubted by those around him. Even his main love interest, after giving him a blowjob, detects the insincerity of Ari's act and tells him to stop lying and 'go home to mummy and daddy'.
'You have to lie,' Ari tells him. 'You have to lie.'
Identity tension, a broad theme of the book, is made essential to the play – overly so, insistently so, because it's 2023. This is a rare dull point in a play the perspective of which is otherwise refreshingly frank.
The sensibility of the play is 'wog', and its aesthetic is wog-kitsch. Walking into the Malthouse we see the bare scaffolding of the stalls, blue neon lights, a hard hat on the wall, accompanied by pulsating house music. Ari wears blue Adidas shorts and a white singlet, then changes into a pair of silky black Kappa pants. The bouzouki strums a pleasant little capriccio to which Ari clicks his raised fingers.
Musical theatre review: Once, Comedy Theatre
'The industrial-grade, butt-ugly vista of Sydney Road,' is where Ari localises us at the play's beginning, a suburban realism that we never really escape. This is Tsiolkas' expertise, and I could listen to his stories of Melbourne suburbia forever.
But its fast-forwarding into the present allows Tsiolkas and Giovannoni room to explore what has happened, and is happening, to that suburb-soaked vista and the communities that reside within it.
Maybe people like Ari won't be as familiar to 20-year-old Melburnians as they will be to 35-year-olds, but doesn't that say something in itself? Loaded is, if a thoroughly worthwhile play, a fascinating artefact of a Melbourne that is irretrievably evolving.
Loaded
Based on the novel by Christos Tsiolkas
Adapted by Christos Tsiolkas and Dan Giovannoni
Starring: Danny Ball
Director: Stephen Nicolazzo
Set and Costume Design: Nathan Burmeister
Lighting Design: Katie Sfetkidis
Composition and Sound Design: Daniel Nixon
Stage Manager: Cointha Walkeden
Choreographer: Ashlea Pyke
Malthouse Theatre, Southbank
Season extended until 3 June 2023