Thirteen months after its grand opening at Melbourne's Princess Theatre in February 2019, the two-part theatrical epic Harry Potter and the Cursed Child – the official sequel to J.K. Rowling's seven-part children's series and subsequent film franchise – met a villain not even a Stupefy charm could stop in its tracks: a global pandemic.
COVID-19 and its associated lockdowns wreaked havoc on the Melbourne run of Harry Potter and the Cursed Child Parts 1 & 2. The production was repeatedly put on hold throughout 2020 and 2021, presumably impacting significantly on projected box office takings; nor were plans to more aggressively target international audiences by wooing them to Melbourne then able to proceed as planned. (At the time COVID hit, the production's Australian producers were about to embark on a publicity roadshow throughout Southeast Asia in order to encourage international visitation to a play that had already seen 50% of its audience travelling from intrastate, interstate and overseas.)
Little wonder then that a new, cut-down version of Harry Potter and the Cursed Child has now opened in Melbourne. With a running time that's far less demanding on audiences – especially parents with young children – the condensed Potter is less expensive too, given one no longer need purchase tickets for two plays, ensuring a whole new potential audience for the ongoing adventures of The Boy Who Lived.
Originally running for almost six hours, the condensed Cursed Child now runs for three and half hours including interval. While much has been cut, the essential matter of the play – which picks up where Harry Potter and the Deathly Hallows left off, 19 years after the defeat of He Who Must Not Be Named – is effectively unchanged.
Teenage Albus Potter (Ben Walter) is bound for Hogwarts, the enchanted school that was the making of his famous father Harry (Gareth Reeves) and Harry's childhood friends Hermione Grainger (Paula Arundell), now Minister of Magic, and her husband Ron Weasley (Michael Whalley). But whereas Harry thrived at Britain's School of Witchcraft and Wizardry, Albus struggles. Bullied and unhappy, his life is changed when he befriends the awkward Scorpius Malfoy (a delightful Nyx Calder), son of Harry's old nemesis Draco Malfoy (Lachlan Woods). Like Albus, Scorpius is struggling under the weight of heritage. Soon, the boys fall in with another misfit whose life has also been shaped and overshadowed by family tragedy, and a dramatic and emotional journey ensues.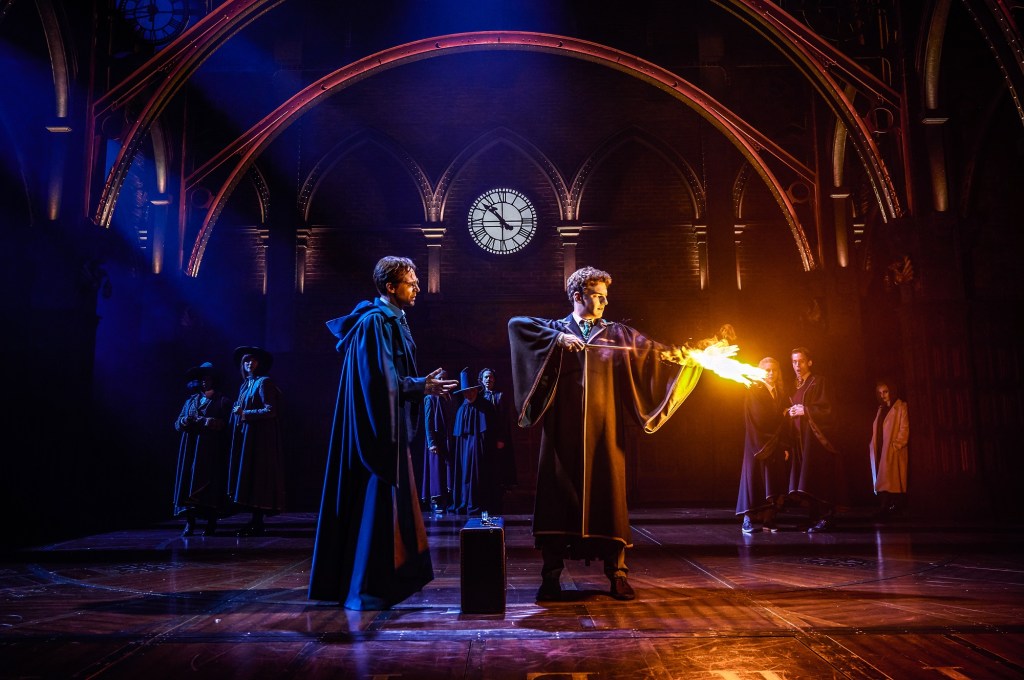 Whereas the two-part version of the play gave its characters and story plenty of time to breathe, this condensed version of Cursed Child necessitates considerably more exposition in its early scenes, which proceed at an almost breathless pace. Even as the plot advances the pace sometimes feels unbalanced, suggesting that further tweaks may be necessary – both authorial and directorial – before the production squarely finds its feet.
Jettisoning some material has definitely improved the story in places: by cutting out flashbacks to Harry's childhood, for example, playwright Jack Thorne ensures greater focus on and clarity of the main plot. The result is a production that feels far less reliant on fan service to Rowling's original books, which presumably will have the added advantage of making this new version of the play more accessible to an audience who aren't intimately familiar with Rowling's Wizarding World.
Conversely, so much material has been jettisoned – including dialogue which fleshed out certain characters' backstories, relationships and motivations – that the actors have to work harder to sell the dynamics between them. It also means that a key villain's unmasking late in proceedings lacks dramatic heft as a result of their stage time being significantly reduced in the scenes prior.
Unchanged are the stagecraft and stage magic that made the original production such a thrill, and which still provoke gasps of delight. One might wish for slightly less cape-twirling to help mask the constant scene changes, and Imogen Heap's compositions still have all the subtly of a clichéd Hollywood score, but the moments of genuine magic that made the original two-part production so awe-inspiring are present in full, and only rarely suffer from the audience's inability to properly revel in the moment due to the fast pace of the production.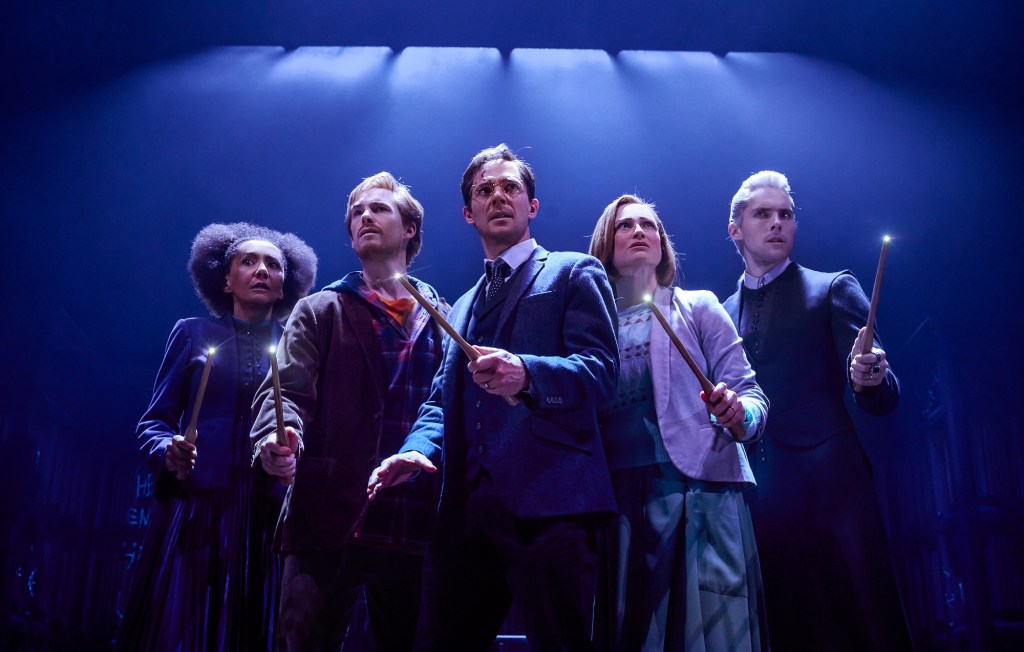 Performances are strong, with Lucy Goleby's Ginny Potter – mother to Albus and wife of the stressed Ministry man the adult Harry has become – especially compelling, adroitly balancing tenderness, frustration and ferocity as required. Gareth Reeves as Harry and Paula Arundel as Hermione (both of whom have been with the production from the start) also impress, as does Lachlan Woods as Draco Malfoy, who brings both heart and steely humour to the now mature man who was once Harry's fierce rival. George Henare, Natasha Herbert and David Ross Paterson switch roles admirably, and Hannah Frederickson delights as the ghostly Moaning Myrtle.
In my original review of Harry Potter and the Cursed Child Parts 1 & 2, I noted with some frustration the production's queerbaiting of the audience, saying, 'the play's tendency to code a major character as queer (a key plot element given the close bond between them and another leading character) only to backtrack later in the play via a clumsy assertion of heteronormativity, feels like an act of authorial cowardice'.
I am delighted to say this particularly egregious flaw has been rectified in the new, cut-down Cursed Child. What results is a gently joyous love story that now sits at the heart of the play but never overshadows other aspects of the story.
A cynic might suggest this change is an attempt to compensate for or distract from J.K. Rowling's increasingly toxic transphobia. A more optimistic view might see it as playwright Jack Thorne's attempt to delicately rectify the original stage play's flaws; or an admission from director John Tiffany that his belief it 'would not be appropriate' to show a romance between teenaged boys was incorrect. Whichever way you look at it, the foregrounding of what was previously queer subtext is a welcome addition to Cursed Child and one which moved this reviewer to delighted tears on opening night.
Harry Potter and the Cursed Child
Stage play by Jack Thorne
Based on an original story by JK Rowling, Jack Thorne and John Tiffany
Directed by John Tiffany
Movement Director: Steven Hoggett
Set Designer: Christine Jones
Costume Designer: Katrina Lindsay
Composer & Arranger: Imogen Heap
Lighting Designer: Neil Austin
Sound Designer: Gareth Fry
Illusions & Magic: Jamie Harrison
Cast includes: Paula Arundell, Nyx Calder, Lucy Goleby, David Ross Paterson, Gareth Reeves, Jessica Vickers, Ben Walter and Lachlan Woods
Now playing at the Princess Theatre, Melbourne