When JK Rowling's seventh and final book in the Harry Potter series, Harry Potter and the Deathly Hallows, was originally published in 2007, it closed with an epilogue, set 19 years after the novel's final, climactic scenes. Derided by some, and indicative of Rowling taking firm control of her literary creation to ensure unwanted sequels were impossible, the epilogue now springs into rich theatrical life in Harry Potter and the Cursed Child, an epic continuation of Rowling's vividly imagined world of witchcraft, wizardry and all its wars and tumults.
The exhortation to #keepthesecrets which accompanies the production makes any discussion of the plays' plot difficult – although those familiar with the tropes and narratives of the books and their filmed adaptations, such as this reviewer, may find that certain plot developments are frustratingly predictable.
That said, the production also features multiple moments of genuine theatrical magic, not to mention passages of surprising drama and poignancy, which only a curmudgeon would seek to spoil. Thus, there will be no plot spoilers here – read on without fear.
Read: The Boy Who Lived On: 20 Years of Harry Potter
At its heart, Harry Potter and the Cursed Child explores the troubled relationships between fathers and their children (the relationships between mothers and their children are largely absent, or at best relegated to the sidelines) as well as issues of guilt, loss, time and legacy.
Our heroes are Albus Potter (Sean Rhys-Wemyss), son of the legendary Harry Potter (Gareth Reeves) and Ginny Weasley (Lucy Goleby), and his best friend, Scorpius Malfoy (a delightful William McKenna), the son of Harry's school-yard rival, Draco Malfoy (Tom Wren).
Numerous other characters appear, some new, others returning from Rowling's novels, though for the sake of discretion this review will say little more about the plot or the characters which drive it.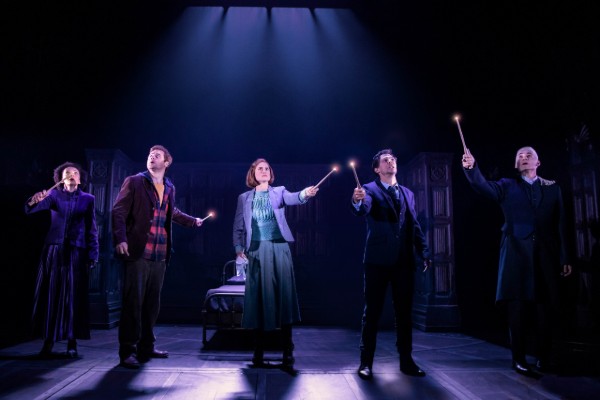 L-R: Paula Arundell as Hermione Granger, Gyton Grantley as Ron Weasley, Lucy Goleby as Ginny Potter, Gareth Reeves as Harry Potter and Tom Wren as Draco Malfoy in Harry Potter and the Cursed Child. Photo Matt Murphy
Narrative aside, what of the production itself? It is genuinely epic, though the first play is over-reliant on exposition to establish its complex plot. That said, together the two plays offer up enough coups de théâtre to more than justify the price of tickets. Indeed, listening to the audience's gasps of delight and surprise was, for me, almost as enjoyable as the production itself.
Imogen Heap's score often feels trite and intrusive – more suited to television advertisements rather than the epic story which unfolds on the stage of the Princess Theatre. Other technical aspects are impressive and dramatic, especially Neil Austin's superb lighting design and Jamie Harrison's sophisticated stage illusions and magic, although Movement Director Steven Hoggett's over-reliance on swirling cloaks to cover set changes begins to grate well before the first of the two plays has concluded.
Equally frustrating is the Ouroboros-like insistence of Jack Thorne's stage play (based on an original story by JK Rowling, Jack Thorne and director John Tiffany) to dwell on established elements of the Potter-verse rather than driving the narrative forward into new and unfamiliar territory. Clearly, this is a play written for the fans, and though the plot occasionally borders on fan service, at other times (especially in the second play, when exposition is dropped in favour of genuine dramatic development) the story truly soars.
Performances vary from solid to excellent, although many of the lead cast have an unfortunate habit of shouting as a default mode of delivery. That said, Gyton Grantley's Ron Weasley provides effective and engaging comic relief, even as the character's occasional sexist remarks rankle. Tom Wren as Draco Malfoy delivers moments of unexpected emotional depth while avoiding bathos; William McKenna as Scorpius Malfoy steals the show with a personification that's part Mr Bean, part unlikely Joseph Campbell hero, and Gillian Cosgriff, Soren Jensen and David Ross Paterson bring new life to roles previously defined by their screen iterations.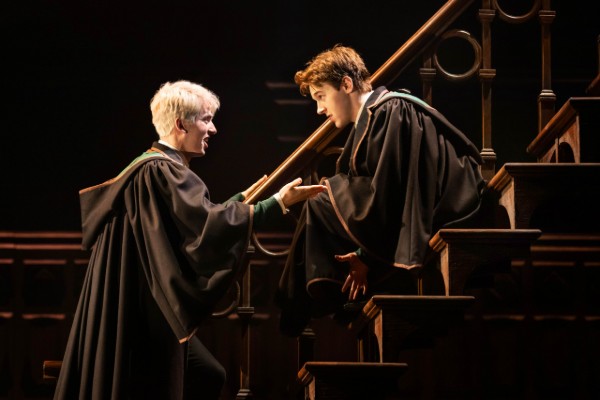 William McKenna as Scorpius Malfoy and Sean Rees-Wemyss as Albus Potter. Photographer: Matt Murphy.
Despite having to compete with the special effects of major films, the play looks superb. Its moments of illusion are truly magical, the interplay between set and lighting is beautifully integrated, and Katrina Lindsay's costumes (especially in an otherworldly sequence of which I can say no more least JK Rowling track me down and kill me, though it's hinted at in the hero image at the top of this page) are highly effective.
Unfortunately, some of the flaws of Rowling's original books (as well as her clumsy screenplays for the prequel Magical Beasts film series) are also evident in Cursed Child.
Just as Rowling failed to canonically represent Professor Dumbledore as gay in her books, only identifying him as homosexual in a post-publication conversation, the play's tendency to code a major character as queer (a key plot element given the close bond between them and another leading character) only to backtrack later in the play via a clumsy assertion of heteronormativity, feels like an act of authorial cowardice.
Representation matters, as director John Tiffany clearly recognises, having cast an actor of colour as Hermione Granger – but flirtation with representation, only to fail to deliver on the central message, not only feels cowardly; it feels cheap and exploitative.
It's 2019 – isn't it about time we had a definitively out and proud queer character in the world of Harry Potter?
4 ½ stars: ★★★★☆
Harry Potter and the Cursed Child
Stageplay by Jack Thorne
Based on an original story by JK Rowling, Jack Thorne and John Tiffany
Directed by John Tiffany
Movement Director: Steven Hoggett
Set Designer: Christine Jones
Costume Designer: Katrina Lindsay
Composer & Arranger: Imogen Heap
Lighting Designer: Neil Austin
Sound Designer: Gareth Fry
Illusions & Magic: Jamie Harrison
Cast includes: Paula Arundell, Lucy Goleby, Gyton Grantley, William McKenna, Sean Rees-Wemyss, Gareth Reeves and Tom Wren

Now playing at the Princess Theatre, Melbourne