Sentimentality seeps into every aspect of Slanted Theatre's Boom, from the way we're invited into a home filled with precious memories to the classic Hokkien songs played during the intervals. It is these warm feelings toward the past that are also constantly being threatened by the advent of rapid modernisation.
Boom revolves around an old lady, Ong, whose fierce attachment to her house is unwavering, even as neighbours and agents pressure her into giving it up. To Ong, it is a connection to her past while, to the authorities, it is a valuable piece of land for profitable developments. At the same time, the government's Land Authority has made orders to exhume corpses for the same purpose of optimising space.
Excellently directed by Tiffany Wong and produced by Natalie Low, the play manages to capture the distinctively Singaporean flair that underscored playwright Jean Tay's original script. With use of Singlish and Hokkien maintained throughout, the production expertly transports us into a world that is foreign, yet also feels familiar and clear. Even as non-Singaporeans, it is difficult not to feel an overwhelming sense of nostalgia as we reflect on how places can become affixed to our identities.
The core concern explored within Boom remains relevant to Australians and parallels how we increasingly favour commercial wealth over sentimental value. We can relate to Ong's son Boon and his colleagues, who are enraptured by the appeal of glitzy, new condominiums. We also witness surrounding residents gradually being swayed by sizeable offers of money to give up their long-held homes, as also happens in major Australian cities.
Further, Boom makes us question how ruthless the process of modernisation can be, as individual wishes and the dead's integrity are inevitably dismissed when pursuing progress for the majority.
The whole acting cast deliver these messages effectively with the dynamics of their characters being fluidly portrayed. This includes Tiang Lim who embodies, with great emotion, Ong's frustratingly futile attempts to keep an unrelenting grip on her home. Josephine Lee matches this desperate energy as Boon, while also delivering hilarious sections as his younger self.
Gerwin Widjaja interestingly plays a corpse, who not only provides humorous relief, but also pulls heartstrings as he conveys the most distressing scenes of reliving a painful death. Daniel MacKenzie is another favourite, playing an affable civil servant with necromantic abilities, with whom the audience empathises as he struggles to meet the apathetic bureaucracy's targets.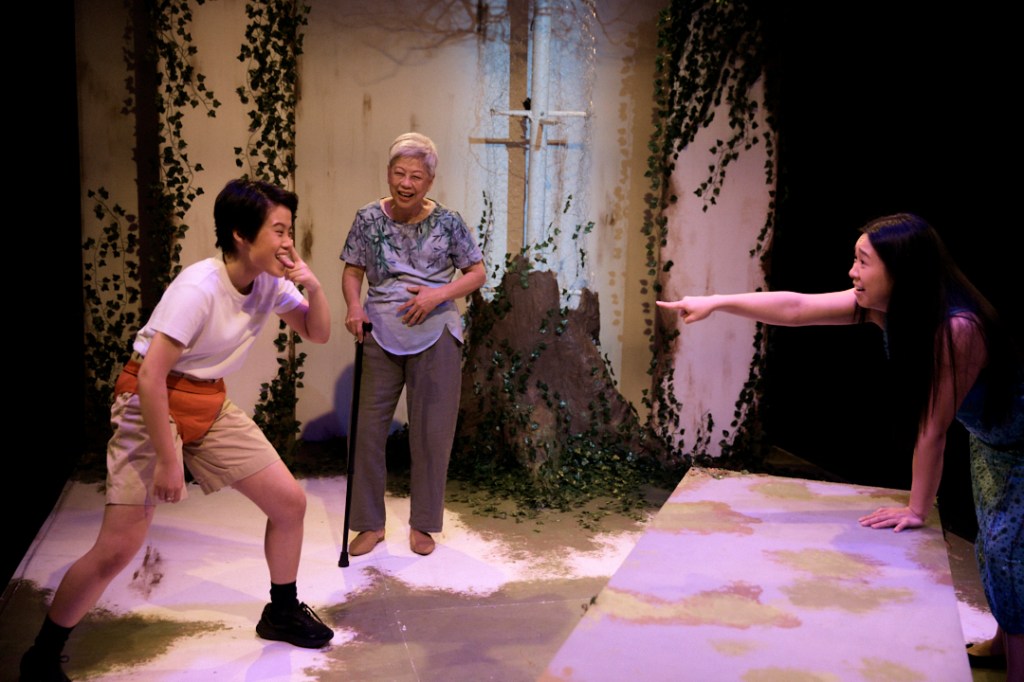 The entire production team's work also feels incredibly cohesive and results in a piece that is powerfully conveyed, despite the smaller space. The effects created by lighting designer Luna Ng and sound designer Sam Cheng enhance the gravity of differing scenes, from the intensity of anger and the beauty of reminiscence to the solemnity of death. Costume designer Rita Naidu's outfits reflect the various characters' personalities effectively, aiding the actors in seamlessly transitioning between their multiple roles.
Set designer Aloma Barnes must also be applauded, as her pieces are both endearing and well-executed. The shelf filled with everything from mementos and religious statues to ceramics emanates a warm sense of homeliness that heightens the sentimental atmosphere. Another set piece, a grey moss-covered box, is very cleverly utilised and takes various forms as a platform, grave and a table.
The most satisfying culmination of the team's efforts is the representation of a fig tree that imprints itself in the audience's mind as a symbol of the entire story. The tree's presence is ever-looming in the script, clothing, lighting and sounds, intertwining in a dramatic scene you'll know is the climax when you see it.
With that, it is hard to pinpoint any major flaws that detract from Boom's overall quality, other than a slightly abrupt ending that stems from wanting such a compelling piece to continue.
Read: Performance review: The Blood Vote, Gasworks Arts Park
Boom exceeds expectations and proves that Asian-Australian theatre can be culturally enriching, entertaining and relevant to all.
Boom, co-presented by Slanted Theatre in association with KXT Bakehouse
Playwright: Jean Tay
Director: Tiffany Wong 黃寶珠
Producer: Natalie Low 劉嘉雯
Sound Designer and Composer: Sam Cheng 鄭慧敏
Costume Designer: Rita Naidu
Set Designer: Aloma Barnes
Lighting Designer and Deputy Stage Manager: Luna Ng 吳悅兒
Lighting Technician: Capri Harris
Deputy Stage Manager: Jake Fisher
Assistant Stage Manager: Katie Ord
Production Dramaturg: Adam Yoon
Accent Consultant: Petrina Kow
Fight Director: Sam Flack
Cast: Melissa Gan 颜丽媛, Tiang Lim 林珍妮, Josephine Lee 李徾汶, Natalie Low 劉嘉雯, Daniel MacKenzie, Gerwin Widjaja 黄世德 and Jordon Zhu朱麒安

Boom is performed at KXT on Broadway, Sydney 6-21 October; tickets $35-$45.
This review is published under the Amplify Collective, an initiative supported by The Walkley Foundation and made possible through funding from the Meta Australian News Fund.