Reclamation is the first Australian solo exhibition from artist Taloi Havini, who uses the moment to draw upon her Bougainville heritage.
In Bougainville tradition, the women are the matrilineal owners of the land. It is fitting then, that Havini takes this custodial role to tell the story of her land – one contested by war, mining and politics – all largely male-dominated domains.
Hers is a pedigree steeped in politics, activism, culture and tradition.
Taloi's paternal grandfather was the late paramount chief of the Naboin clan on Bougainville's Buka island. Her father, the late Moses Havini, worked for the provincial government as the assembly's speaker, and was a staunch advocate for Bougainville's independence – later working as an advisor. His beliefs made him a target of the Papua New Guinea armed forces.
Her Australian-born mother, Marilyn Havini (nee Miller) is a painter, and famed for designing the Bougainville flag. Created in consultation with clan leaders, it was first raised in September 1975 as part of a proclaimed Universal Declaration of Independence. It is still used today.
Immigrating doesn't remove that kind of DNA – that richness – which is so apparent viewing her expansive four-channel video, Habitat 2018-19.
Originally commissioned by Queensland Art Gallery/Gallery of Modern Art for the 9th Asia Pacific Triennial, Havini has reworked it here for her solo exhibition in Sydney.
It blends and blurs archival footage from her family archives, as well as newsreels, sound, and video shot during her own regular visits back to Bougainville.
The piece centres around the now disused Panguan mine – an Australian interest that operated from 1972-1989, which was one of the world's largest open pit gold and copper mines.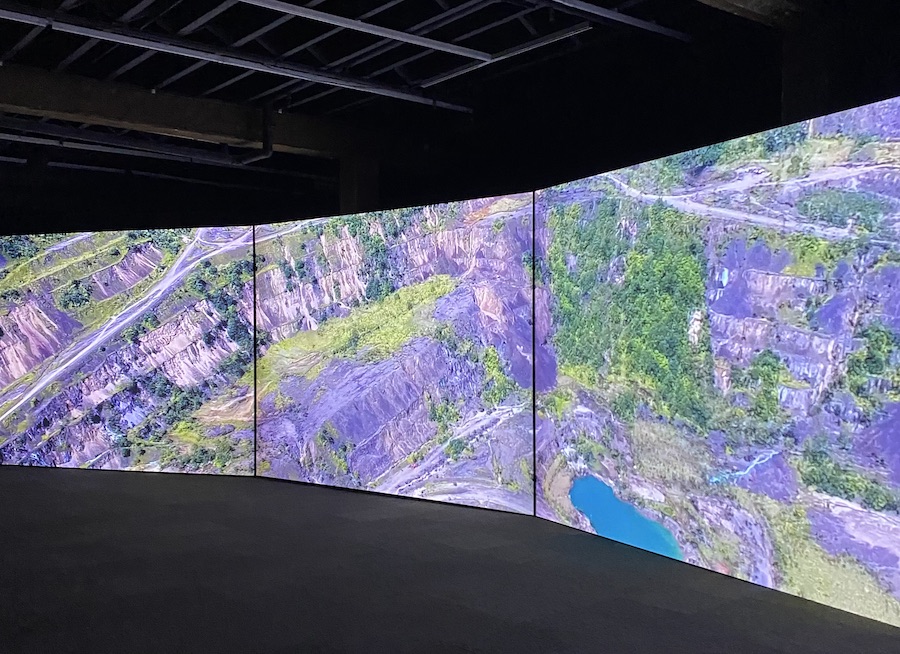 Taloi Havini, Habitat, 2018, still, four-channel HD video. Installation view at Artspace 2020. Courtesy of the artist. Photo: ArtsHub.
It is deemed an irreversible disaster, both for its toxic waste upon the environment, and as the trigger for the Bougainville Civil War (1989-1998). This is the landscape of Havini's childhood – she was born in 1981.
Sitting through this video, one is overwhelmed by the tension between natural beauty and tradition, with the politics and economics of land use and ensuing protests. It is a fraught conversation about resource extraction and ownership, and Havini's brushstroke across this narrative is deeply personal. It is not just a lament but an act of self-determination to preserve culture despite this devastating loss.
I was particular struck by the quote in the film by Raphael Bele: 'To Bougainvilleans, land is like the skin on the back of your hand; you inherit it, it is your duty to pass it on to your children; you would not expect us to sell our skin … would you.'
As Australians, we tend to forget about our relationships with the Pacific, especially those with such a checkered history. This exhibition is a stunning reminder of our old colonising activities, and adds another layer also to the current environment debate and our need to be more responsible for our actions.
Shifting tone, the second gallery offers a new site-specific installation, Reclamation 2019, created collaboratively with Hakö clan members. Sculptures made from cane are embedded in a floor deep with sand, and take their cue from traditional designs. They almost have a shield-like quality – defenders of culture.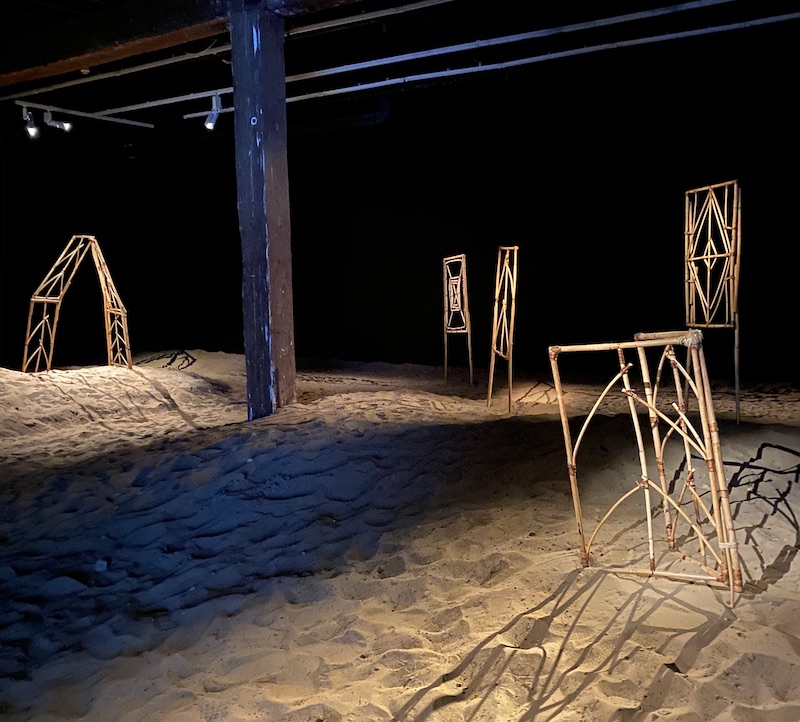 Taloi Havini, Reclamation 2019. Installation view at Artspace 2020. Courtesy of the artist. Photo: ArtsHub.
The installation is intended to trigger thoughts on the temporal, on how cultural material is transferred, and how borders and spaces are defined and claimed.
The gallery has described them as 'a form of collective map-making', adding, 'Havini's work traces the significance of shared knowledge from land tenure and customary designs to temporal architectures.' 
The lighting in this gallery adds to the dramatic quality.
In tandem, Reclamation considers both personal and political narratives, and comes at a time when our world is collectively questioning environmental responsibility, and turning to Indigenous Knowledge Systems.
In short, Havini's is a narrative of resistance. She weaves together in a patchwork of documentation and the poetics of contemporary art a story that is both vulnerable and strong. It is a very powerful exhibition.
4 stars out of 5 ★★★★ 
Taloi Havini: Reclamation
17 January-23 February 2020
Artspace, Sydney
Free admission
This exhibition has been presented as part of Sydney Festival.  A further iteration of Reclamation is being presented by Artspace in partnership with the Samdani Art Foundation, for the Dhaka Art Summit 2020, Bangladesh, 7-15 February.