One Who Wants To Cross
In a devolving world where the West increasingly demonises asylum seekers, One Who Wants To Cross is a much needed and pertinent play that humanises the politicised "migrant crisis".
Originally an award-winning French play written by Marc-Emmanuel Soriano, this production's Australian premiere, directed by Emma Whitehead, was both an engaging and informative adaptation. Following the journeys of several people along various stages of the migration routes, we witness a vast array of difficult choices, experiences and outcomes.
From one character's desperation for a seat within a rickety boat and the trembling fear of another, to the moral conflict over taking a dead woman's valuables – every scene felt incredibly nuanced and authentic. This can be attributed to the director's engagement of cultural consultants with lived refugee experiences and incorporation of the actors' own diverse cultures.
Further, while the performance was in a small space with basic staging, the play only became more intimate and emotionally-focused. Flashy props were not necessary as the actors skilfully immersed us into the worlds of each of their multiple character roles, while also conjuring a great sense of motion throughout.
They beautifully delivered poetry that was both aurally delightful and gave additional context to the asylum seeker experience. This eloquence was best demonstrated in the last scenes, hauntingly leaving audiences to ponder the fates of millions of asylum seekers forced to flee or continue living in unjust environments.
It was a powerful reminder for us to strive towards more understanding and empathy.
★★★★1/2
One Who Wants to Cross
Director: Emma Whitehead (Lost Thought Arts)
Cultural Consultants: Abang Anade Othow, Simon Shahin, Yaser Naseri
Production Designer: Lochie Odgers
Sound Designer: Cameron Smith
Assistant Director: Tinashe Mangwana
Fight Choreography: Pradhan Dewri
Lighting Designer: Priyanka Martin
Cast: Malek Domkoc, Naser Ali, Jonathan Lim, Vinaya Elijala, Pradhan Dewri
One Who Wants To Cross was shown from 5-9 September at Flight Path Theatre.
Dalo Chips and Imli Chutney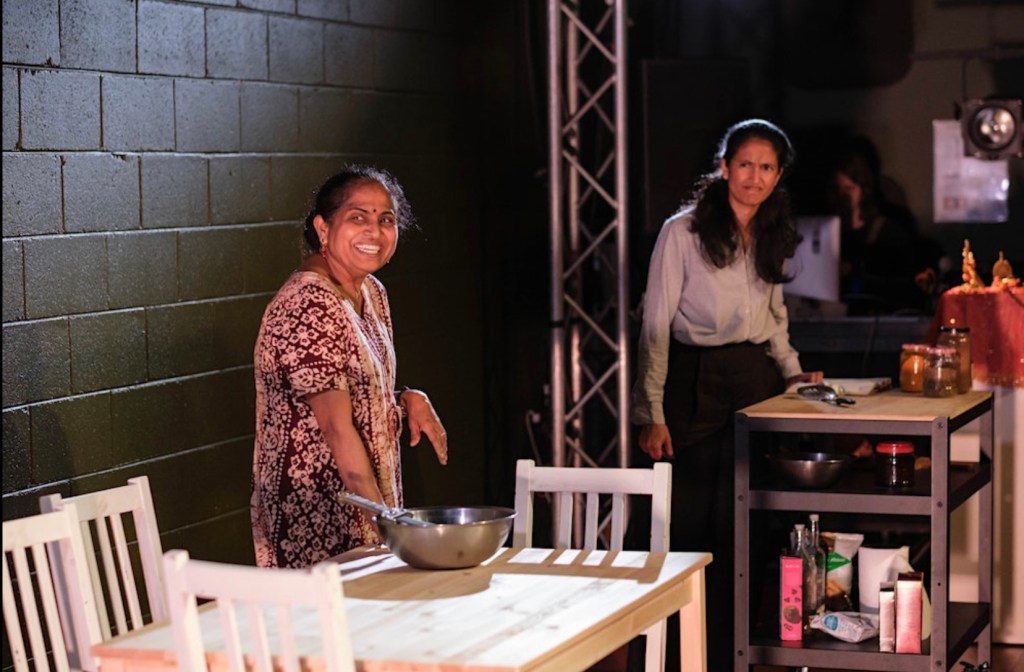 Watching Dalo Chips and Imli Chutney was like peeking into a dysfunctional Australian home that struggles to contend with conflicts familiar to many migrant families.
Directed by writers Varuna Naicker and Monica Kumar, this drama entertainingly revolved around the turbulent relationship between three generations of Fijian-Indian-Australian women. Each character was incredibly complex with very intricate backstories, but they were nonetheless presented in an easily comprehensible manner.
Amma, an incarnation of the first generation, has made sacrifices by moving to Australia, but still vehemently holds onto traditional cultural expectations. Kavita, the second generation, struggles with intense family scrutiny over her rejection of traditional values and desperately wants to assimilate. Piyal embodies the third generation, trying to reconnect with her family's cultural heritage while balancing the Fijian-Indian community's criticism of her "immoral" desires.
The actresses successfully conjured a nuanced family dynamic, capturing both heartwarming maternal bonds and tense friction within a seemingly disintegrating relationship. Various relevant issues were also explored through the characters, including breakdowns fuelled by generational divides and implications of gender bias on migrant women.
Further, the incorporation of Fijian-Indian history and cultural elements gave audiences a glimpse into a community with rich traditions. This was best encapsulated in the dances depicting the Ramayana tale of Sita's banishment, a beautiful addition seamlessly woven throughout the production.
Whether looking to savour your own migrant family experiences or curious about another culture, Dalo Chips and Imli Chutney was an endearing watch.
★★★★
Dalo Chips and Imli Chutney
Writer, Director and Actor: Varuna Naicker and Monica Kumar
Producer: Sarah Carroll
Actor: Veena Sudarshan
Dramaturg: Ayah Tayeh
Dalo Chips and Imli Chutney was shown from 12-16 September at Emerging Artists Sharehouse – The Boom Boom Room.
WATER-MIRROR
While often viewed as polar opposites, the fusion of traditional Eastern music and modern Western dance is a refreshing and eclectic combination. This was proven by WATER-MIRROR, a collaboration between Danza del Arte, Paulina Quinteros and Taikoz Percussion, whose vastly different styles surprisingly complemented one another tremendously.
The choreography by Quinteros was phenomenal, showcasing the acrobatic prowess and gracefulness of the dancers. At times, the dancers' movements were energetic and exhilarating, while in other parts, they skilfully transitioned into slower, captivatingly beautiful routines. The Japanese musical elements led by composer and performer Ryuji Hamada elevated the dancers by heightening the different moods.
The Taiko drummers were like dancers themselves, their forms and gestures oscillating between great power and strength as well as utmost grace and elegance. Additions like the euphonious chimes of bells and gongs, and traditional Japanese singing to the sereneness of the shinobue transported audiences on a soothing journey.
The stage design was also incredible – the haze and changes in lighting adding much to the mystique and audience experience. Additionally, the calligraphic kanji projected behind the performers not only enhanced the beauty onstage, but made the performance feel more poetic.
It is performances like WATER-MIRROR that demonstrate how intercultural artistic fusions can be done exceptionally well.
★★★★★
WATER-MIRROR
Conceived and Choreographed by: Paulina Quinteros
Composers: Ian Cleworth, Ryuji Hamada, Felix Gregg-Partos
Lighting Design: Toby Sewell
Projections: Angus Denton
WATER-MIRROR was performed from 15-16 September at Neilson Studio, Sydney Dance Company.
This review is published under the Amplify Collective, an initiative supported by The Walkley Foundation and made possible through funding from the Meta Australian News Fund.