A celebrated movement artist and creative leader loved by her community, MaggZ is a star on the rise. Her futurist aesthetic, powerful waacking choreography and rebellious energy leave a lasting impression after even the first experience, which for this writer was in 2021 at Base 10. MaggZ is a regular presence at street dance battles and was named Producer in Residence at Next Wave earlier in 2023.
The performance New Reality at Melbourne's Immigration Museum was an extension of a performance by the same name presented at Mode Festival in 2022. Since then, MaggZ has spent time as producer and performance art consultant at Collide24 in Berlin, Germany.
These developments seemed to have informed New Reality, which embodied a stronger narrative focus, elaborate costuming and sets, and explorations into the artist's Chinese background, as well as multilayered experiences of being queer and POC.
New Reality presented three pillars where MaggZ shifted her character fluidly from seductive to questioning, interrogating the constructs of femininity and voicing her emotions through phrases and poetry in English and a Chinese dialect that paid tribute to her hometown, Kunming in Yunnan Province, China. Audiences surrounded the performer as witnesses; creating an intimate space where every facial expression could be captured and every curated pose a testament to MaggZ's strength as a performer.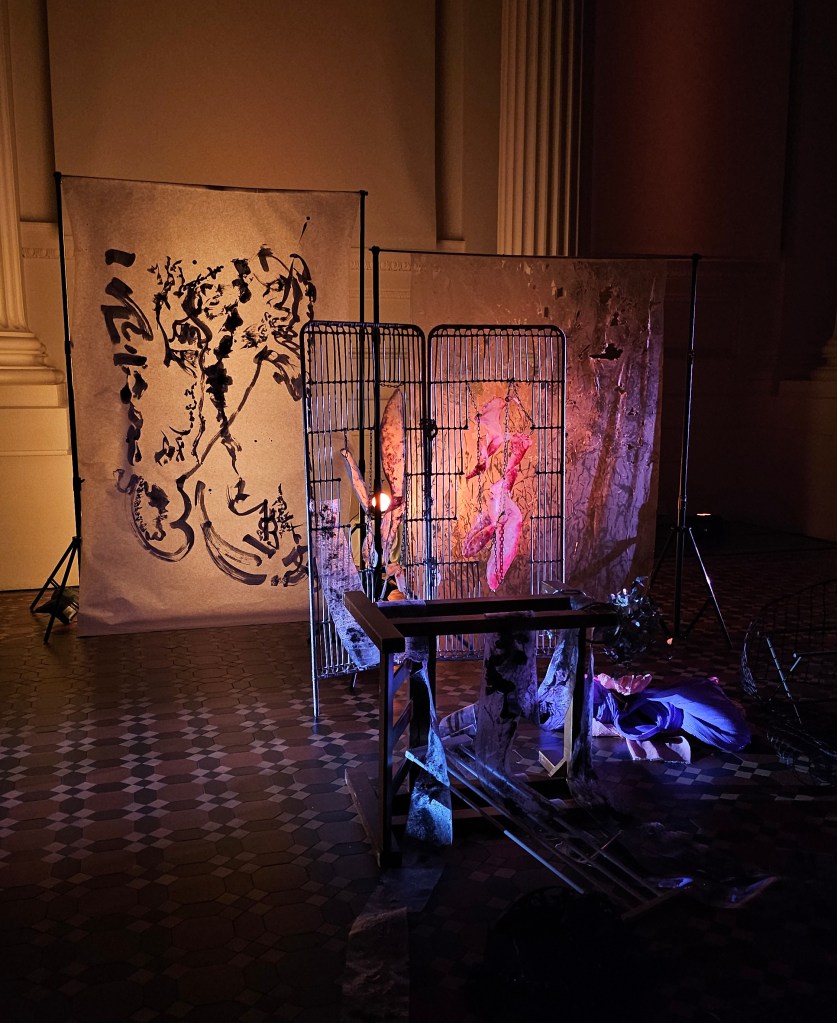 Yet, this proximity also placed details under scrutiny, sometimes to the performance's disadvantage. The sculptural textile costume worn on the night boasted enticing shades of pink and purple, but its structure hindered much of MaggZ's waacking arm movements. Similar issues lay with the set. It was enthralling to behold, but when interacted with, it seemed flimsy and unstable.
The original New Reality set, constructed of rope inside a steel-framed cube, was carried across into the Immigration Museum. It was an obstacle course to navigate, with last-minute decisions on where to put a limb and the need to constantly shift her weight muddling the precision in MaggZ's movement as she transitioned between each pose.
The most powerful segment of the performance came when MaggZ stripped out of these accessories, and simply relied on her voice and movements to capture the attention of the audience. Her words echoed off the acoustic interior of the Long Room, like a call from the top of a mountain. 'If I turn into an island tomorrow, today I will drown, I will drown,' said MaggZ. 'Mind your business.'
Read: Performance review: Nighttime Righttime, Carriageworks
While the story MaggZ imbued in New Reality was intrinsically her own, themes of identity, belonging and self-worth could touch many in the audience.
New Reality
Lead Artist: MaggZ 祝语佳
Costume Designer: Valentina Hong 洪臻真
Set Designer: derrick duan 段耀钦
Lighting Designer: Joli Boardman जोली बोर्डमर्ड न
Production Mentor: Jonathan Homsey 洪頌恩
New Reality was performed from 4-6 November in the Long Room, Immigration Museum.