I suppose this opera's lessons of tolerance are timeless, but La Juive is arguably an odd choice for the 2022 program, when we are emerging from a dark period and are hungry for joyous engagement.
It is the reality of the kind of programming shuffle many arts companies have had to navigate since 2020. Originally scheduled for that year, the Australian premiere of French director Olivier Py's new production of La Juive was suppose to be presented in brighter days.
It continued Opera Australia's path in co-productions, this time with the Opéra National de Lyon. But this dark, obscure tragedy is now delivered at a time when audiences are up to the gills with gloom.
First performed in 1835, Fromental Halévy's opera is a dense three-hour opera that rides out the machinations of a forbidden love between a Christian and a Jew. Religious tolerance and acceptance, sadly, remain a thorny topic some 180+ years later.
In an attempt to enliven the narrative with a fresh approach, Py has set La Juive in 1930s France – a time on the cusp of the Holocaust when hate-driven rivalries were bitter. Halévy himself was a Jew, and brings to the opera a nuanced and intimate perspective that is transferred to the audience.
However, visually this new production fell flat. The bland set and costume designs by Pierre-André Weitz did little to lift the viewing experience and contributed to the dark tone. They also lacked a sense of cohesive connection to the opera – rotating walls of libraries, tokenistic back projections that added little to the narrative, and stairs that further separated the audience from the narrative.
The same could be said of Bertrand Killy's lighting – but then, he was largely working against the tone set by Weitz.
Read: Opera review: The Golden Cockerel, Adelaide Festival
In contrast, audiences were delivered an aural splendour. Soprano Natalie Aroyan performs the role of Rachel with a depth and passion fitting for the role and its wide swings in range. She pulls it off brilliantly.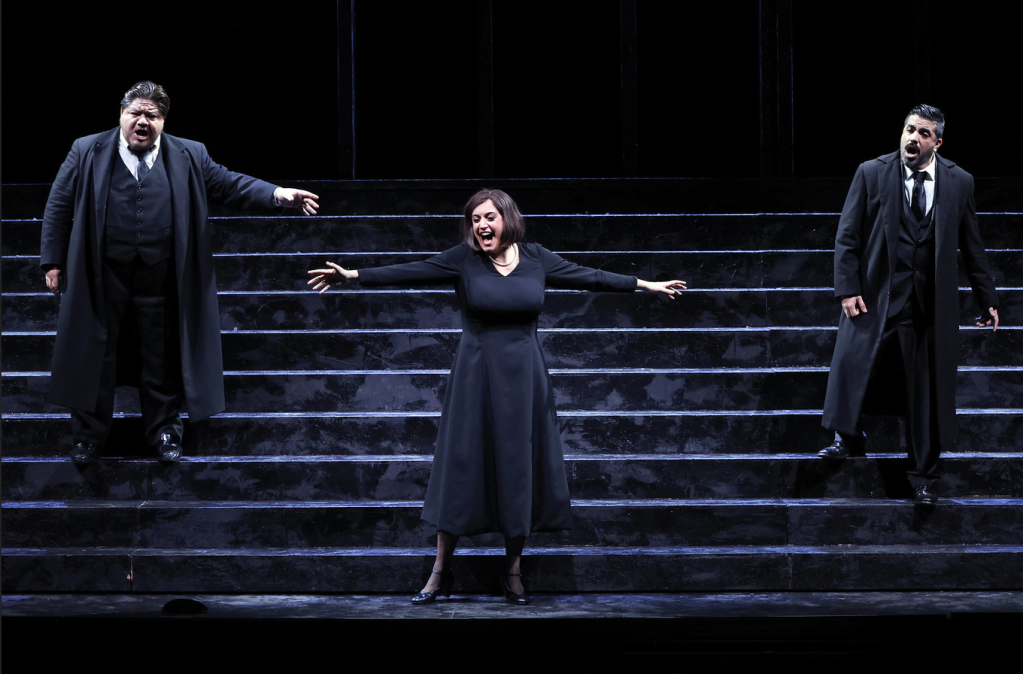 She also has a natural ease and genuine connection with Argentinian tenor Francisco Brito (making his Opera Australia debut), who plays her love, the Christian Leopold.
Essentially, Rachel faces two impossible choices in this tale. Deny her love, and save her lover. Deny her God, and save herself. It is operatic tragedy at its finest (despite a rather compact idea being drawn out over three hours).
The twist, lies in Leopold's undisclosed wealth and marriage to Princess Eudoxie, performed by Soprano Esther Song – whose performance is bright and passionate.
Secrets and lies continue to spiral. And as the story evolves, we learn that Rachel's father, Eléazar – performed by Tenor Diego Torre – is hiding the biggest secret of all. Torre does well with a role that is known to be difficult.
And that constant voice of conscience, spiralling audiences into the depths, is bass David Parkin playing Cardinal Brogni – again another tough role to deliver.
Italian maestro Carlo Montanaro also visits Australia to conduct this production, moving the company seamlessly through its big choral moments and stunning solos to dramatic effect – from Act 1 with stacked public scenes to the final moments where he dramatically backed the soloists.
The big tenor hit for this opera is delivered by Torre – 'Rachel, quand du Seigneur' – in a quandry over truth or protecting her daughter. But really, the five soloists all have their moment in this opera with its big, tricky arias.
Described as one of the great French opera, the music and arias are truly lovely – passionate – and with a full and vibrant chorus, this is an opera that does have those connection points.
My recommendation is to just close your eyes and let that aural wonder wash over you.
While La Juive might have been Halévy's most successful opera, it is not Opera Australia's. While the poor timing could not be avoided or predicted, this is not an easy opera regardless and demands a lot of its audiences.
There are very few entry points for audiences new to the opera medium. And while I want to credit the presentation of different operas in the repertoire, this choice seems to underline a polarising effect of the elite and the popular. I think it does more in dividing opera audiences, than growing them.
La Juive
Joan Sutherland Theatre, Sydney Opera House

Conductor: Carlo Montanaro
Director: Olivier Py
Revival Director: Constantine Costi
Set & Costume Designer: Pierre-André Weitz
Lighting Designer: Bertrand Killy

Cast: Natalie Aroyan, Diego Torre, Francisco Brito, Esther Song, David Parkin, Andrew Moran, Richard Anderson
Performed in French with English surtitles
Tickets: from $79
La Juive will be performed until 26 March 2022